8-Y-O 'Special Needs' Boy Is Facing 2 Felony Charges After Altercation With Police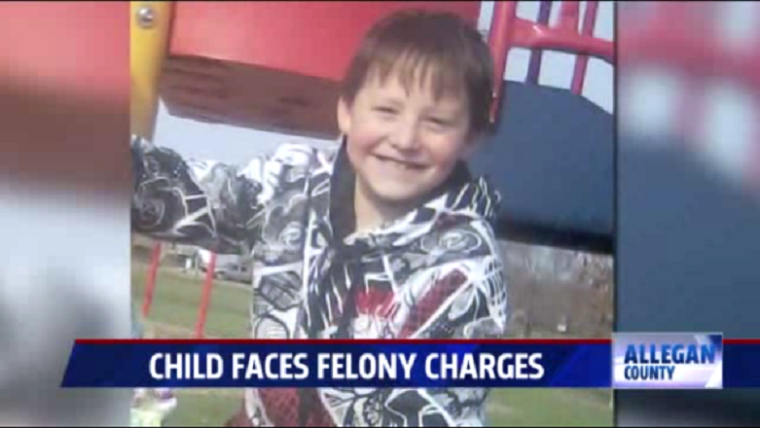 An 8-year-old Michigan boy described as "special needs" by his stepfather is now facing two felony counts after an altercation with police in Allegan County, during which he broke a camera and caused other damage.
His stepfather, Robert Bluhm, has argued that he doesn't believe the boy should be facing any charges because he has special needs.
"I don't even think he did anything wrong in this case," said Bluhm. "He's special need[s]."
The altercation erupted on March 19 after the boy, Edward Hart, ran away from Hillside Learning and Behavior Center in Allegan where he attends school and police were called in to help, according to FOX 17.
An incident report from the Allegan police notes that after Hart ran off, a teacher and the principal of the school chased after him. It was a third teacher, however, who eventually caught up with him at a party store.
Police were later called to help the school staff to take the boy back to school. When an officer asked Edward his name, he reportedly cursed the officer and assaulted him. He was later placed in the back seat of a police vehicle and he reportedly broke the police camera while there as well. He has since been charged with malicious destruction of police property and resisting and obstructing [arrest] according to the report.
Bluhm, however, argues that his stepson should have never been placed in the back of a squad car all by himself.
"He has anger issues," said Bluhm. "They know this. And they're going to throw him in the back of a cop car all by himself."
"If they had him under control, why didn't they ride with him in the back of this cop car so this incident would have never took place?" asked Bluhm. "When I called the school to ask questions – why nobody rode with the minor child to the school instead of just throwing him in the back of a cop car – they had no answers for me. They couldn't answer that question."
The school superintendent insisted, however, that the incident was handled appropriately.
The Allegan police say they don't agree with the felony charges against the boy, but Chief Rick Hoyer wants his parents to pay for the damaged camera that reportedly cost $50. Prosecuting attorney Frederick Anderson said the charges stand. Hart, he said, will have to undergo counseling. It will be up to the court to decide whether or not the criminal charges will be pursued.
Bluhm also dismissed any suggestion that his stepson's behavior is a result of poor parenting, noting that the boy is disciplined often at home.
"He has a day in a timeout chair. He had one week with no TV, and he lost his [Nintendo] DS for life," he said.