A Millennial's March for Marriage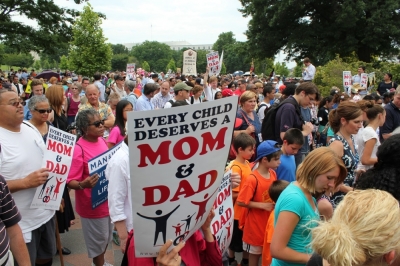 More than ever before, this year's March for Marriage is centered on protecting God's design for one man and one woman marriage, as well as defending the religious liberty of those who hold that conviction. The march comes at a crucial time in our nation, as several Americans have recently faced the threat of being forced to violate their consciences. It is extremely important that "We the People" stand up for traditional marriage and safeguard the liberties upon which our nation was founded.
While those reasons are enough, they are not my only motivation for supporting the March for Marriage. As a Millennial, I see the culture shifting my generation in a direction with which I don't agree. Today's society has warped our view of long-term commitment, and I refuse to stand idly by as it manifests itself in our marriage statistics, our families, and our futures.
In a summit titled, "Divorce Statistics and Social Trends," Dr. David Ayers, Dean of Alva J. Calderwood School of Arts and Letters at Grove City College, spoke on the current marriage and divorce data for American adults. It was shocking to learn that, among the developed countries in the world, the U.S. has the highest divorce rate.
That said, news sources recently declared that our nation's divorce rate is moving in a positive direction, but is that really the truth? Yes and no. When compared to its peak in the 1970s and 1980s (thanks, in large part, to the feminist movement), the divorce rate has declined. Yet, upon closer look, the small decline is actually due to a few key elements that are skewing the data. Two of the major influences that must be factored in are the decrease in the number of people getting married and the increase in the number of couples who are cohabitating — especially Millennials.
According to a Pew Forum Research Survey, the number of married U.S. adults is at a record low. In 1960, 72 percent of U.S. adults were married. In 2010, the rates dropped to 51 percent. Furthermore, of people responding, nearly 40 percent said that the institution of marriage is becoming obsolete.
While the figures may sound bleak, the reality is that the majority of Millennials still want marriage and children. Among 18- to 29-year-olds who are not currently married and have no children, 70 percent said they want to marry, and 74 percent said they want to have children. The slightly higher rate of the latter is due to the growing assumption that marriage and having kids are no longer necessarily correlated.
Living together before marriage is becoming a societal norm. This is unfortunate, seeing that cohabiting couples who have a child together are twice as likely as married couples to break up before the child turns twelve. This makes for an enormous number of single-parent households. Just over half (51 percent) of all births among Millennials in 2008 were to unwed mothers. Furthermore, for the couples living together who eventually decide to get married, it appears that between 40 and 50 percent will end in divorce.
If the majority of Millennials want marriage, why aren't the divorce/cohabitation numbers mirroring that sentiment? According to Dr. Ayers, the problem is that for many young couples today, culture has made marriage simply a "capstone" (after having sex, etc.), when it should be the bedrock of their relationship. Countless Millennials have allowed themselves to believe the culture's message that marriage is not a serious matter; we assume that if we "get bored" or want out, we can simply throw in the towel and get a divorce.
Heck, living with someone before marriage probably sounds ideal to most people; not only does it allow you to see what a person is really like, but you can have sex without any long-term commitment or binding responsibilities. If your feelings change, you can just move out without going through the pain of divorce … right?
Wrong. There are so many painful consequences of having sex outside of marriage — both emotionally and physically. Even more important to me, though, is the fact that God has warned us against premarital sex. As a Christ-follower, sex before marriage is not an option, and neither is divorce. Why? Because I believe that my Creator knows what's best for me, so I'm going to do what He's asked. God's Word has opened my eyes to see that marriage is about so much more than just me. It is a covenant made before my God, one that is not based on my emotions/feelings and is not intended to be broken.
Marriage is actually a beautiful thing. It's a picture of God's unconditional, steadfast love. It is a relationship never determined by circumstances or feelings, but instead on His promise to be faithful. Regardless of my imperfections or lovability, God commits to loving me; ideally, that is how a marriage should look. Although unconditional love can be extremely difficult for humans to give and receive, something about that commitment is appealing to me … and apparently that's the case for the majority of my fellow Millennials.
On the flipside, just as cohabitation and lack of commitment are major issues for my generation, rushing into marriage can be an issue as well. Marriage is a sacred institution which should not be taken lightly. For anyone reading this that is single: don't buy in to the pressure society places on you — whether it's to rush into something you're not ready for or to avoid it altogether. Don't settle for less than God's best for you. Whether it happens right out of college or when you're 50, everyone's marriage story is different. There is no "correct time" to get married — the only "correct time" to get married is when God leads you to do so. You may even decide that you aren't called to marriage, and that's great. But, in your singleness, don't fall for the idea that living with someone without commitment is okay, either.
At the end of the day, marriage points to what we're all ultimately craving: a purposeful relationship with our God. Marriage should never be our "be all end all," because, as humans, we will always fail one another. But, it is a great picture of our Maker's love for us — so we should do everything in our power to protect it.
It's time for Millennials to reverse the negative statistics surrounding our generation and marriage. The majority of us believe in the benefits of marriage, so why aren't more of us standing up to protect it? For me, next week's March for Marriage symbolizes hope for a generation of millennial believers who, whether married or single, follow what God says — not what society is telling us to believe.
Hannah Wegman is the Project Coordinator/Writer at Concerned Women for America (CWA), the nation's largest public policy women's organization with 500,000 members across the country.