Adrian Peterson Glorifies God After 'Miraculous' Recovery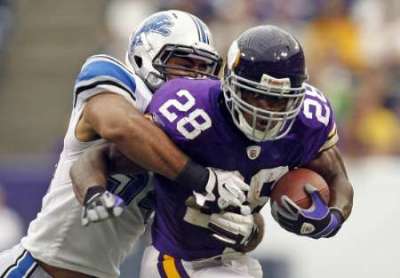 Adrian Peterson, 27-year-old Minnesota Vikings running back, has the opportunity to break the NFL single-season rushing record set in 1984 and is glorifying God for the accomplishment one year after an ACL injury threatened to end his career.
NFL fans have been questioning Peterson's seemingly superhuman abilities and calling his story miraculous after he tore his ACL last Christmas which resulted in him missing the preseason to work on his rehabilitation.
Still, Peterson managed to somehow lead the league with 1,600 rushing yards and become the only player in the NFL to average over 100 yards per game this season while averaging 123.1 yards per game.
The most impressive part about Peterson is what he had to overcome to get to this point. On Christmas Eve last year, Peterson tore his ACL in a game against the Washington Redskins which resulted in a reconstructive knee surgery that forced him to miss the preseason.
Leslie Frazier, Minnesota Vikings head coach, called Peterson's comeback this season nothing short of amazing.
"An ACL injury at any position can be career-ending, so to see Adrian come back as a running back and play the way he's playing – to be the best again – is just amazing to watch, and fun to watch," Frazier told St. Louis press recently. "He's just gotten better and better and I don't think there's anybody who thought, going into the season, that we'd be talking about Adrian with 1,600 yards, leading the league in rushing, MVP candidate, Comeback Player of the Year candidate. It's just mind-boggling in a lot of ways. A lot of credit to Adrian – his hard work, his determination."
Some NFL enthusiasts in and around the league have said Peterson is "not human" after witnessing him excel following his knee surgery, including Houston Texans head coach Gary Kubiak and Minnesota Vikings quarterback Christian Ponder. After a multitude of fans took to Twitter to agree with these sentiments, Peterson appeared on ESPN to admit that he's been blessed after a "tough" recovery following his ACL injury.
"It's a blessing," Peterson told ESPN on Wednesday while saying he could do all things with the help of Jesus Christ. "So I have to give all glory to God."
In a recent conference call with St. Louis media outlets, Peterson admitted that prayer got him through his tough times
"A lot of prayer. I prayed a lot. That was definitely key," Peterson said. "I really didn't beat myself up about it. I was able just to accept it for what it was, make my game plan and then go after it. In the midst of that recovery, there were times where I struggled, but I was able just to get my mind right mentally."
Although Peterson has two more games and 294 yards left before possibly breaking former NFL RB Eric Dickerson's record set close to 30 years ago, he maintains that he can do anything if it is in God's will.
"God willing, yes. I believe I'm going to get it done," Peterson said on ESPN's SportsCenter on Wednesday.