After Engine on Southwest Flight 1380 Exploded, Pastor Prayed With Wife for God to Send Angels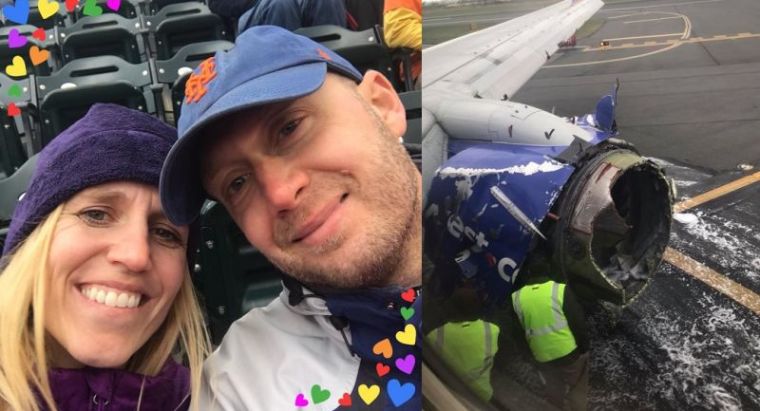 As Southwest Flight 1380 from New York to Dallas began rapidly descending after the plane's left engine exploded and unleashed chaos and fear into the lives of the 144 passengers and five crew members onboard, Pastor Timothy C. Bourman who was on the flight with his wife Amanda, begged God to send them angels.
"I grabbed my wife's hand and I started praying: 'Dear Jesus, send some angels. Just save us from this,'" Pastor Bourman, 36, who ministers at Sure Foundation Lutheran Church in Woodside, Queens, told The New York Times. "I thought we were goners."
A statement on Sure Foundation's Facebook page said the pastor and his wife, who are the parents of three young daughters, were heading to San Antonio for a retreat for 10 years in the ministry on Tuesday.
"I just remember holding my husband's hand, and we just prayed and prayed and prayed," Amanda told NBC New York. "And the thoughts that were going through my head of course were about my daughters, just wanting to see them again and give them a big hug so they wouldn't grow up without parents."
When the plane's left engine exploded due to a fan blade breaking off, shrapnel from the explosion blew out a window and married mother of two Jennifer Riordan, 43, was partly sucked out of row 14. She would go on to become the only fatality on flight 1380 due to blunt impact trauma of the head, neck and torso.
For about 20 minutes — as pilot Tammie Jo Shults, the captain of Southwest Flight 1380 who has been hailed as a hero for staying calm and rerouting the plane to Philadelphia for an emergency landing — the prayers of the pastor, his wife and others swirled with wind and debris in the depressurized cabin.
Amanda told The New York Times that she managed to connect her phone to the plane's Wi-Fi amid the chaos and texted her husband's father to relay a message to their three daughters who are 6, 4 and 2 years old: "Pray. Plane blew an engine. We are going to try to land. Tell the girls we love them and that Jesus is with them always."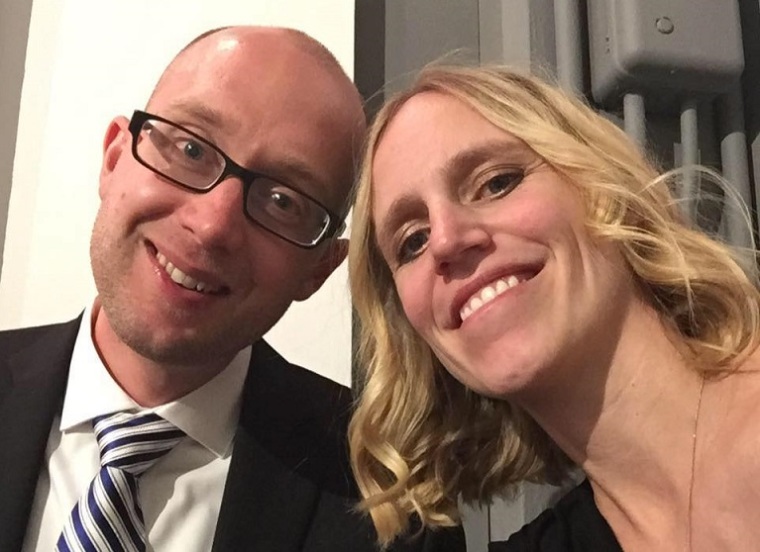 Sheri Sears, 43, another passenger who was sitting across from the blown out window, said she thought about her 1-year-old daughter, Tyley, as well and how she might not be around to see her daughter grow up. She begged God for mercy.
"If this is your will, God, please let me go quickly. Don't let me suffer," she said she prayed.
The Christian Post reached out to Pastor Bourman's church on Thursday but no one answered. In a Facebook post on Tuesday, he explained that after the "miraculous" landing everyone on the flight demonstrated faith in God.
"Everyone on this plane came to believe in God. I prayed and God sent his angels. Engine blew. Door came off. Flaps stopped working. Big hole in the plane. We lost one of our friends to cardiac arrest in the middle of it. I have never been so scared and at the same time trusting and prayful (sic). Who needs a mask when God is with you?" Pastor Bourman wrote. "Remember to tell your children of God's love in Christ while you still can. That's all I could think when we were going down. It's all that really matters. Life looks different after something like this."
In her first statement on the flight Wednesday night that was also endorsed by the first officer, Darren Ellisor, Shults, who is a Navy veteran, asked for privacy and mourned the loss of Riordan.
"As Captain and First Officer of the Crew of five who worked to serve our Customers aboard Flight 1380 yesterday, we all feel we were simply doing our jobs. Our hearts are heavy. On behalf of the entire Crew, we appreciate the outpouring of support from the public and our coworkers as we all reflect on one family's profound loss," the pilots said in a statement released by Southwest Airlines.
Many of the passengers who survived the flight, however, remain unbounded with their praise of her heroism and "nerves of steel."
"Most of us, when that engine blew, I think we were pretty much going, 'Well, this just might be it,'" said passenger Peggy Phillips, from Brandon, Texas. "To get us down with no hydraulics and a blown engine and land us safely is nothing short of miraculous to me. She's a hero, for sure."
"This is a true American hero," Diana McBride Self, another passenger, wrote in a Facebook post. "A huge thank you for her knowledge, guidance and bravery in a traumatic situation. God bless her and all the crew."
Alfred Tumlinson, who was also on the flight, told the Associated Press that Shults "has nerves of steel."
"I'm going to send her a Christmas card — I'm going to tell you that — with a gift certificate for getting me on the ground. She was awesome," he said.