Alternative to Trump's Family Detention Policy Offered by Catholic Leaders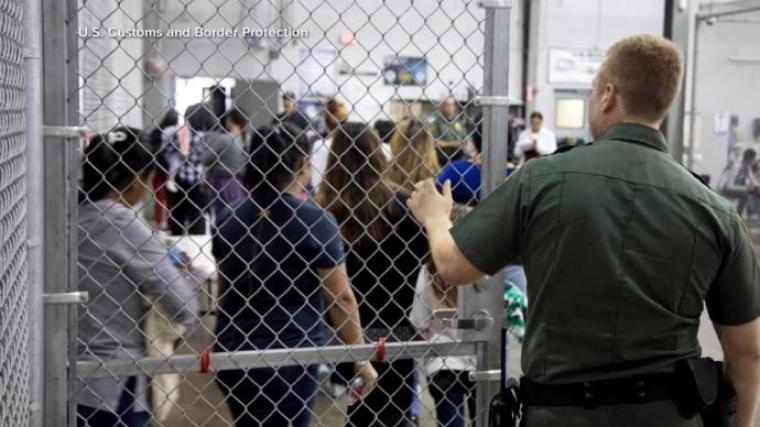 Ending a two-day fact-finding trip to the United States-Mexico border, a group of Catholic bishops have offered an alternative solution to the Trump administration's plan to detain asylum-seeking families who were caught illegally entering the United States.
This solution, they say, would be more cost effective, and better for the children and families involved. 
In a press conference Monday at the Basilica of Our Lady of San Juan del Valle in Texas, the head of the U.S. Conference of Catholic Bishops suggested that the U.S. government should enact a program similar to the now-defunct Family Case Management program.
The program, which was launched during the last year of the Obama administration, offered a way for humanitarian groups to help the government by organizing efforts to supervise asylum-seeking families who crossed the border illegally while they wait for their case to play out in the U.S. court system.
Under the program, social workers connected asylum-seekers with legal representation and helped them receive housing, education and health care while making sure they comply with immigration laws. In order to have been eligible for the program, asylum seekers had to pass an interview to determine whether or not there is credible fear of violence should they return to their home countries.
Many of those who qualified under the original program were typically vulnerable people that included pregnant women or mothers with young children. The program had 630 families enrolled in it when it was halted last year by the Trump administration, the Associated Press reports.
Since a federal court ordered the federal government last week to return over 2,000 immigrant children separated from their families during the administration's "zero tolerance" policy, the Trump administration seems set on finding ways to keep immigrant families detained together.
While administration officials have said they only detain asylum seekers who enter illegally, a Sunday LA Times report found that families seeking asylum through a legal port of entry had also been detained and the children were separated from their parents. 
However, the Catholic leaders warned Monday that detaining families is not the best option.
"We have some concerns about family detention," USCCB President Cardinal Daniel DiNardo, archbishop of Galveston-Houston, said during the press conference. "In the past, there was an alternative to detention called 'Family Case Management' programs. They have been used [and] they are cost-effective because it's case management."
DiNardo stated that he and the other Catholic leaders on the trip believe a new case management program would make it so immigrant families wouldn't have to be detained, which would be a more ideal scenario.
"We don't think [families] should be in detention. We don't think that is the best thing," he continued. "They need to be accounted for. We are not opposed to any of that. In fact, some people we saw yesterday were going to get on their bus. Didn't they have the ankle bracelets on or something. So, they have some accountability."
DiNardo said that a case management program would provide these families — many of whom are fleeing desperation and violence in Central and South American countries — with "hope."
He added that USCCB would have no problem being one of the agencies helping in implementation of that program.
"I am not making a blanket statement here. But when you go through this kind of thing, whether you are family or an unaccompanied minor, there is an element of real trauma that happens to you," DiNardo explained. "There really is and you can see it when you talk to some of the kids."
DiNardo and a handful of other bishops traveled to the border in Texas and visited facilities managed by the Department of Homeland Security and the Department of Health and Human Services to see for themselves what is happening with the people and families being processed through the system. They also got to speak with several of the immigrants.
DiNardo asserted that there was great cooperation from all government agents involved during their trip and stated there are "no villains" in the matter.
"From our trip, there are no villains but there are lots of challenges and there are some things that we can do better," DiNardo stated. "That is basically what we wanted to say in this."
Because the 1997 Flores Settlement Agreement does not allow children to stay in immigration detention facilities for periods of longer than 20 days in most cases, it presents a dilemma to the Trump administration as it tries to keep separated immigrant families together under President Donald Trump's executive order signed last month.
While some feel that Trump should release immigrant families all together as they wait for their court proceedings, the administration is of the opinion that doing so would mean that most of the families would not show up in court.
Ashley Feasley, director of policy at the USCCB's Migration and Refugee Services office, told RNS News that the case management program under the Obama administration had a 99 percent compliance rate.
"The first focus is reunifying the families," Feasley said. "But when we think longer-term about how to deal with the families that are coming, how to make sure they are complying with immigration proceedings ... [this] could provide a reasonable way forward."
Matthew Soerens,  director of church mobilization at the evangelical refugee resettlement organization World Relief, indicated on Twitter that evangelical churches and other groups would be "very eager" to participate in a case management program. 
"And the cost to taxpayers would be pennies on the dollar compared to incredibly expensive jail-like detention facilities," Soerens wrote in a tweet.