Amb. for Int'l Religious Freedom Sam Brownback: Advancing Religious Liberty Is 'America's Most Noble Effort'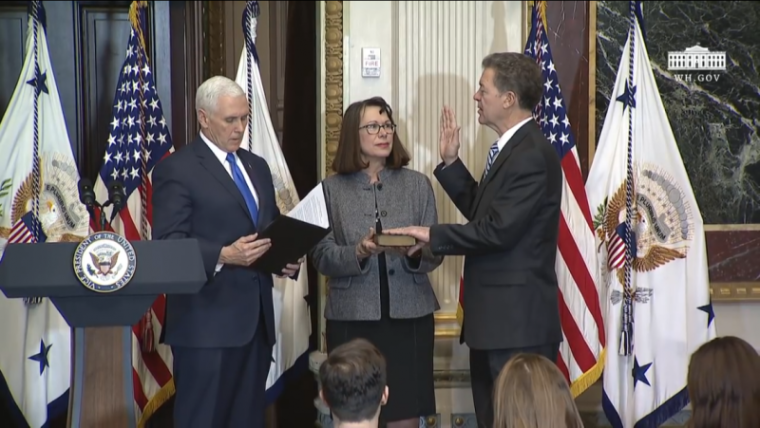 WASHINGTON — Vice President Mike Pence swore in Kansas Gov. Sam Brownback as the new Ambassador-at-Large for International Religious Freedom Thursday, a key State Department post that advocates for persecuted religious minority groups worldwide.
Following a contentious nomination process, Pence had to cast the tie-breaking vote twice in a divided Senate last month for Brownback to be confirmed. Brownback took the oath of office at a White House ceremony attended by dozens of friends and religious freedom advocates Thursday afternoon.
In remarks before administering the oath, the vice president praised Brownback for his three decades of public service, and referenced their close friendship while serving in Congress and as state governors at the same time.
"In all the years I've known him, I've never ceased to be encouraged or inspired by his example, his faith, his unwavering belief in the goodness of the American people and his dedication and commitment to fight for what's right. It's all those qualities I know that made this decision an easy one for President Donald Trump," Pence said.
In brief remarks after taking the oath, Brownback noted that never before has there been so much religious persecution in the world, highlighting the plight of the Rohingya people in refugee camps in Myanmar, and the 21 Coptic Christians who were beheaded on a beach in Libya. The right to determine the destiny of one's own soul is a freedom Americans cherish and it's a freedom worth fighting for on the world stage, he said.
Religious liberty for everyone is one of America's most "noble efforts," Brownback said, and "perhaps, and in my opinion it is, the greatest of our efforts and the greatest of our causes."
Religious freedom is a "foundational human right," he said, "and its establishment is foundational for a nation to prosper and move forward in freedom." Americans believe in this and "we will fight for it," he added.
"If you want more security and less terrorism in your country, have more religious freedom. It's a byproduct, a fruit of more security and peace. It's in all the data, and now we need to spread it to all the world."
The new ambassador expressed confidence that with the backing of the Trump administration the Islamic State's atrocities against religious minorities in the Middles East will cease.
"We will see the expansion of religious liberty around the world. Mark my words. This is going to happen. We will get it done," he told the crowd to enthusiastic applause.
"So as a son of the prairie, I humbly accept this high role for our nation. May God bless this cause," Brownback concluded.
In addition to his wife and three of his children, guests attending Brownback's ceremony included his predecessor, David Saperstein, and Federal Communications Commission head Ajit Pai, who once worked for Brownback when the Kansas governor was a U.S. Senator. Also present was former Congressman Frank Wolf, a passionate advocate for religious freedom and human rights, after whom the revamped International Religious Freedom Act of 2016 is named.