US Will Lead Broad Coalition to Fight ISIS, Says Obama in Speech; Fight Will Be Different From Wars in Iraq, Afghanistan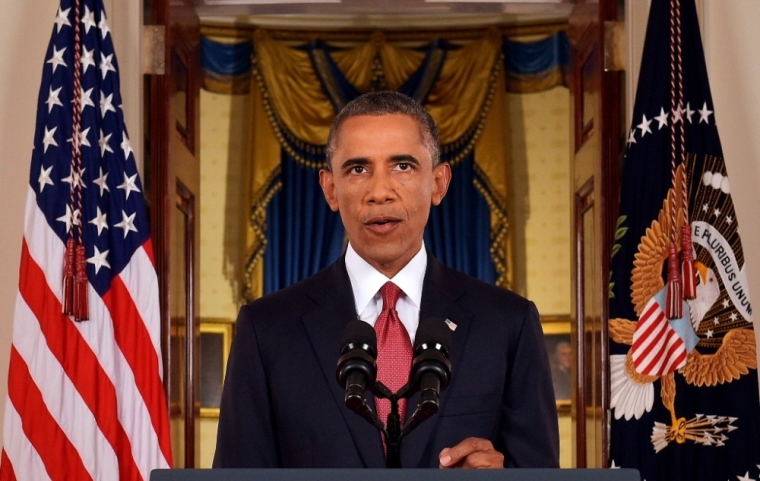 In a highly anticipated speech on fighting ISIS, President Barack Obama announced Wednesday night that the U.S. will lead a broad coalition of "friends and allies" to push back the threat of the terror group. Obama also attempted to assure Americans that this war will be different from the ones in Iraq and Afghanistan, but asserted that it will take time.
"Any time we take military action, there are risks involved, especially to the servicemen and women who carry out these missions. But I want the American people to understand how this effort will be different from the wars in Iraq and Afghanistan. It will not involve American combat troops fighting on foreign soil," explained Obama in his address on how he plans to combat ISIS.
"This counter-terrorism campaign will be waged through a steady, relentless effort to take out ISIL wherever they exist, using our air power and our support for partner forces on the ground. This strategy of taking out terrorists who threaten us, while supporting partners on the front lines, is one that we have successfully pursued in Yemen and Somalia for years. And it is consistent with the approach I outlined earlier this year: to use force against anyone who threatens America's core interests, but to mobilize partners wherever possible to address broader challenges to international order," said Obama.
Highlighting the group's barbaric acts in the Middle East, including the brutal murder of children and the raping of innocent women, Obama declared that ISIS is not Islamic.
"Now let's make two things clear: ISIL is not 'Islamic.' No religion condones the killing of innocents, and the vast majority of ISIL's victims have been Muslim. And ISIL is certainly not a state," said Obama.
"It was formerly al-Qaeda's affiliate in Iraq, and has taken advantage of sectarian strife and Syria's civil war to gain territory on both sides of the Iraq-Syrian border. It is recognized by no government, nor the people it subjugates. ISIL is a terrorist organization, pure and simple. And it has no vision other than the slaughter of all who stand in its way," continued Obama.
He further explained that if left unchecked, ISIS could begin to pose a threat beyond the Middle East, "including to the United States."
"While we have not yet detected specific plotting against our homeland, ISIL leaders have threatened America and our allies. Our intelligence community believes that thousands of foreigners — including Europeans and some Americans — have joined them in Syria and Iraq. Trained and battle-hardened, these fighters could try to return to their home countries and carry out deadly attacks," he said.
He emphasized that the coalition "will conduct a systematic campaign of airstrikes against" ISIS and noted that he will not hesitate to take action against ISIS in Syria as well as Iraq.
"We will hunt down terrorists who threaten our country, wherever they are," said Obama. "That means I will not hesitate to take action against ISIL in Syria, as well as Iraq. This is a core principle of my presidency: If you threaten America, you will find no safe haven," said Obama.
Shortly before Obama's announcement Wednesday night, U.S. officials said the Arab State of Saudi Arabia had agreed to provide bases to train moderate Syrian opposition fighters to oppose ISIS, according to The New York Times.
Secretary of State John Kerry is expected to fly to Jidda, Saudi Arabia, Thursday morning to attend a high-level strategy session on countering ISIS.
The meeting, which is being hosted by the Saudis, is expected to include senior officials from Arab States in the Persian Gulf region — Egypt, Jordan, Lebanon, Turkey and Iraq, according to the times.
CLICK HERE TO READ OBAMA'S ENTIRE SPEECH.