America's Christian Heritage Under Threat, Say Ted Cruz, Mike Huckabee, Tony Perkins at 'Star Spangled Sunday'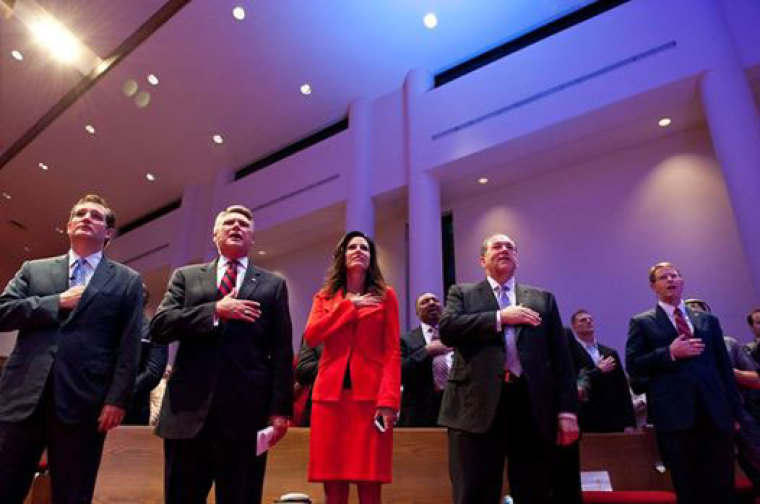 On the 200th anniversary of America's National Anthem, U.S. Sen. Ted Cruz, former Gov. Mike Huckabee, Family Research Council President Tony Perkins and other Christian conservative leaders spoke at an event in North Carolina, reflecting on God's hand of providence and expressing hope that He would continue to help protect religious freedom.
Dr. Mark Harris, senior pastor of First Baptist Church in Charlotte, North Carolina, the venue for the "Star Spangled Sunday," called it "a celebration of worship and praise."
Perkins, whose group was co-host of the event, was the emcee for the evening. "Increasingly, there is an effort to sanitize American history of its Judeo-Christian heritage," he told the crowd of about 500 people. "Our children are being robbed of our past, and as a result, our future is being stolen."
The event was simulcast to 351 evangelical churches across the country.
Perkins also encouraged Christians to register to vote, explaining that the responsibility to protect freedoms does not lie with the president or the courts, but with the people, who are supposed to participate in the democratic process.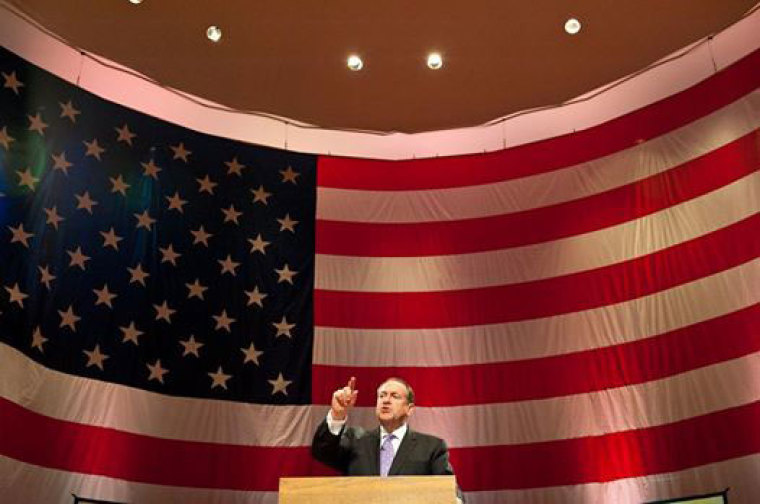 "There's no explanation for America other than God's hand of providence," said Huckabee. There's no reason for Christians to be dispirited, he stressed. They have seen God's hand of providence in their own lives and families and also how He saved them from their sins and healed some of their family members, he said.
"Is it time for us to stop complaining about what is, and start believing what will be if God's people on their faces in humility and brokenness will once again ask for His hand of providence to envelope this great land of ours," he added.
Christians know the final outcome, Huckabee went on to say, as they have read the end of the book, the Bible. "My friends, we win. Our flag still stands."
Cruz said, "Where the Spirit of the Lord is, there's liberty."
The senator also quoted 2 Chronicles 7:14: "If my people, who are called by my name, will humble themselves and pray and seek my face and turn from their wicked ways, then I will hear from heaven, and I will forgive their sin and will heal their land."
"Our land needs healing," Cruz said. "When this country was founded, it was founded on the radical concept that our rights don't come from kings, queens or governments, but our rights come from Almighty God."
Referring to the Declaration of Independence, Cruz said all men are created equal, and they are endowed not by a king, not by a queen, not even by a president, but they are endowed by our Creator.
But today, religious liberty is threatened, both at home and abroad, he added, citing examples of violations of religious liberty by the Obama administration, but also the "victory of religious freedom" in the Hobby Lobby case.
"If you're litigating against nuns," Cruz said, referring to the struggle of Little Sisters of the Poor against the contraception mandate, "you've probably done something wrong."
He also called the ISIS terrorist group in Iraq and Syria "the face of evil." They are crucifying Christians, they are beheading children, he noted.
Bishop E.W. Jackson, pastor of Exodus Faith Ministries and president of S.T.A.N.D, stressed that America is "one nation under God," where no one is Afro-American or Hispanic American, but all are Americans.
Jackson said the increasing attacks on Christians are evidence that the enemy knows they are not going to back down, for no one kills a dead enemy.
Penny Nance, CEO and President of Concerned Women for America, also spoke at the event. She said Christian women of America need to allow their voices to be heard.
David & Jason Benham, co-founders of Benham Companies, spoke about the loss of their HGTV show due to their views against homosexuality.
During a news conference Sunday afternoon at the same church, Cruz criticized Obama's economy and the "Obama-[Hillary] Clinton foreign policy."
Perkins said conservative Christian voters need to be energized for the elections this year and in 2016. "I'm tired of the direction this nation is going in, and it's time to change," he said. "We are speaking to churches across America, challenging people to be sure they are registered and voting. We need to put feet to our prayers. ... And if we're going to change the course of this nation, we're going to have to change the people who are driving it."
The evening – which included video messages from Hobby Lobby President Steve Green, and Anthony Hahn, President and CEO of Conestoga Wood – was co-hosted by Vision America, whose president, Dr. Rick Scarborough, was also a speaker.
Charles Billingsley, worship leader of Thomas Road Baptist Church and Pastor Rafael Cruz, director of Grace for America, also spoke at the event.
"Few citizens have ever heard the story of how God used ordinary Christians to do extraordinary things during the desperate days of 1814," Perkins said earlier in a statement. "But on September 14th, during Star Spangled Sunday, this live nationwide webcast, will tell the providential story behind the song and challenge us to once again rediscover and recommit to what has made America an exceptional nation."