Analysis: Problem With Higher Ed Is Not Lazy Professors; A Response to Gov. Scott Walker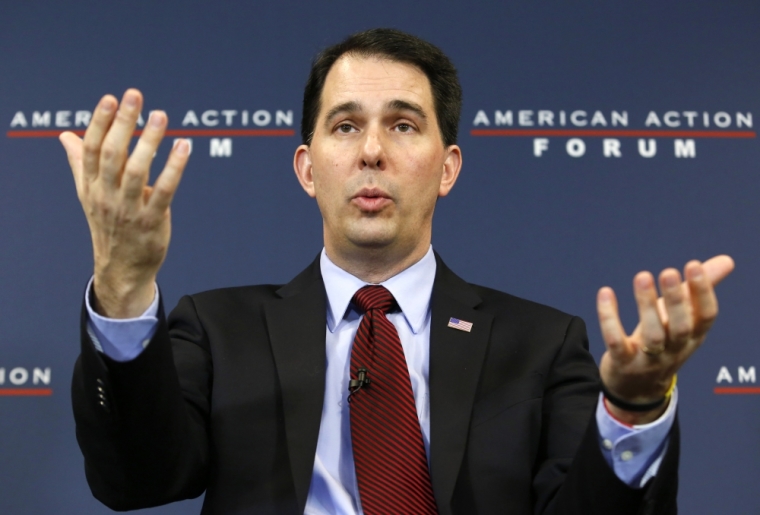 The reason college costs are rising is that professors do not work hard enough, Wisconsin Gov. Scott Walker, a potential 2016 presidential candidate, insinuated in a recent interview.
Speaking with Milwaukee radio station WTMJ, Walker explained his budget cuts to the University of Wisconsin system by remarking that "maybe it's time for faculty and staff to start thinking about teaching more classes and doing more work."
(You can hear the full interview here. His remarks about higher education come around the 12:30 mark.)
While the $300 million cut for UW is significant, Walker touted, in return his budget "frees up" administrators from "having to make many decisions with the faculty."
Walker concluded that these reforms were needed after he "heard from previous UW administrators."
Summary: Scott Walker talked to college administrators who told him that the problem with higher education is not administrators, but faculty; and those administrators would appreciate having the freedom to make decisions without faculty input.
Conspicuously missing from this account is any mention of speaking to college professors about the problems with higher ed.
Walker is wrong. The rising costs of higher ed have nothing to do with supposed lazy professors, and have almost everything to do with college administrators.
According to a report last year from Boise State, on average professors work about 61 hours per week, over 50 percent more than the typical 40-hour work week. The report also found that professors were not shirking their teaching duties to spend more time on research (even though advancement in most universities is heavily tied to published research). About 40 percent of their time, or 24.5 hours, was spent on teaching duties. Additionally, tenure did not lead professors to slack off. Full professors actually worked slightly more hours than untenured assistant professors, and there was only a slight drop in hours worked among the tenured associate professors.
And while these tenured and tenure-track professors have been working 60-hour weeks to maintain their teaching, research and service duties, there have been fewer of them as administrators have gravitated toward using more grad students, adjunct professors, visiting professors, and larger classes to lower the costs of teaching.
Even as spending directly related to teaching has shrunk, college administration has ballooned.
According to a 2009 report by Delta Project on Postsecondary Education Costs, Productivity and Accountability looking at public and private colleges, from 1998 to 2008, spending on instruction decreased while spending on administration, student services and academic support (mostly libraries and computers) increased.
Also, between 2002 and 2006, tuition at public research universities increased 27 percent but spending that was directly related to student learning (including instruction, student services and some administrative functions) increased only 1 percent.
In an article for Public Discourse, Randall B. Smith, Scanlan professor of theology at the University of St. Thomas in Houston, Texas, noted that while faculty pay has barely kept pace with inflation, administrator pay has "skyrocketed," with many, even those far down the pecking order, making at least $200,000 per year. And while their salary increased so did their staff. Anecdotally, a dean at a one Midwestern research university that used to have one secretary now has 40 staff.
"As academic administrators have increasingly adopted the techniques and mindset of their corporate counterparts," Smith wrote, "they have sought to do what all managers do: get rid of the middle man. And many academic bureaucrats, who are more and more estranged from the professoriate, increasingly see faculty as the middle man in the business of managing what they take to be essentially an 'information delivery system.'
"This strategy might work if (a) the problems with rising costs were largely due to the increased cost of faculty, which the evidence suggests it is not; and if (b) faculty had very little to do with the outcomes for which these institutions are being paid, which they do. Teaching, I would suggest, is not really a species of 'information delivery system,' any more than what midwives do is simply a species of 'baby delivery system' that could easily be replaced by a computerized machine. Some things simply need to be done in person."
Walker believes that he can make college education "more effective" and "more efficient" by both empowering the bureaucratic bloat that has moved resources away from teaching, reducing the input of those responsible for teaching, and cutting public funding. That is akin to protecting the hen house by locking up the guard dog and opening the gate for the wolves.
There are many problems with higher ed today, but lazy professors is not one of them. If Walker wants a better understanding of those problems, he should speak less with administrators and more with professors.