Andy Mineo, April Hernandez and MC Jin Keep It Real and Raw in Talk on Faith, Culture and Celebrity
The Bridge Church in NYC Hosts 'Leverage' Panel on Christians of Influence Impacting Culture
Andy Mineo, April Hernandez and MC Jin Keep It Real and Raw in Talk on Faith, Culture and Celebrity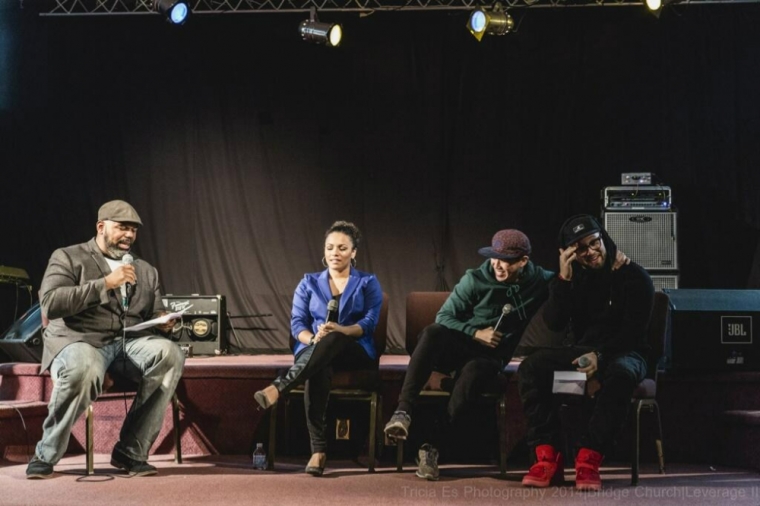 NEW YORK — Sex, drugs and rock n' roll — or in this case, hip-hop. Those were the topics of a recent discussion that saw actress April L. Hernandez and rappers Andy Mineo and MC Jin join a NYC pastor on a church stage to share how they came to faith in Christ, and maintain their faith as Christian celebrities.
Hernandez, recently interviewed by Breathecast about her new co-hosting gig with bestselling author Eric Metaxas on "100 Huntley Street," said she had a "prophetic" experience under peculiar circumstances while touring to promote her award-winning 2007 film "Freedom Writers." However, she did not become a Christian until much later, after her boyfriend (now her husband) gave his life to Christ.
As for MC Jin, born Jin Au-Yeung, he credited one of his aunts with helping to till his heart as a kid for the eventual work God would do in his life more than a decade later, by signing him up for Vacation Bible School. The rapper, who recently released his Hypocrite EP said, however, the real turning point came after his rising star soon plummeted after he became the first Chinese solo rapper to sign with a major record label (read more about Jin's story: Evolution of Jin: Former Ruff Ryder's Fall to Grace).
Mineo, celebrating the successful Jan. 28 debut of his Never Land EP, shared with the nearly-200 in attendance at Park Slope Christian Tabernacle in NYC's Brooklyn borough that his mother, who raised him and his sister as a single parent, was a Christian who made sure he attended church growing up. She also instilled the right values in his life (read CP's exclusive interview with Mineo on Heros for Sale).
"Going to church and stuff was just something I did with my mom," said Mineo, who added that he committed his life to Christ while in college. "I always had this idea that God was important in some way, but I (didn't) really know who He was or what He was about."
In the audio clips below, Hernandez, Mineo and Jin share how got their start professionally and how they handle challenges as Christians and celebrities.
Mineo, Hernandez and Jin Share Their Testimony:
Mineo on "Christian rapper" Label; Hernandez on Choosing Roles; and Jin on Battle Rapping:
The March 20 Leverage panel, hosted by The Bridge Church, a new faith community in Brooklyn, was the second and final part of a presentation on Christians engaging and impacting culture. The first Leverage panel, on March 13, featured ESPN analyst Chris Broussard and television star Mark Tallman, whose discussions, according to The Bridge Church Pastor James Roberson, revealed diverging opinions among Christians on hot-button issues like homosexuality. See more photos from both nights of the Leverage event on Facebook.