Angela Bassett Exclusive: 'Whitney' Director Talks Criticism, Film's Provocative Themes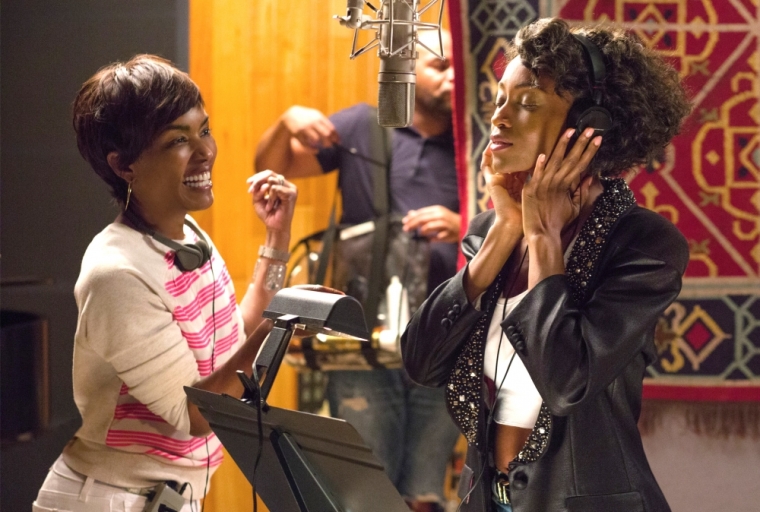 When Angela Bassett signed on to direct the Lifetime television biopic of the late singer Whitney Houston, the veteran actress knew she would face some criticism.
Still, the 56-year-old actress known for her portrayals as Tina Turner, Betty Shabazz and Rosa Parks in biopics over the years, felt she had a special reason to make her directorial debut in Lifetime's "Whitney." Bassett, a Christian actress, told The Christian Post why taking on the television film "Whitney" meant so much to her after working with the late singer on the movie "Waiting To Exhale" in the 1990s.
"It's the relationship I had during a very special time period of my life with a beautiful young woman. I was transfixed by her grace, beauty, charm, generosity, her laughter," Bassett recalled when speaking about Houston to CP. "When this project came to me I had fear of the regret I would have if I said no. I would have only done so if I fell into the fear that I didn't have any experience as a director at that point."
The actress knew that her experience starring in biopics of well-known people gave her a unique approach when working with the actors and crew behind the scenes. However, many critics have voiced their opinion about the televised film coming to life, including a number of Houston's family members who were opposed to the idea.
Yet, Bassett forged on through the process because she knew the film would be made with or without her. With a love for Houston and passion for telling the late singer's love story with her well-known singer ex-husband Bobby Brown, Bassett chose not to focus on naysayers.
"You have to understand with great success there will be critics and naysayers. My intention was to tell their love story as honestly as I could," Bassett told CP. "Whenever the naysayers came, you know you expect that and then you keep on moving. If I can tell [this story] with some compassion, then you just keep on jumping those hurdles until you get to that finish line."
The unique portrayal of Houston focuses on the late singer, portrayed by Yaya DaCosta, and ex-husband Brown, being played by Arlen Escarpeta. While the singer's iconic voice is depicted by Grammy-nominated and multiplatinum-selling entertainer Deborah Cox, DaCosta managed to bring the essence and emotions of Houston to the small screen.
A casting director looked at the possibilities of numerous women playing Houston, but Bassett first thought of DaCosta to portray Houston after seeing her abilities in Lee Daniels' "The Butler," independent films and Tyra Banks' competition show, "America's Next Top Model."
Although DaCosta, 32, is based in New York, Bassett first thought to recommend her to the Los Angeles- based casting director. The budding actress sent a video tape in order to audition for the role, while other women were working to audition for the part in person.
Once Bassett got a hold of DaCosta's tape, her suspicions were confirmed: DaCosta would be perfect for the role of the late singer.
"I think she's heard in her life that she bears some similarities to Whitney. That was a unique conversation to have, although she and I didn't talk about that greatly," Bassett revealed to CP. "I was [thinking] let's see what pops off this video tape which is basically the same one-dimensional medium. And within seconds, I knew that what I thought was confirmed, she would be the right one and she would bring it on the screen."
Still, Bassett's directorial debut did not come without it's fair share of challenges. Although the seasoned actress knew how to speak the language of the talent around her and pull from the influences of the talented directors she has worked with, doubt creeped in.
Bassett had to lean on her faith in moments when she felt that her inexperience disqualified her from completing the task at hand. However, in the moments where she encountered issues during filming, the new director said she would go to sleep and wake up thanking God because a solution would come to her.
"Doubt seeped in but thank God for faith. All things work together for good, for those who love the Lord and are called according to His purpose," Bassett said, quoting Romans 8:28. "So I have foundations and He is my rock I keep going back to. I know that [Whitney] had a deep [Christian] faith as well, so I was in the right place at the right time."
Although it was anything but an easy process, Bassett described herself as compassionate when telling Houston's love story. The story of the pair's relationship at the height of their fame is not for the faint of heart and its Lifetime depiction comes complete with some provocative sexual scenes and visuals showing drug use.
However, Bassett insists she helped tell the late singer's story in a tasteful way while showcasing real life issues and choices that some people make.
"What does the Word say? Be in the world but not of the world," Bassett said. "My intention was not to drag my sister down any further, but to celebrate what was good about her life and to show, in a tasteful way, that those were choices made."
When it came to portraying Houston's battle with drug addiction, Bassett referred to John 10:10 which states "the thief comes only to steal and kill and destroy," but insisted that the devil will not initially come into people's lives looking like a monster.
"I added something that I had her say early. I had her say, 'come on, it's just for fun,' and that's how it all begins," Bassett CP of a scene that introduces Houston's drug use. "But then he comes to steal, kill and destroy. When you have the incredible success rate that they did, you think you're on top of the world and you can conquer any and everything."
For the actress-turned-director, it was important not to downplay some of the provocative themes in the televised film.
"If you walk through life and your children walk through life and think it's all about unicorns and rainbows, or sunsets and sunrises, or stars and cotton candy and are ignorant of pitfalls, then you can fall into one unaware," she said. "We make choices that affect our future, she made choices that affected her life."
Still, Bassett shows glimpses of Houston's faith when the mother is seen singing "Jesus Loves Me" to her baby, or exchanging stories with Brown about getting their start singing in a gospel choir. While a number of themes are explored in the story centering around Houston and Brown's love story, Bassett hopes people walk away with a specific theme in mind.
"I hope people walk away with going on the journey and the realization that these two extremely talented, beautiful young people really loved one another," Bassett told CP. "They tried to make it work."
Lifetime will premiere "Whitney" Saturday, Jan. 17 at 8 p.m. ET.