Angelina Jolie's 'Unbroken:' WWII Prisoner of War Survivor Louis Zamperini Talks Power of Perseverance; Survived 47 Days in a Raft After Plane Crash (Video)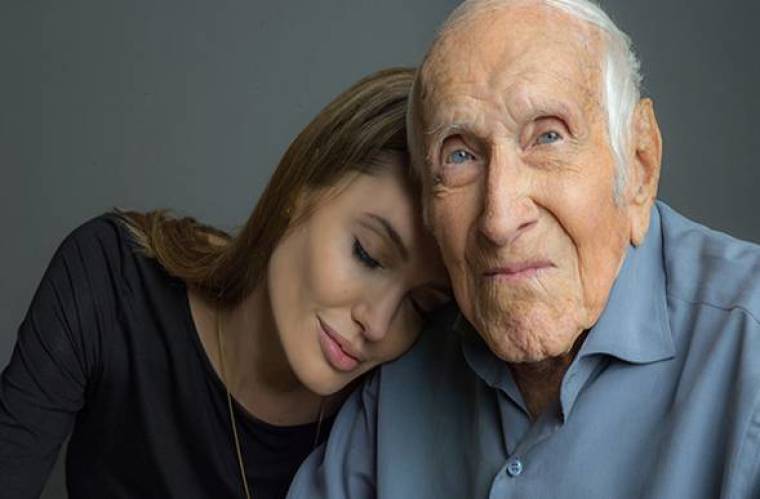 Angelina Jolie's "Unbroken" hits theaters across the U.S. in Dec., and a rare clip shows war hero Louis Zamperini speaking about the power of perseverance.
The film, which tells the incredible life story of Zamperini, is a war drama that is based on the best-selling book Unbroken: A World War II Story of Survival, Resilience, and Redemption.
Zamperini, also a former Olympian, was an American World War II prisoner of war. He survived a number of horrendous ordeals throughout his life, including living across the pacific in a raft for 47 days after a near-fatal plane crash. He also endured unspeakable torture at the hands of the Japanese navy after being sent to a P.O.W. camp.
With the help of his faith, the born-again Christian was able to overcome his troubles and Jolie, who directed the film in Australia, retold all of this in her highly anticipated film.
"As a kid, I was always in trouble, I was rotten. They started talking about what to do with me. As a police chief said, 'We've been chasing him around town for so many years, I suggest running,'" Zamperini said in the video clip.
The iconic Olympic distance runner died of pneumonia at age 97 on July 2, but prior to this, he shared words of wisdom regarding his unbreakable spirit.
"You learn perseverance in running. Right in the middle of almost giving up, you try again and again until you overcome. And that's important in the war too, the determination to come out first, to come out alive," he said. "Perseverance is important for everybody. Don't give up, don't give in. There's always an answer to everything."
Zamperini became a born-again Christian after reluctantly attending a crusade led by evangelist Billy Graham in 1949 in Los Angeles. There, Graham shared the eighth chapter of John, which touches on the woman guilty of adultery.
"He began to preach and quote scripture that reminded me of my life," Zamperini said.
TO READ MORE ABOUT HOW BILLY GRAHAM LED ZAMPERINI TO CHRISTIANITY CLICK HERE