Ann Romney, Michelle Obama More Popular Than Their Husbands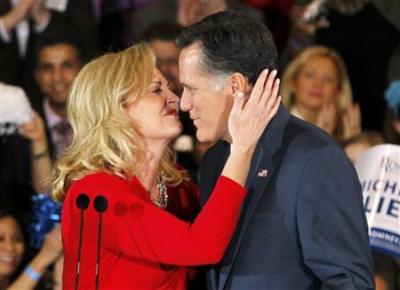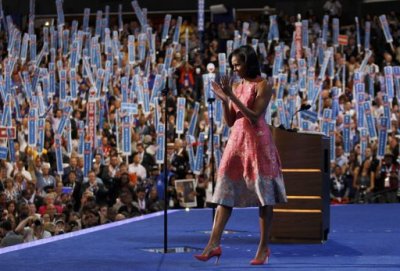 As public opinion polls examine how Americans feel about President Barack Obama and GOP candidate Mitt Romney in the final weeks before the election, a new survey has found that voters are actually more supportive of the wives of each candidate.
A recent Washington Post-ABC News poll found that first lady Michelle Obama has a 67 percent favorability rating, while 29 percent of respondents considered her unfavorably and 4 percent withheld their opinion. Her husband, the president, only holds 55 percent favorability, with 44 percent of respondents expressing an unfavorable opinion.
"Fully two-thirds of all voters express favorable opinions of Michelle Obama, keeping her squarely among the most popular figures in American political life," the poll summarizes.
On the Republican side, Ann Romney is more popular than both her husband and President Obama. She holds a 56 percent favorability rating, while 30 percent of respondents viewed her unfavorably and 14 percent saying they had no opinion on her. This is also Romney's highest position among voters' opinion, with a previous poll in April putting her favorability at only 47 percent.
Despite candidate Romney's recent surge, with many critics saying he was more convincing during last Wednesday's debate against President Obama, the former Massachusetts governor still remains disliked by most people, at least according to The Washington Post poll. Forty-seven percent of voters say they have a favorable opinion of Romney, compared to 51 percent who said that they did not.
The trend can also be noticed when comparing the views of voters on opposite political parties. Eighty-two percent of Republicans had unfavorable views of President Obama, but only 54 percent thought unfavorably of his wife. Mirroring that sentiment, 81 percent of Democrats remain opposed to candidate Romney, but only 52 percent hold negative views toward his wife.
Other big nationwide polls remain divided on whether Romney or Obama have the upper edge when it comes to the presidential election. A Gallup poll conducted after last Wednesday's debate showed a dead even tie among registered voters, with each candidate getting 47 percent of their support.
A Pew poll, on the other hand, put Romney in the lead among likely voters at 49 to 45 percent. This suggests a big turnaround from last month, when Obama had the lead by as much as eight percentage points.
The Washington Post-ABC News poll was conducted Oct. 4-7, 2012, and looked at a random sample of 1,018 U.S. adults.