Anne Graham Lotz: America Is Not 'Too Far Gone' in God's Judgement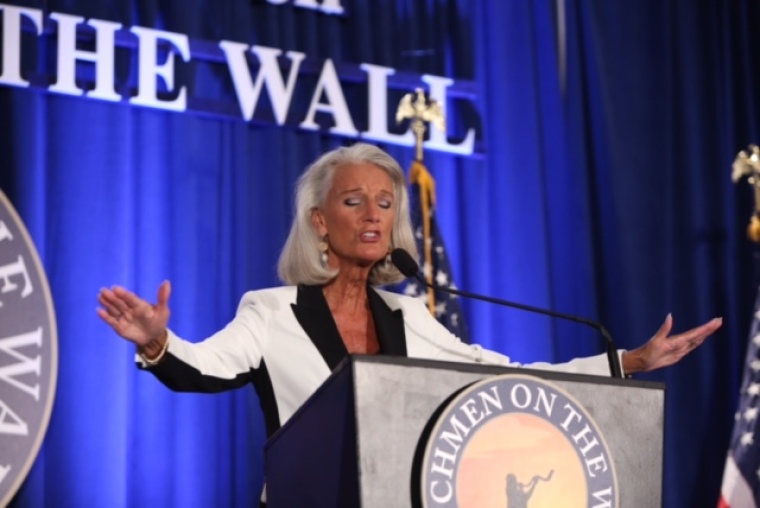 The daughter of famed evangelist Billy Graham, Anne Graham Lotz, says that even though the United States is facing God's judgement, the country has not yet passed the "point of no return" and can still turn back to God in hopes of being spared the full wrath of His judgement.
The 68-year-old Lotz, who is the founder of AnGeL Ministries and author of the new book The Daniel Prayer: Prayer That Moves Heaven and Changes Nations, was a guest on the nationally syndicated radio talk show "Point of View" with Kerby Anderson last Thursday to discuss her book and the judgement that America is facing.
As Lotz has argued in the past that America is in the "last stage of this downward spiral into the abyss of God's judgement," she agreed with Anderson when he suggested that there seems to be more of a concentrated effort to rally people in prayer and asked if America seems to be "praying more as a nation."
"[Prayer] is something that is becoming more frequent and more intense," Lotz said. "The encouraging thing is that I don't think God would be stirring us up to pray like that if He didn't want to answer the prayers. So, it reveals to me that I don't think we have quite passed the point of no return."
Lotz stressed that Romans 1 shows that if a nation refuses to repent of its sins and immorality, God will keep backing further away until He eventually takes His hand of blessing off the nation.
Although Lotz has labeled America's embrace of LGBT rights and abortion as "national sins" that are causing God to back away from America, she doesn't believe it is too late for America to repent and pray for forgiveness.
"[If] we still refuse to repent, then [God] just takes His hands off and leaves us to ourselves and leaves us to our own devices, which I feel like is where we are at right now in America," Lotz said while explaining the stages of Romans 1 judgement. "But, we are not too far gone that I think right now, we can cry out and return to Him. And Joel 2 says, He will return to us."
"Because He is stirring so many people to prayer, you know it's because He wants to answer," Lotz continued. "Maybe He would delay the judgement. Maybe He would soften the judgement. Maybe we could avoid the judgement. Maybe He would stay His hand and leave behind the blessing, as Joel 2 says. … There is a breath of the Spirit across our nation calling God's people to prayer."
Lotz went on to reason that God lets people have problems "because they move us to prayer."
"If we didn't have problems, we would just begin to think that we can handle things ourselves," she added. "And Daniel's problem that he was facing, of course, was that his people had come under God's judgment. They were separated from God. They were not in a place of God's blessing. They were being held captive by the enemy."
But what helped Daniel and his people escape from captivity was Daniel's covenant with God and his prayers for forgiveness, Lotz explained. She added that Daniel read a promise in Jeremiah that he would be freed after 70 years and called on the Lord to uphold that promise.
"Daniel took that promise that he saw in God's Word and he applied it to the problems that his people were facing, and he did what Eugene Peterson calls 'reversed the thunder.' He took the promise and he prayed it back to God," Lotz explained. "It makes a big difference when we say 'God, You said if we would pray, seek Your face, turn from our wicked ways, You would hear our prayer, forgive our sin and heal our land.' So, we hold God to His Word. When we base our prayers on God's promise of His Word, it gives a strength and power to it. It is different than when we just tell Him what we want or what we hope or wish for. Reverse the thunder and that is what Daniel did and it worked."
Lotz stated that terrorist attacks like the one in Orlando and the troubling political situation in America is proof of the nation's dire need for prayer.
"We are in such deep, deep trouble," Lotz said. "The problems that we are facing should compel us to pray. I think after prayer, He can move us to action in some ways. First of all, the first thing we need to do is hit our knees and pray and hold God to His Word."