Anti-Gay Congressman Ralph Hall Accidentally Attended Pro-Gay Event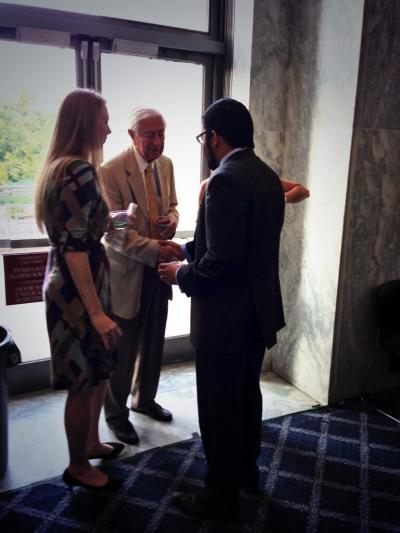 Ralph Hall, a 90-year-old Republican congressman from Texas who is a fierce defender of the Defense of Marriage Act, accidentally supported a pro-gay rights event last week before realizing he had entered the wrong door.
According to a report in the Houston Chronicle, Hall showed up at an LGBT event hosted by the Victory Fund, sipped his drink and made polite conversation before realizing they were in the wrong place.
"Hall and his staffers were under the impression that they were attending an event for a fellow congressman, an event scheduled for that same day. After being welcomed into the event and offered refreshments, Hall inquired about the congressman whom he was there to support. After being told that he was indeed in the wrong place, the longtime conservative quickly left the premises – that is, as quickly as a 90-year-old can physically leave a premises," noted the report.
"At that moment I realized that this was not the reception I intended to attend, and I put down my glass, thanked the sponsor, and told him we would be leaving," said Hall about the mix-up.
Many of the shocked attendees at the LGBT event seemed uncertain as to whether Hall had intentionally come to support their cause or if he was just lost.
The shock of the attendees regarding Hall's presence was evidenced on Twitter, as many wondered whether or not he was there on purpose or if he actually was just lost.
"GOP Rep. Ralph Hall, a DOMA supporter, wandered into Victory Fund Pride reception. He seems to be lost," noted Justin Snow in a tweet on June 5.
"Many of those in attendance probably were surprised to see me walk in, but were not surprised to see me leave quickly," Hall said about his mistake.
Responding to a Heard on the Hill article about the incident titled "Ralph Hall Lets His Hair Down," Hall noted: "I would just say that while I do have a good head of hair for a 90-year-old, I do not have the quantity of hair, nor the inclination, to let it down."
Hall is reportedly the oldest serving member of Congress and the oldest person to ever serve in the House of Representatives.