Anti-Poverty Fight Pointless If Systemic Violence Is Ignored? Human Rights Advocate Gary Haugen Talks 'The Locust Effect'
Gabe Lyons of Q Ideas Interviews International Justice Mission Founder Live at American Bible Society in NYC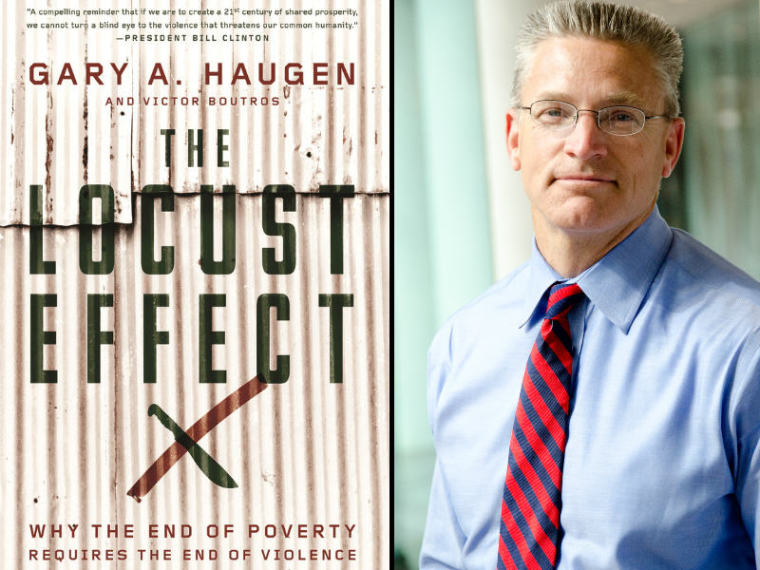 NEW YORK — Gary Haugen, founder and CEO of human rights organization International Justice Mission, recently visited the American Bible Society in NYC to talk with Gabe Lyons of Q Ideas about his new book, The Locust Effect: Why the End of Poverty Requires the End of Violence.
"Beneath the surface of the world's poorest communities, common violence — like rape, forced labor, illegal detention, land theft, police abuse and other brutality — has become routine and relentless. And like a horde of locusts devouring everything in their path, the unchecked plague of violence ruins lives, blocks the road out of poverty, and undercuts development," reads a publisher description of Haugen's The Locust Effect, co-written with Victor Boutros. 
Haugen has led International Justice Mission for 17 years in its mission to protect the world's poorest and most vulnerable from violence, exploitation and oppression. Haugen, formerly a lawyer at the U.S. Department of Justice, saw the horrors of unchecked and systematic violence firsthand when he served as director of the U.N. investigative team in a post-genocide Rwanda.
In his live webchat with Lyons last week, Haugen explained how gender violence, slavery, police corruption and the stealing of land entrap and oppress the poor and counter anti-poverty efforts. Haugen also shared how his organization continues to make a difference and how global citizens can help put an end to poverty and violence.
After watching the Q webcast, read CP's brief follow-up with both Haugen and Lyons about IJM and The Locust Effect.
Q&A with Gary Haugen
CP: Of course targeting violence means you're going to have some push-back. What are some of the obstacles your organization faces every day on the ground?
Haugen: First of all, you have perpetrators, right, who are acculturated to violence and if you start to oppose them, they'll come after you. First of all, they'll try to scare you, so you have to actually take that seriously. But then it's also a matter of bringing those who have power and authority on your behalf to actually deal with that violence, so we find that local authorities are eager to help out if you are able to bring good information and actually partner with them in stopping this kind of violence. We do have a problem of police corruption and occasionally you have to confront that, but again that's always about exposing the truth. So we work with local law enforcement in the developing world, helping them root out the corruption that's within their own police force.
CP: Is there a particular scenario or case you can point to and say, "That's success. That's how it's supposed to work?"
Haugen: Specifically in Cambodia where we recently completed a study ... where when I first started going there 10 years ago you could just find hundreds of tiny kids on open sale to foreign pedophiles and sex tourists. I remember going into a brothel as part of an undercover investigation and being taken to a back room where I was presented with a dozen kids between the age of 5 and 10 years of age. We've now completed a study that manifests that that sort of just rampant child sex trafficking is no longer there because law enforcement has done an effective job just fighting it. One of the things that also has happened, is that there was a corrupt leader of the anti-trafficking police force that actually had to be properly prosecuted and convicted in order to establish integrity within the police force. So it's not only fighting the criminals, but also partnering with law enforcement to make sure it has integrity.
CP: Is spiritual warfare a part of the work you're doing?
Haugen: As Christians, we do believe that there's not only this sort of physical reality that we engage, but there are also just realities of evil that we have to engage. Also [it's] just true that courage in our own heart and faith and belief that there is a God of justice who does want to make these things right in the world, that's critical, so we do devote ourselves every day to rhythms of prayer and for spiritual preparation for the struggle. For us, personally, we really wouldn't know quite how to take on this fight without that.
Q&A with Gabe Lyons
CP: Why was it important for you to have Haugen on the Q webcast?
Lyons: I see Gary as a pioneer for the most important work we should be considering as leaders in our time today, which is the work of justice, the work of protecting the poor, the work of making sure real human flourishing can take place. Gary cuts to the root of what could disrupt any sort of flourishing taking place, which is violence and I haven't heard many people address this specific topic. I think it's a new, fresh take on something that's systemic throughout our world, but we're at a moment where it actually could be addressed.
CP: You mentioned also during the Q&A with Haugen that The Locust Effect was selling out in bookstores, and I noticed also on Amazon that the book was a top-seller in a few sections. Why do you think the subject is resonating with so many people?
Lyons: I think any time somebody presents an idea that runs counter to how we thought about, and just assumed, [how] the world works, it's intriguing. But this isn't just anybody writing a book, it's somebody who's actually lived a life, now for 20 years, actually addressing the problem, and now there's real solutions to talk about. So it's not just putting out an idea about a problem, but he's actually solving the problem. His organization's got a proven track record and a model now that the rest of the world could start to adopt, so I think that gives it a lot of credibility, gives it a lot of relevance, it's the reason why people like Bill Clinton and others have signed on and are endorsers…
CP: Any upcoming events with Q Ideas?
Lyons: Q Nashville, April 23 and 25, is our annual summit. That's where we convene 1,000 leaders to actually address 30 of the biggest topics facing our world. It's our chance to dig in to accessing where the world seems to be going over the next 12 months, what are the conversations that people will be having, how can we as leaders start to address any of those issues in very creative ways that are grounded in the Gospel and Scripture and the work of Jesus, but also very creditable to our friends and neighbors and colleagues in the industries and places where we work.
Learn more about The Locust Effect online: www.thelocusteffect.com