Antoinette Tuff, Hailed as a Hero Hostage, Credits 'Grace of God' After Talking Down Georgia School Gunman
Woman Heard on 911 Calls Saying 'Thank You, Jesus;' Telling Gunman 'I Love You ... I'm Proud of You'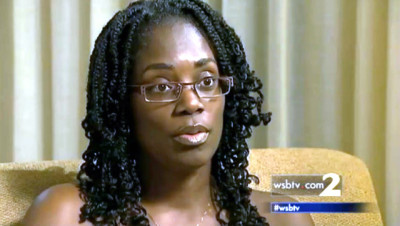 Antoinette Tuff is being hailed as a hero for keeping her cool and persuading a 20-year-old man from using his AK-47 and 500 rounds on herself, students and teachers at Ronald E. McNair Discovery Learning Academy in Decatur, Ga., on Tuesday. But the school bookkeeper is passing on the credit to God, revealing in a recent interview how she had been praying not only for herself but also for the gunman who had taken her hostage during the frightening ordeal.
Tuff can be heard in one particular call to 911 asking a dispatcher if it was possible to make sure police officers didn't kill Michael Brandon Hill and if she could ensure that by exiting the building with him. Hill was eventually arrested without a struggle inside Tuff's office after disarming himself, as the Christian woman had advised him to do, and lying on the floor face-down.
"It's going to be all right, sweetheart," Tuff can be heard saying steadily over the phone in the 911 recording, while anticipating Hill's arrest. "I just want you to know that I love you though, OK? And I'm proud of you. It's a good thing that you've just given up. Don't worry about it. We all go through something in life."
Moments later as officers storm into the office, Tuff, her voice now sounding shaky and like she is on the verge of tears, turns back to the phone and tells the operator: "I'm gonna tell you something, babe, I've never been so scared in (all the days of) my life. Ooh, Jesus!"
Listen to Tuff's dramatic 14-minute 911 emergency call below:
Tuff later revealed in an extensive interview with WSB-TV that Hill "had a look on him that he was willing to kill" when he walked into the school's front office.
"(As a) matter of fact he said it," Tuff added. "He said that he didn't have any reason to live and that he knew he was going to die today."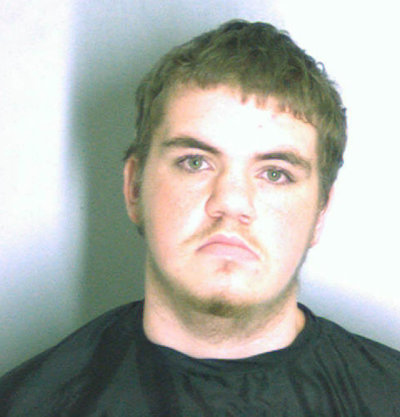 The divorced mother of two also shared that Hill had told her he had not been taking his medication and should have gone to a mental health facility instead of coming armed to the school, located in Decatur, a suburb near Atlanta. Hill also had reportedly told of how hopeless he felt, which apparently was Tuff's window through which to reach the troubled man.
Tuff confided in Hill that she had tried to commit suicide after her husband of 33 years left her last year — "the only man that I've known since I was 13 years old," she said of her ex-husband. The woman also shared her challenges being the mother of a multiple disabled son.
Tuff told the local news station that she was able to stay calm because of what she had been learning from her pastor at church.
"My pastor, he just started this teaching on anchoring, and how you anchor yourself in the Lord," she said. "I just sat there and started praying. I just remembered the teaching and how he taught us (church members) how to consult people when they're bereaving and all that."
"I realized at that time that it was bigger than me," she added. "He was really a hurting young man so I just started praying for him. [I] just started talking to him and allowing him to know some of my life stories and what was going on with me, and that it was going to be OK and he could just give himself up."
When asked for her thoughts on why Hill was so compliant, Tuff said, "I have no idea. That was nobody but God. I can't even put that on myself. I was praying hard."
"I give it all to God," she repeated when a reporter suggested that she was a hero. Tuff insisted that she was no hero, and that it was "through (God's) grace and mercy" that she was able to maintain her composure.
After convincing Hill to disarm and surrender himself, he reportedly requested that Tuff relay over the intercom system that he was sorry.
Watch Tuff's interview about her ordeal in talking down Hill:
Police officials have commended the school clerk for her patience and calm words in interacting with Hill.
"She was a real ally. She was a real hero in all of this. She just did a stellar job. She was cool, she was calm, very collected in all of this, maintained her wherewithal," said DeKalb County Police Chief Cedric L. Alexander.
By the time Hill was arrested and removed from the school campus on Tuesday, he had shot at police, without injuring anyone, and reportedly discharged one bullet inside Tuff's office. No one was hurt in Tuesday's school standoff, although the pre-K through fifth grade students seen fleeing the building on live television were visibly upset.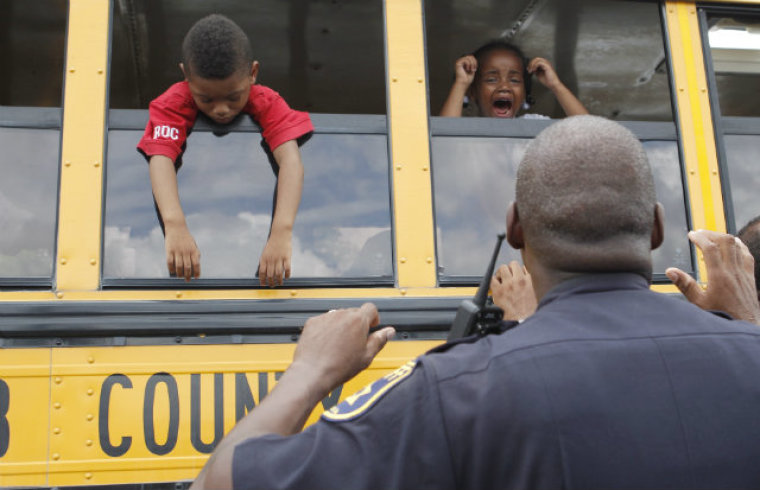 View Photos
Hill was on probation when he walked armed into Ronald E. McNair Discovery Learning Academy and threatened violence. He was arrested in March of this year for making terroristic threats and sentenced to probation.
The 20-year-old was a loner who rarely talked about family or friends, according to Natasha Knotts, the woman who said she became a mother-like figure to Hill when he started attending her church a few years ago. Knotts and her pastor husband took Hill into their home for six months during his late teens.
She told The Associated Press, "He was part of our family," adding that she and her family knew in advance that "he had a mental disorder." Knotts said Hill has brothers and told her his mother had died and that he did not know his father.
Hill was charged with aggravated assault on a police officer, making terroristic threats and possession of a firearm by a convicted felon. He was being represented by the Dekalb County Public Defender's office, which told reporters Hill has "a long history of mental health issues." A preliminary hearing reportedly has been set for Sept. 5.