Are African Americans Being Recruited by ISIS?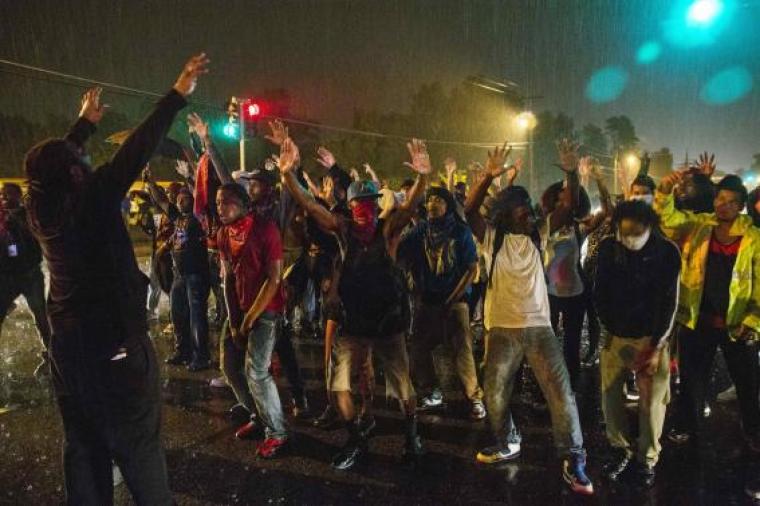 Considering the social conflict between cops and protesters in Ferguson, Missouri, the terrorist group commonly known as the Islamic State of Iraq and Syria (ISIS) is using the strategic moment in American history to recruit African-Americans to join the Islamic State's jihadist movement.
Those fighting alongside ISIS, a globally growing terrorist group in which U.S. Secretary of Defense Chuck Hagel said was "as sophisticated and well-funded as any terrorist we have ever seen", have made no secret that they have vowed to bring turmoil to America. ISIS members promised to "divide America in two", while their spokesman Abu Mosa promised to raise the flag of Allah over the White House.
In the aftermath of the clash between militant police forces and protesters in the St. Louis suburb, the Washington Post reports that many ISIS members see the Michael Brown shooting and confrontation between black citizens and government forces as confirmation that the terrorist group's ideas of oppression and racism in America are completely accurate.
In attempts to reach out to the black community, supporters of ISIS have started the social network hashtag movement #FergusonUnderIS and #ISISHERO. An organization that tracks online terrorist activity said that most of those tweets and post on social sites are targeted directly toward black Americans.
"I thought u guys back in Ferguson were supposed to be Free & that u had equal rights. I'd really like to know what changed? Justice and Equality is under the Shari'ah law. You'll never get it under Democracy," a tweet posted from a now-deleted Twitter account that belonged to someone who claimed to be a jihadist from the United States named Mujahid Miski, read.
Jihadists that were interviewed by Post reporter Souad Mekhennet all agreed that they feel as though the Michael Brown shooting is a clear example of how the American government treats black people as second-class citizens. Some members feel as though African-Americans, muslim or not, would be open to join the Islamic movement because the Islamic principles don't allow for discrimination based on race, although they do promote sexism.
Co-founder of the banned al-Muhajiroun terrorist group Anjem Choudary in an interview with the Washington Post, echoed that notion.
"I think blacks in the U.S. will look more towards Islam," Choudary said. "The only way of life today that does not look at race is in fact Islam. Islam only distinguished people by whether they are Muslim or not. The color of their skin does not play a role."
ISIS has seemingly had no problem recruiting people from western nations to fight in their cause. There are numerous people that claim to be members of the Islamic State from Britain, France and Germany. Even the executor of American journalist James Foley earlier this week was a radicalized Brit.
The members of ISIS claim that they are at "war with America" and at "war with the West." So far, that doesn't seem to have come to fruition. Although Texas Governor Rick Perry said it is a "real possibility" that members of the terrorist group could have snuck through the nation's southern border, it would be easier to bring the war to America by starting from within.
 According to an NBC news report, a "small handful" of Americans have already begun fighting alongside ISIS.