Are Charter Schools Overrated?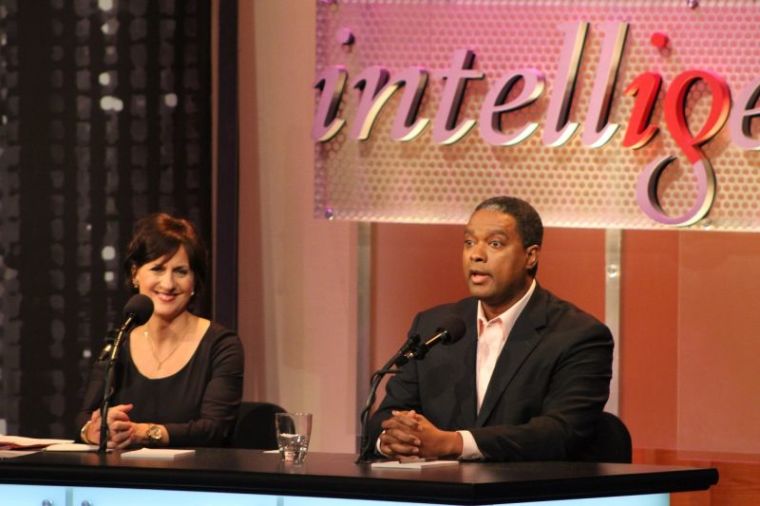 NEW YORK — Are charter schools overrated? Four education experts debated the question before an audience in New York City Wednesday night and most people agreed after hearing arguments that the charter school movement needs work.
In the last 25 years, charter schools have become a highly sought-after alternative to traditional public education, according to data cited by Intelligence Squared U.S. Between 2004 and 2014 alone, enrollment increased in these schools from less than 1 million to 2.5 million students and counting.
In a debate on the motion "Charter Schools Are Overrated," the experts, Gary Miron, professor in evaluation, measurement and research at Western Michigan University; Julian Vasquez Heilig, a professor and director of the Doctorate in Educational Leadership at California State University, Sacramento; Jeanne Allen, founder and CEO of the Center for Education Reform and Gerard Robinson, resident fellow at the American Enterprise Institute and former Florida commissioner of education examined whether or not charter schools have lived up to their promise.
Miron and Heilig argued for the motion while Allen and Robinson argued against it inside the Kaufman Center on Manhattan's Upper West Side.
Miron explained that he liked charter schools because they were supposed to be a new form of public school that would help the general public education system, but argued that charter schools have departed from that goal in general.
"I'm very impressed with the idea (behind charter schools), my problem comes, however, with what has happened in the last 25 years. I've done a lot of evaluations. Charter schools today are overrated in large part because they are not fulfilling those publicly established goals.
"If we look at school size, charter schools are very big. They are growing every year in size. We have some charter schools that are [more than 10,000] students. One school in Ohio has more than 14,000 students. They are not locally run today. Many of them used to be locally run but today they are increasingly run by outside private companies," he said.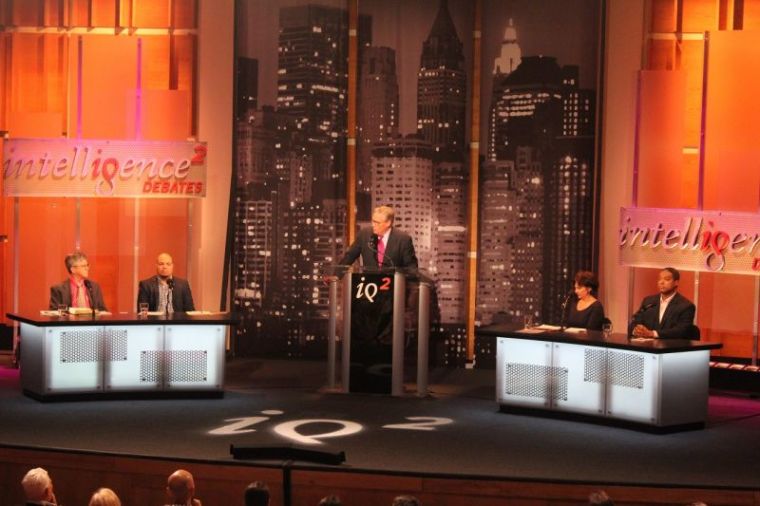 While some charter schools are innovative, Miron noted that systematic research shows that charter schools on the whole are no different than regular public schools. Research, he said, showed that charter schools also have very high teacher attrition rates. And among the reasons cited for this is poor pay and a general inability of the schools to meet their stated mandate.
He noted that when it comes to student achievement, an area where charters are expected to outperform regular public schools, data culled from 80 separate studies showed there was no difference in performance between students at charter schools and those at public schools.
He also raised concerns about nearly half of America's charter school students being enrolled in privately operated charter schools.
"This was not anticipated. We're seeing charter schools today being bought and sold. How can you buy a public school?" asked Miron. "I believe the reform idea has been taken from us by private interests pursuing ideological and profit motives ... this is the reason why I'm sad to say charter schools are overrated."
Robinson, who was quick to point out that all charter schools are not equal, explained that the charter school movement was created and pushed by teachers.
"Public school choice isn't about a public monopoly, it's about having a public purpose for multiple kids. And they said if we can empower teachers to create charters then we should do so," he said.
"We have great charter schools and we have horrible charter schools. We have charter schools that should have never been opened. If there are bad charter schools — that is an accountability and authorization problem. Not a charter problem. If we have for profit companies involved in charter schools and they are involved in malfeasance, that's financial malfeasance, that's not a problem with for profit companies," said Robinson, who's a former charter school authorizer.
He argued that people making a profit from the public school system isn't a new phenomenon.
"We have people in this charter school movement who are in this movement to make money. Guess what, before you had charter schools, you had people in the public school system — then and now — making money," he said.
"I got into this movement because I wanted to make sure that we advance the Republic. 1787 in the city, we decided to sign the Northwest Ordinance and it's something we don't talk about often. And it said that religion, morality and knowledge be it necessary for good governance and the happiness of mankind. Schools and the means of education shall forever be encouraged. Schools and the means of education. Schools are important and they take place in buildings, but the means of education is ubiquitous," he argued.
He pointed out that charter schools were a hot button issue during the 2016 presidential campaign and some critics wondered out loud if charter schools would destroy public education.
"If you don't like charter schools then you must not like public school choice. Because, if you like public school choice, you gotta like magnet schools and magnet schools, in fact, preceded charter schools. If you like public school choice, then of course you have to like the specialist schools here in New York City where you have to take tests to get in," he said, noting that charter schools complement the public education system.
"You don't have to take tests to get into charter schools. Where you have specialty schools for the gifted, what about those who we found left behind? Charter schools are 25 years old. It's a step in the right direction to try to right the wrongs that we've had for centuries," Robinson asserted.
In his arguments, Heilig drilled down on the point made by his debate partner that charter schools have evolved and departed from their original intent.
"The system of public education in the United States include some places that are excelling and some that are struggling. Overall the United States performs about the middle of the pack. However, there are some states that are knocking it out the park," Heilig said.
"For example, in math and science, there are only four countries in the world that perform better than Massachusetts. New York, New Jersey, there are only five countries that perform better than those two states."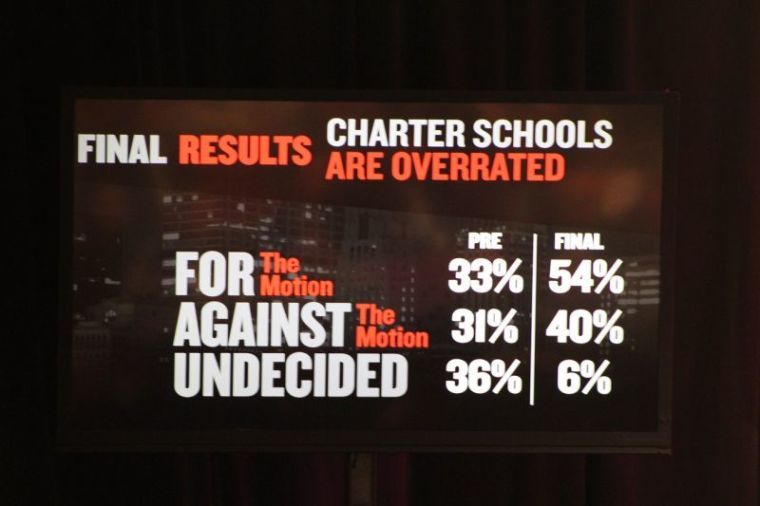 America's children, he argued, are smarter and graduating at higher rates than ever before and he credited the public education system for those improvements.
"The NAEP test, which is the so called pulse of the nation's achievement, has shown that the children of today are smarter than they have ever been before. In fact, our graduation rates are now higher than they've ever been. Our public education system deserves some credit for making this happen," Heilig said to applause.
The big problem with public education, he noted, was the issue of inequality which charter schools are supposed to address but haven't been doing a good job of it.
"The key problem in our country is the inequality. The inequality between states, between districts, within schools and within districts. Jeanne and Gerard have been very eloquent on this point over the years. Inequality as the status quo for poor children really is the shame of our nation," he said.
"Some have suggested that charters resolve these inequities that persist in our society and that charters, as President Trump said yesterday (Tuesday), are civil right. Donald Trump's Secretary of Education, Betsy DeVos, has said that choice equals civil rights. Gerard, as Trump's presidential transition team on education has made this point ..." Heilig said.
Civil rights organizations like the NAACP, he argued, do not agree that charter schools are the "civil rights remedy" to address inequality in public education.
"In contrast, as noted recently by civil rights organizations, the NAACP, The Journey for Justice and the Movement for Black Lives, charter schools are far from a civil rights remedy," he said.
"Overall, their results mirror and in many cases underperform traditional schools," Heilig added. "The public schools that Jeanne and Gerard have consistently denounced are failing in some important ways. But by using approaches that limit or deny access to some of our most vulnerable students, many charter schools undermine the civil rights process."
In her arguments, Allen pointed out that charter schools were more cost effective and touched on what she saw as the hypocrisy of some charter school critics.
"Just today on the train I heard someone say, 'Well, I like public schools, I like charter schools, but I had to move across the border from D.C. into Maryland to get a good school for my kids.' Really? Well is your choice not overrated? But charter schools are overrated?" she asked.
She also noted that general student achievement data from public school systems does not usually show if inequality is being addressed unless the data is parsed.
"There's actually no such thing as a study that will tell you that all charter schools do this way or all charter schools do that way. In fact, states like New York, New Jersey and Massachusetts don't have better test scores or assessments than every other state," she said. "They have higher income parents, better educated and when you put those better educated higher income families and the students of those families in a data set for researchers to look at they get all combined and squashed with all the poor, black, brown, Latino and working class folks that actually ends up lifting them.
"When you disaggregate that data, something we've been able to do for the last 12 years, you see a much different picture. You don't see growth with those upper middle class, those more advantaged kids. Those working poor, you don't see them, regardless of color, getting better and better. You actually see the proficiency of the best performing students in America going down," she said.
Charter schools, she argued, are for "individual parent options" which make the public education system better.
The experts who argued for the motion won. They were able to convince more of the audience which boasted a number of public school teachers.