Armed Muslim Brotherhood Fanatics Attack Egyptian Church Over Plans to Honor 21 Beheaded Coptic Christians
Armed Muslim Brotherhood Fanatics Attack Egyptian Church Over Plans to Honor 21 Beheaded Coptic Christians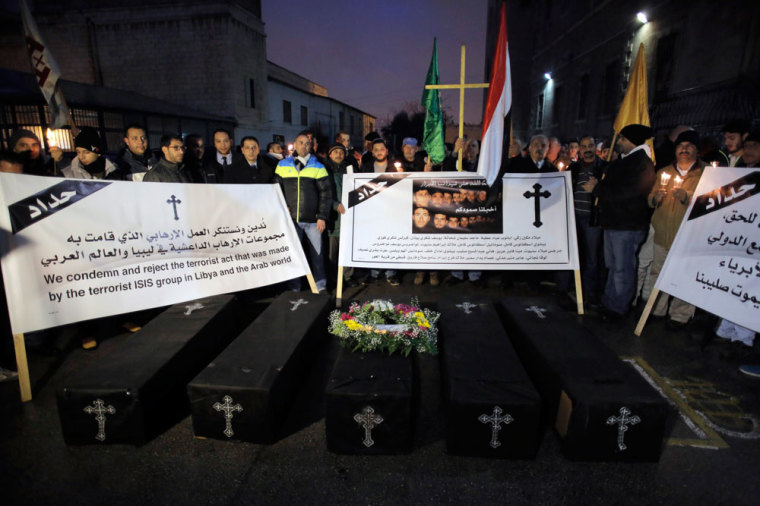 A group of armed Muslim fanatics, who some have identified as Muslim Brotherhood members, attacked a church over plans to honor the 21 Coptic Christians beheaded by terror group ISIS in the Egyptian village of Al-Our. The church's priest said that he made local police aware of plans for the attack, but the authorities offered no protection.
Fr. Makar Issa, the priest of The Virgin Mary Church in Al-Our village, told International Christian Concern: "I called the police many times and asked them to come to guard us but they came late and after their arrival they didn't guard the church. They stopped in the entrance of the village. Even still they allowed the cars of the attackers to enter the village and attack us and the church without any intervention from them to protect us," the priest said.
"I charge the responsibility of what happened to the policemen," he added, "and I accuse them of inaction, indifference and complicity."
At least six Christians were wounded in the attack, with three suffering serious injuries.
The village is the home town of 13 of the Coptics that were executed in a video published by ISIS in February.
Daily News Egypt reported on Sunday that some witnesses said the attackers are Muslim Brotherhood members, the former political party in Egypt that was ousted from power in 2013 and later outlawed.
The incident reportedly occurred on Friday, when "scores of mostly young Muslims" are said to have gathered in the Minya governorate after midday prayer. The attack is believed to be in protest to plans to build a new church honoring the beheaded Coptic Christians.
The Virgin Mary is the town's only church, servicing close to 2,500 Christians.
Al-Our resident Milad Nageh described the attack to ICC: "At 8 p.m., a group of armed Muslim young men in six or seven cars from nearby villages stormed our village. Many Muslim fanatic young men joined those who came from the other nearby villages and attacked the [Virgin Mary] church."
He added: "They shot guns at the church and pelted the church with stones and blocks," he added.
"They smashed the sign of the church, destroying the ground of the church yard and breaking the widows of the service buildings of the church. They also burned a car that was parked in the front of the church."
Fr. Issa said that there were growing concerns that the church might be attacked.
"On Thursday evening, March 26, I was informed that the next day, Friday, there will be Islamic demonstrations in the village against us," the priest revealed.
He added that during Friday morning Mass "Bishop Raphael, who came from Cairo to take part in the prayer of the memorial of 40th day of our martyrs, informed that some Muslims from the village and the other nearby villages will organize march in our village after their Friday noon prayer."