Army Chaplain Faces Career-Ending Punishment for Following SBC Marriage Guidelines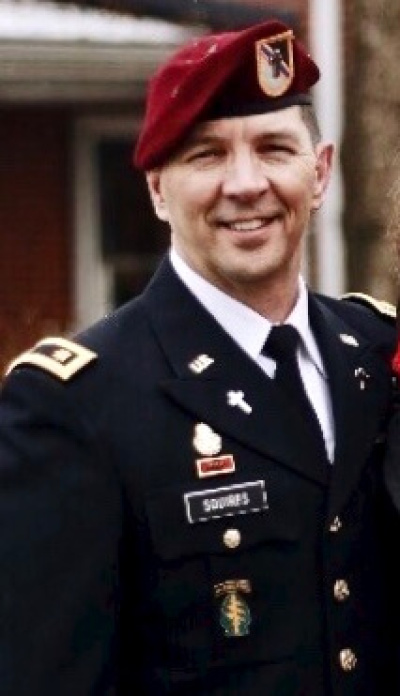 A national religious freedom law group has come to the aid of Baptist United States Army Chaplain Scott Squires, who faces possible career-threatening consequences for following Southern Baptist Convention guidelines on marriage.
The First Liberty Institute is demanding that superiors at Fort Bragg in North Carolina reverse an investigator's decision to recommend that the decorated chaplain who has served the nation for over 25 years as both a chaplain and soldier be punished on grounds that he allegedly discriminated against a lesbian soldier.
At the heart of the issue is Squires' response to a lesbian soldier who wanted to participate with her wife in an Army-sponsored marriage retreat that Squires was conducting on Feb. 9–11.
Squires was accused of discriminating against the lesbian soldier.
According to the report filed by the investigating officer, the soldier reached out through email about the availability of spaces for the Strong Bonds retreat and was told that she would need to speak directly with Squires.
Days later after the deadline to register had expired, the soldier met with Squires. Squires allegedly told the soldier, whose name had been redacted from the document, "that his religious denomination did not recognize same-sex unions and since he was the person facilitating this Strong Bonds Retreat, she and her wife could not participate."
"Squires explained that he could not provide her any counseling or include her in any Strong Bonds event where he was the facilitator due to his certification by the [Southern Baptist Convention's] North American Mission Board," the report explains. "CH Squires informed her that some chaplains in SWCS do recognize same-sex unions and she would be notified of the next time someone does a Strong Bonds Retreat but CH Squires did not offer any specifics."
The report explains that Squires refuted the claim that he told the soldier that she could not participate and said that he informed her "that it was full and that he would ensure that she was informed of the timing of the next strong bonds event and ensure that the facilitator could perform services for [her and her wife.]"
After deliberation with superiors, the decision was made to allow the lesbian couple to sign up for the retreat and have another chaplain host it. However, that chaplain was not available on the Feb. 9–11, so the event was rescheduled for Feb. 23–25.
Responding to the Feb. 6 Equal Opportunity complaint, the investigator ruled that the soldier's complaints of discrimination against the chaplain are "founded."
"There is one key element: her sexual orientation prevented both [name redacted] and CH Squires from correctly informing her in a timely manner how many slots were available for the 9–11 February 2018 Strong Bonds Retreat," the investigator ruled.
"CH Squires should be reprimanded for his failure to include [the soldier] in the initial Strong Bonds Retreat scheduled for 9–11 February 2018," the investigator recommended. "The efforts he took to reach out to [the soldier] to explain his limitations were unnecessary and created a situation where he unintentionally violated Army EO policy."
First Liberty Institute sent a letter to Colonel William Rice on Tuesday to argue that the investigator of the complaint "disregarded or failed to consider" critical facts pertinent to Squires' case.
As a chaplain endorsed by the Southern Baptist Convention's North American Mission Board, Squires could not, without risking losing his endorsement from the denomination, participate in the retreat.
NAMB forbids its chaplains from not only participating in weddings for same-sex couples but also from offering "any kind of relationship training or retreat, on or off a military installation."
"I was shocked the investigator concluded that I should be reprimanded for doing something I'm required to do under Army regulations and my endorser's rules," Squires said in a statement. "I hope the Army sees that I was simply following Army regulations and the tenets of my church."
According to the legal group, federal law prohibits status as a restricted chaplain for purposes of same-sex relationships from being used as justification to take adverse action.
Additionally, Department of Defense policies protect the religious freedom rights of individuals.
Department of Defense Instruction 1300.17, Paragraph 4d, states that "a service member's expression of sincerely held beliefs may not be used as the basis of any adverse personnel action, discrimination, or denial of promotion, schooling, training, or assignment."
The letter also stated that the Religious Freedom Restoration Act and the First Amendment to the United States Constitution also protected Squires' rights.
"Remarkably, although [investigator] recognized that CH Squires is restricted by NAMB in this way, he nevertheless concluded that [the soldier's] right to attend the Strong Bonds event of her choosing supersedes CH Squires' sincerely held religious beliefs, denominational tenets, and legal requirements," the First Liberty letter argues. "To the contrary, the restrictions placed on CH Squires do, in fact, supersede [the sergeant's] right to attend the Strong Bonds event of her choosing."
Squires, who has won multiple awards during his time of service, faces the possibility of "career-ending punishment," according to First Liberty.
Mike Berry, First Liberty deputy general counsel and director of military affairs, said in a statement provided to The Christian Post that "Squires should not have his career ruined for following the rules of both his faith and the Army."
"Federal law protects Chaplain Squires and prohibits the military from punishing any chaplain who acts in accordance with their religious tenets," Berry said. "We urge the Army to follow the law, just as Chaplain Squires did. Chaplains should not have to give up their First Amendment rights in order to serve."
Rice also received a letter on March 30 from NAMB leaders that expressed their concern with Squires' situation and even threatened legal action if punishment is issued to Squires.
The letter was sent by former U.S. Army Chief of Chaplains and current NAMB Executive Director of Chaplaincy Douglas Carver and NAMB Chaplain Manager Randy Edwards.
"Any undue prejudice or adverse action levied against Chaplain Squires for adhering to directives of his Religious Endorsing Agency will be viewed as a violation of controlling federal law," the letter reads. "We are writing to provide notice that our office is prepared to consider any action necessary, including legal action, to ensure Chaplain Squires does not face adverse action or any other form of substantial burden for adhering to the religious terms of his endorsement..."
CP reached out to the Fort Bragg Public Affairs Office and was referred to the U.S. Army Special Operations Command Public Affairs Office. A response is pending.