Ash Wednesday Today, Christians Observe First Day of Lent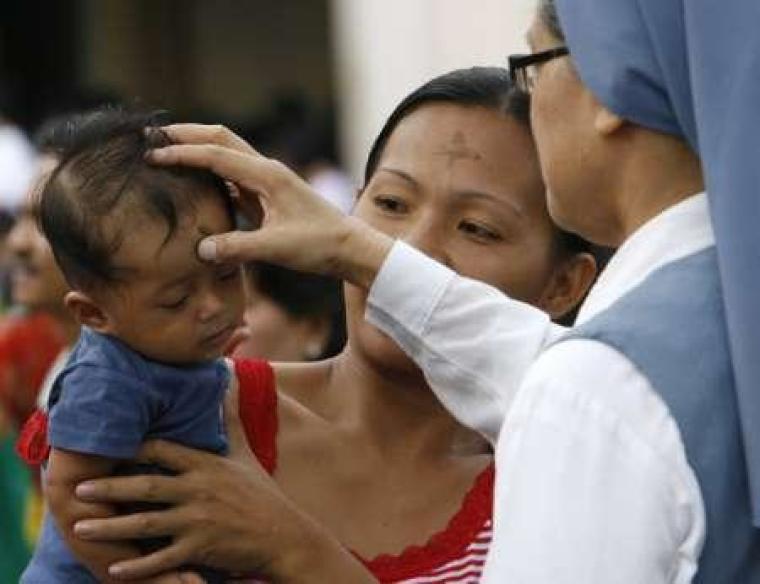 Ash Wednesday arrived on March 5, marking the first day of Lent when millions of Christians receive ashen crosses on their foreheads.
The Lenten season begins 46 days before Easter- 40 if not counting Sundays- and follows a tradition of self-denial and reflection. Ash Wednesday arrives one day after Fat Tuesday, also known as Mardi Gras, Shrove Tuesday, and in some places, National Pancake Day, when many Christians prepare for the fasting season of Lent with a feast.
Marking the first day of Lent, Christians everywhere are receiving a cross made of ash on their foreheads today. The tradition of applying ashes comes from the Bible, as ashes are repeatedly cited in times of mourning and repentance. The ashes themselves come the previous years' palms used during Palm Sunday.
Although some denominations do not practice the application of ashes to the forehead as a mark of public commitment on Ash Wednesday, those that do include Catholics, Anglicans, Lutherans, Methodists, Presbyterians, and some Baptist followers.
In addition to receiving ashes, many Christians choose to deny themselves something- fast food, alcohol, or any other indulgence as a way of strengthening their relationship with God during Lent. The act of abstaining from rich or fatty foods during the 40 days and 40 nights of Lent are intended to emulate Jesus' 40 days and 40 nights in the desert.
On Twitter, Ash Wednesday has many users abuzz today, with Happy Ash Wednesday becoming a trending topic.
"Today is Ash Wednesday, today we make a commitment to remind us of everything Jesus has endured so that we may experience joy in our lives," posted Twitter user That Prep.
Scotty added, "Ash Wednesday isn't about groveling, but grace; not about penance, but repentance; not about us, but about Him."
Lent will end on Easter, which arrives on April 20th this year. Many celebrations include special church services, hide-and-seeking eggs, and a feast.