At least 1 dead after M 6.4 earthquake rocks Puerto Rico triggering islandwide blackout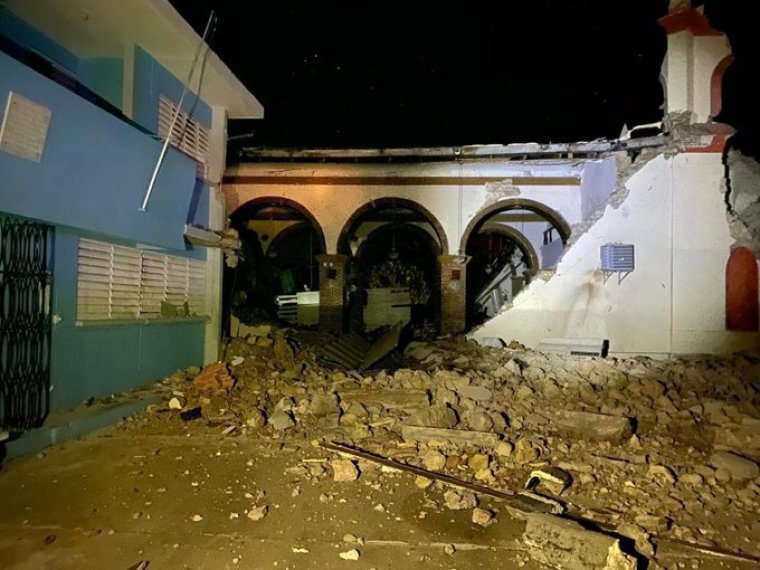 At least one person is dead after a 6.4-magnitude earthquake rocked Puerto Rico Tuesday morning, triggering an islandwide blackout and significant damage to buildings, including churches, in several of the hardest hit areas.
The United States Geological Survey said in a release Tuesday that the quake struck at about 4:24 a.m. local time offshore of southwest Puerto Rico just a day after a magnitude 5.8 quake erupted from the same area.
Over the past several weeks, hundreds of small earthquakes have occurred in the region, the USGS said. The seismic activity began with a magnitude 4.7 earthquake late on Dec. 28 and was followed by a magnitude 5.0 tremor just a few hours later. Since Dec. 28, the USGS said, more than 400 magnitude 2+ earthquakes have occurred in the region. Some 10 of them registered stronger than magnitude 4, including Tuesday's tremor.
Puerto Rico's largest newspaper, El Nuevo Día, reported 73-year-old Nelson Martínez Guillén as the first casualty of the earthquake. A wall from his home in Ponce collapsed on him as he slept.
"There was a wall that divided the wall of the house above, he slept on one of those sides and in one of the movements the wall came off and fell on his back. He broke the bed and everything," Guillén's brother-in-law, Reynaldo González, told El Nuevo Día.
"This was too strong, I didn't expect such a thing, but things happen and nobody knows why," he added.
Víctor Huérfano, director of Puerto Rico's Seismic Network, told The Wall Street Journal that a complete picture of the damage or injuries suffered is still unclear because communication for much of the island is down, but officials in Ponce have reported widespread damage.
 "We expect that this will be the largest quake for now," he said. "The aftershocks will continue for some time."
The Puerto Rico Electric Power Authority also confirmed that the earthquake triggered an islandwide blackout, but noted they would be working to restore power throughout the day.
In a statement on Twitter, acting head of the U.S. Department of Homeland Security, Chad Wolf, said the federal government is in touch with officials on the island and "stands ready to assist" with the recovery.
"I am monitoring the earthquake and after-shocks in Puerto Rico closely. @DHSgov stands ready to assist with assessments and recovery. @FEMA has been in touch with the governor and other PR officials and is responding appropriately," he added.
Multiple images and video of damage in the wake of the earthquake were shared online by many on Tuesday, including by former Speaker of the Puerto Rico House of Representatives Jaime Perelló.
Glidden Lopez, spokesman for Guayanilla municipality, told the Miami Herald that the earthquake destroyed the city's colonial-era church that was built in the 1840s.
"All that's left is one wall and half of another wall," he said of the church that was an attraction in the city's main plaza. "The hospital was damaged and there were several houses that have collapsed but we don't know how many yet."
Puerto Rico's Gov. Wanda Vázquez ordered government offices to remain closed Tuesday except for those working on the emergency.
"It's important for the people of Puerto Rico to remain calm and to secure their lives and property," she said in a statement. "Citizen security is a priority for me, so we are inspecting vulnerable areas and we're taking all the measures necessary to guarantee the safety of Puerto Ricans."