Atheist Group Threatens Florida Sheriff With Lawsuit for Wearing His Uniform, Using Gov't Title While Preaching at Churches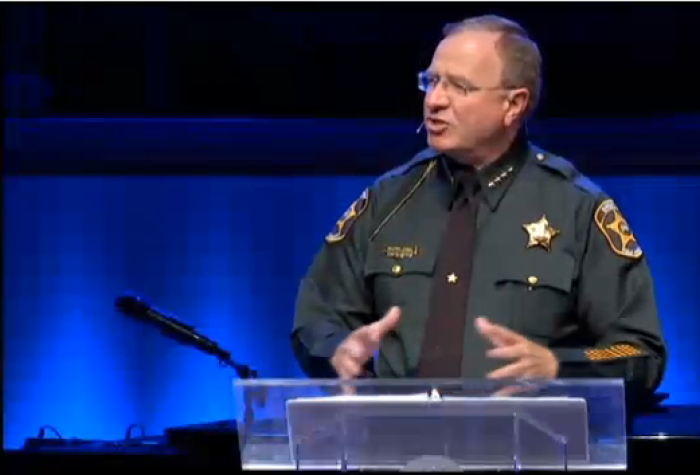 The Freedom From Religion Foundation, an atheist group committed to maintaining the separation of church and state in the U.S., says it will consider filing a lawsuit against a Florida sheriff if he doesn't stop preaching at churches while wearing his uniform and using his official government title at the pulpit.
The group sent Polk County Sheriff Grady Judd a letter this week threatening legal action if he doesn't comply with their demands, according to WFLA.
"We don't have any problem with him preaching in church and we don't have any problem with him teaching Sunday school, he's free to do that," said Andrew Seidel, attorney for FFRF. "What's he's not allowed to do is use the public government office and title and uniform to promote his personal religion."
The organization took action after the sheriff delivered a message at First Baptist Church on the Mall in Lakeland, Florida, that offended a few people who contacted FFRF. At least five people complained to the organization about the sheriff's remarks and his decision to wear his uniform at the pulpit.
His message, titled, "Wouldn't the World be a Better Place if Everyone Behaved Like a Christian," discussed "faith-based dorms" he started in the Polk County jail that he has used to lead hundreds of inmates to Christ.
First Baptist Church on the Mall's senior pastor, Jay Dennis, defended the sheriff's decision to wear his uniform in the pulpit.
"The uniform represents more than the office, it represents the man behind it. It is the man behind it that I asked to speak whether he is in uniform or out of uniform. I would think people would be proud to have a sheriff whose life and message, speech and conduct, is consistent with everything that uniform stands for. Grady asked me if I would prefer he wear a suit, but as I said to him, 'It doesn't matter to me. You are the message,'" said Dennis to 24-Hour News 8's sister station WFLA in a statement.
The Christian Post reached out to Dennis for comment Wednesday, but he was not available at the time of this publication.
Judd, who addresses between 15 and 20 churches annually, plans to continue to preach in his uniform.
"Let me say this clearly and unequivocally, when people call the sherriff's office and ask me to come speak, I'm gonna come speak and I'm gonna wear my uniform — you can guarantee it," said Judd.
The FFRF, however, is seeking a personal response from the sheriff stating that he won't use his official title when giving sermons in the future.
The Freedom From Religion Foundation is one of the largest atheist groups in the U.S., and also advocates for abortion.
In December of last year the organization erected 11 different billboards across Chicago with various messages promoting atheism. The group's co-president, Annie Laurie Gaylor, said they hoped the messages would make non-believers more socially accepted.
"Research shows that atheists and other non-believers remain at the bottom of the totem pole when it comes to social acceptance. One reason for that is that even though at least 20 percent of the population today is nonreligious in the United States, many Americans have never knowingly met an atheist," said Gaylor. "We're trying to change that."