Atheist Group Warns Schools Against Ken Ham's $1 Ark Encounter Field Trips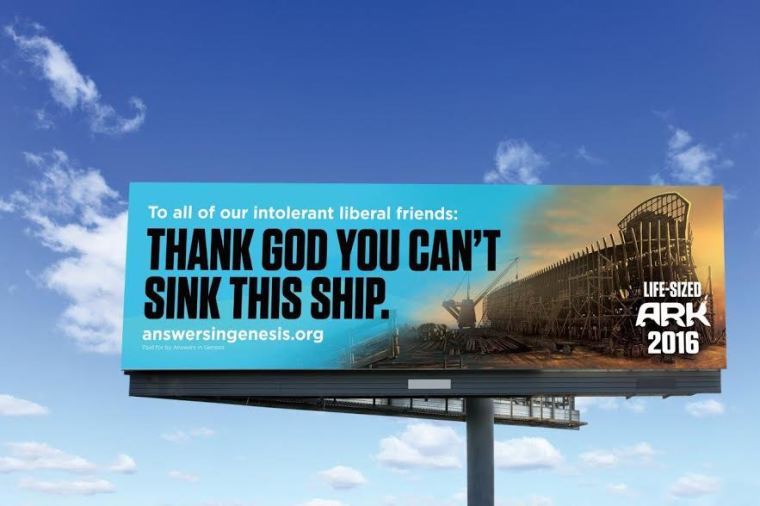 The Freedom From Religion Foundation, one of the largest atheist groups in the country, has been warning thousands of school districts in America against visiting Ken Ham's Ark Encounter, the newly opened life-size replica of Noah's Ark in Kentucky.
In response, Ham announced that public school students coming to the Ark on a school field trip will only have to pay $1 per ticket during 2016.
The Lexington Herald Leader reported earlier this week that the FFRF has been sending letters to hundreds of public schools in Kentucky telling them that sending students to the Ark would be akin to religious proselytizing, and would violate the separation of church and state.
FFRF Co-President Annie Laurie Gaylor revealed that the group has sent letters to over 1,000 school districts in Kentucky, Tennessee, Ohio, Indiana and West Virginia.
"That would be completely inappropriate," Gaylor said about field trips to the Ark. "This is an attempt to proselytize children. The public school is to educate, not indoctrinate."
Donald Ruberg, an attorney for the Grant County Schools and an expert in education law, doesn't agree with FFRF's position, however.
"I think they are grossly overstating their case," he said. "That's not a correct interpretation of the law, in my opinion."
Kentucky Education Commissioner Stephen Pruitt also argued that field trips should at all times be "a direct extension of classroom learning," and should be directly related to the school curriculum.
Ham has said on the Answers in Genesis blog that he is going to stand up to "FFRF bullies," and said that the atheist group is trying to thwart the First Amendment's guarantee of freedom of religion.
"On the basis of the First Amendment of the U.S. Constitution, public schools are absolutely free to take students on field trips (with appropriate parental permissions) to facilities like the Ark Encounter and Creation Museum, provided they are for historical, recreational, or educational purposes," Ham wrote.
He added that FFRF has "no right (and no legal basis whatsoever) to intimidate government-run schools as they are trying to do in this letter sent to more than 1,000 schools."
The AiG president further revealed that if public school students are booked as a group through their school to visit the Ark Encounter or the Creation Museum for educational, recreational, or historical purposes, then each child will only have to pay $1, with accompanying teachers coming in free.
Ham said in an interview with The Christian Post last week ahead of the Ark Encounter's official opening that "it's time for Christians to do something of this size and this magnitude" in a world that is becoming "increasingly secularized and biased."
"To remind the coming generations of the truth of God's Word. It's our way of presenting the truth of God's Word to the world," Ham said about the purpose of the Ark.