'Avengers: Infinity War' Movie News: Movie to Introduce Captain Marvel?
While the actress to breathe life to the character is still unknown, rumor has it that Carol Danvers, aka Captain Marvel, is definitely appearing in another Marvel Cinematic Universe (MCU) movie offering, "Avengers: Infinity War," before the filming for her first solo big screen incarnation begins.
Heroic Hollywood has confirmed this piece of news by saying that the actress will have already been named and joined the cast by the time the cameras start grinding for the said movie in Atlanta at the latter part of this year.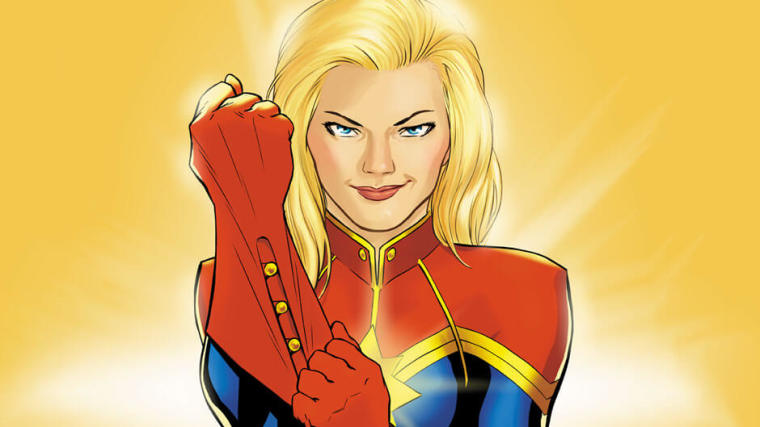 According to a report of Cinema Blend, there are some sources who claim that the actress to portray Captain Marvel has already been picked, while there are also who claim that Marvel is yet to determine who should suit up as the character.
As there is no confirmation on who will breathe life to Captain Marvel, fans of the character can only speculate as to who Marvel Studios might pick (or may have already picked). According to Movie Pilot, Katheryn Winnick ("Vikings," "The Art of the Steal," and "Night and Day"), Genesis Rodriguez ("Run All Night", "Yoga Hosers," "Tusk," and "The Last Stand"), Natalie Dormer ("Game of Thrones," "The Hunger Games: Mockingjay," and "Rush"), Emily Blunt ("Looper," "Edge of Tomorrow," and "Sicario") and Rachel Nichols ("Continuum," "Conan The Barbarian," and "G.I. Joe: The Rise of Cobra") are some of the rumored actresses who may have a shot at the role.
Cinema Blend opines that launching Captain Marvel is a major step for Marvel Studios. While it is true that the Marvel Cinematic Universe boasts of Black Widow and Scarlet Witch as its female superheroes, they will definitely pale in comparison to that of its rival's version, DC's upcoming "Wonder Woman" movie in 2017. The website also believes that the studio's move to include the character in the upcoming "Avengers: Infinity War" is a way for it to establish the character first before her first standalone film feature is released.
Meanwhile, "Avengers: Infinity War Part 1," the movie where Captain Marvel is said to make her debut to the Marvel Cinematic Universe, is slated for a May 4, 2018 release.