Ayn Rand's Libertarian Hero John Galt Was Modeled on Jesus, Christian Panelist Argues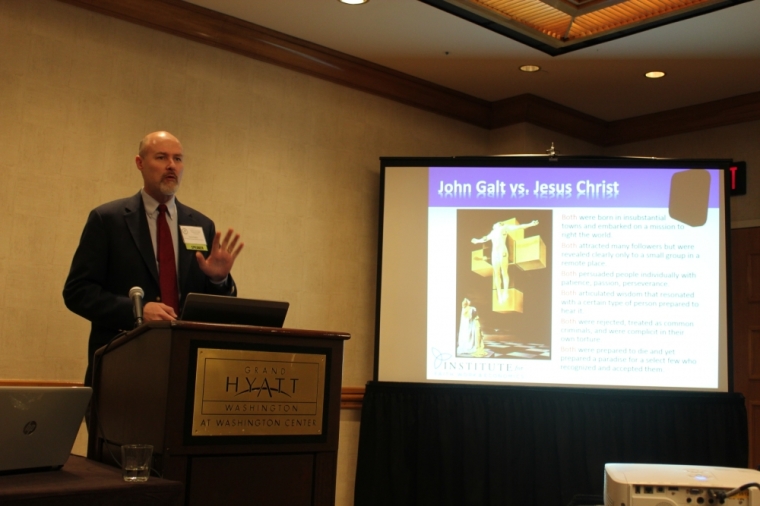 Correction Appended
WASHINGTON – A Christian panelist, David Kotter, argued that Ayn Rand's libertarian hero John Galt was unconsciously modeled on Jesus Christ. A follower of Rand, William R Thomas, agreed that Galt was modeled after Christ, but argued that Rand consciously intended to do so.
Kotter, visiting scholar at The Institute for Faith, Work, and Economics, insisted that Rand did base her character off of Jesus, although she likely did it unconsciously. "I would encourage you to read the gospel of Matthew and then read Atlas [Shrugged]," Rand's book featuring John Galt. "Ayn Rand imbibed ideas from the character of Jesus," Kotter declared. He described Galt as "the man who by perfect reason is the epitome of manhood, and is very similar to Jesus."
"In John Galt, Rand is trying to portray man as a god in an irreligious sense," Thomas, director of programs at The Atlas Society, declared at the International Students for Liberty Conference on Saturday. Thomas added that "I don't think she would have said she endorsed Jesus Christ."
Kotter listed six similarities between Rand's heroic character and the savior of the world. "Both articulated wisdom that resonated with a certain type of person prepared to hear it," he explained. While Jesus preached to huge crowds, he also declared that only some would understand and follow him. Galt, as well, gives a speech to the whole world but only expects very few people to follow him to his free-market paradise.
"Both were prepared to die and yet prepared a paradise for the select few who recognized and accepted them," Kotter argued. He referenced Jesus' call for sinners to embrace forgiveness to enter the kingdom of heaven, and Galt's call for entrepreneurs to withdraw from the world to work in his wealth-creating paradise.
Egoism vs. Altruism
Thomas explained that, according to Rand's philosophy, called "objectivism," man's own happiness is his highest goal, and that sacrificing one's happiness for anything is wrong, while delaying gratification to save up for the future is not sacrifice but investment. Sacrifice destroys value while investment creates it. The philosophy embraces Egoism (self-service), not Altruism (serving others).
Mark Henderson, author of The Soul of Atlas: Ayn Rand, Christianity, a Quest for Common Ground, referenced Theologian John Piper to explain where Rand's philosophy can agree with Christianity. Henderson quoted John Piper's essay "Ayn Rand: An Appreciation and Critique," where the theologian argued that "all throughout scripture there are evidences of believers pursuing their own interest by pursuing God." According to Piper, serving God is the best way to find personal happiness.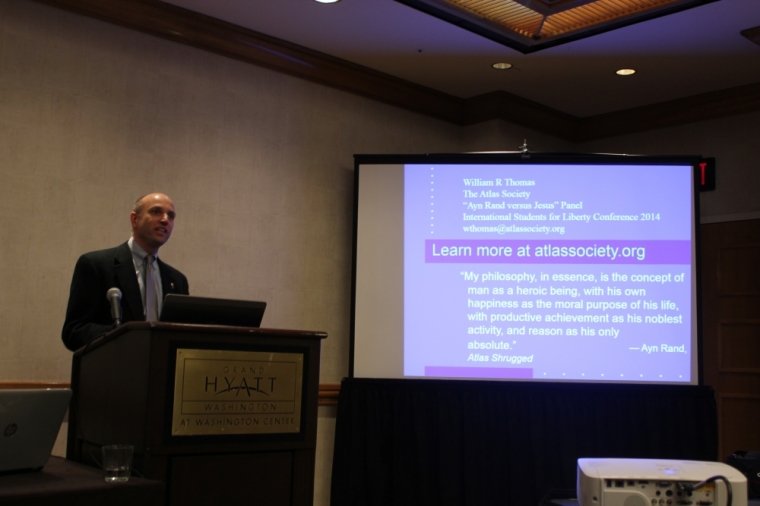 Kotter agreed with Henderson that parts of Rand's philosophy are compatible with Christianity. Jesus endured the cross for the joy set before him, Kotter argued, quoting Hebrews 12:2. While the Christ's sacrifice saved others from sin and death, it also earned him eternal glory. Kotter also quoted Matthew 10:42 and Ephesians 6:2-3, where Jesus and the Apostle Paul appeal to believers' self-interest in telling them to serve others. He cited the Psalms, saying "delight yourself in the Lord and he will give you the desires of your heart."
Trade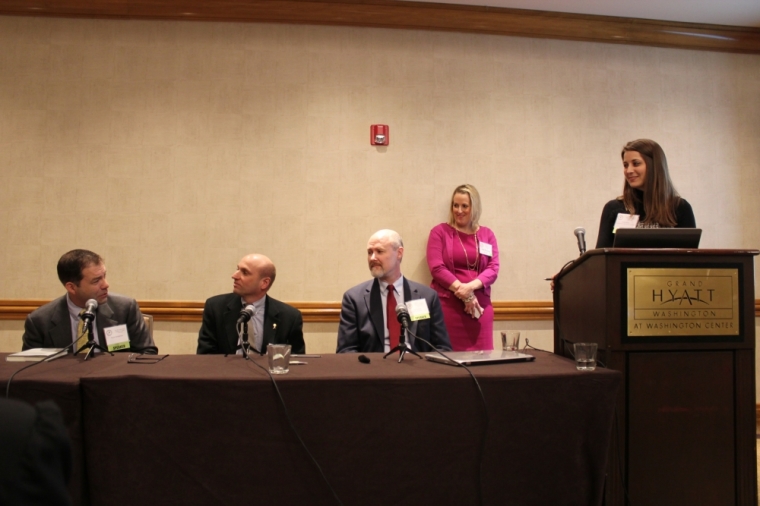 Thomas also explained Rand's view of trade, which outlines all positive human relationships, "voluntary exchange to mutual benefit, no sacrificing of others or yourself." He argued that, even in the family, parents raise children not to sacrifice for and serve them, but rather because the children give them joy and will help take care of them in old age. "Children are a long-term investment with me," he explained.
Kotter agreed with this, to a point. He explained that Rand cuts God out of the equation, putting both family and others in the circle of trade. The Bible, however, includes the idea of marketplace voluntary trade for mutual benefit, "but relationships to God and family are sacrifice."
Can An Objectivist Be a Christian?
Each of the panelists disagreed as to whether a follower of Ayn Rand, an "Objectivist," could also be a Christian. Thomas said it was impossible: "Reason is an absolute. Reality is the thing that must be obeyed and understood." The Objectivist declared that "all the attempts to make a rational argument for a deity have failed," so no follower of Rand could be a Christian.
Kotter partly disagreed, saying "yes and no," since objectivism is fundamentally atheististic, but both Christianity and objectivism use similar logic. Objectivists "believe rationally," and Christians do also. He argued that, "based on evidence that there is a God you would follow rationally to Jesus Christ." Overall, the thought process is very similar, he claimed.
Despite the efforts of his book to reconcile Christianity and objectivism, Henderson agreed with Thomas that it is impossible for an Objectivist to be a Christian, since "atheism is fundamental to Objectivism." He did suggest, however, that if Rand had investigated the evidence for the resurrection of Jesus Christ, she might have come to a saving faith.
Correction: February 18, 2014
An article on February 18, 2014 suggested that David Kotter argued that Ayn Rand intentionally modeled John Galt after Jesus. Kotter does not believe that Rand intentionally modeled Galt after Jesus. Rather, he believes Rand was unconsciously creating a character with some similarties to the life and ministry of Jesus.