Obama Slams Intolerant Liberals in Howard U Commencement Address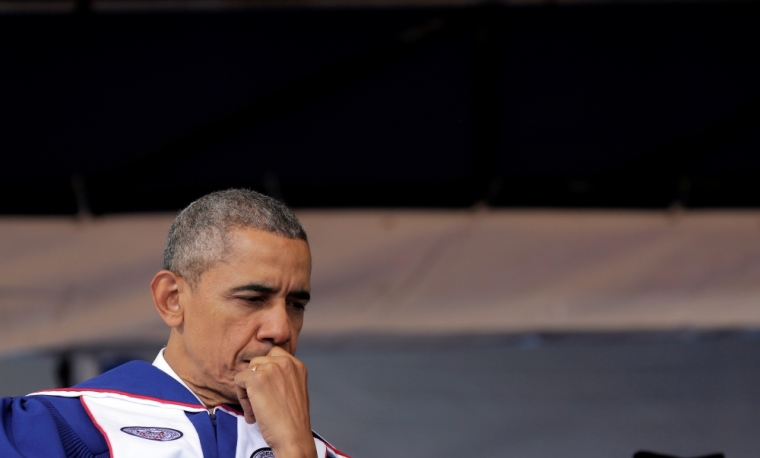 President Barack Obama told the graduating students of Howard University they should not engage in the practice of disinviting controversial speakers or disrupting political rallies.
During his commencement speech for the historically black academic institution, President Obama addressed what he described as the apparent current trend of disinviting certain speakers.
"There's been a trend around the country of trying to get colleges to disinvite speakers with a different point of view, or disrupt a politician's rally. Don't do that — no matter how ridiculous or offensive you might find the things that come out of their mouths," stated Obama.
"Because as my grandmother used to tell me, every time a fool speaks, they are just advertising their own ignorance. Let them talk. Let them talk. If you don't, you just make them a victim, and then they can avoid accountability."
Obama tied in the comment to his overall point about listening to ideological enemies even when one is "100 percent right" on a given issue.
"You can be completely right, and you still are going to have to engage folks who disagree with you. If you think that the only way forward is to be as uncompromising as possible, you will feel good about yourself, you will enjoy a certain moral purity, but you're not going to get what you want," continued Obama.
"And if you don't get what you want long enough, you will eventually think the whole system is rigged. And that will lead to more cynicism, and less participation, and a downward spiral of more injustice and more anger and more despair. And that's never been the source of our progress. That's how we cheat ourselves of progress."
The talk of disrupting rallies was likely a reference to the much publicized protests at rallies for the controversial presumptive Republican nominee Donald Trump.
In March, for example, anti-Trump protesters successfully got a campaign rally at the University of Illinois at Chicago postponed, with the campaign arguing that the cancellation came for security reasons.
In recent years, much has been made of colleges disinviting speakers because of controversial comments they have made or certain political positions they have taken.
According to a 2014 report made by the Foundation for Individual Rights in Education, the rate of disinviting speakers for college graduations have been "steadily increasing" since 1999.
"Students and faculty are demanding the exclusion of opinions with which they disagree, and campus administrators and invited speakers are increasingly willing to give in to these demands," stated FIRE.
"Speakers are more likely to be targeted for disinvitation for holding or expressing viewpoints perceived as conservative by faculty or students."
Obama's comments denouncing the practice of disinviting speakers for graduations around the time that Virginia Polytechnic Institute and State University garnered controversy for disinviting Wall Street Journal columnist Jason Riley.
Riley was originally scheduled to give the BB&T Distinguished Lecture at Virginia Tech's Pamplin College of Business but what disinvited, purportedly for his conservative views.
However, last Thursday Virginia Tech President Tim Sands released a statement reversing the disinvitation and attributing it to an error in scheduling.
"We learned subsequently that a faculty member, without the knowledge of the committee or the authority to do so, had extended an invitation to speak in that same slot to Jason Riley. We have since apologized to Jason Riley for this error in judgment, and Dean Sumichrast has invited him to speak at Virginia Tech," stated Sands.
"We regret the confusion and assure our friends, parents, students, alumni and partners that we will take the actions necessary to ensure that such miscommunication does not occur in the future."