'Beauty and the Beast' Star Plays Charles Dickens; Trailer Begins and Ends With God's Blessings (See Here)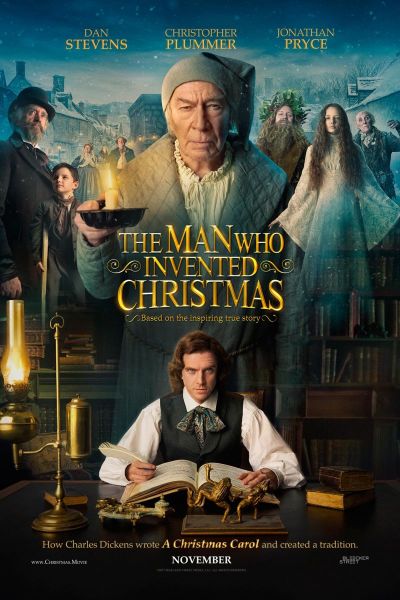 The trailer for the film "The Man Who Invented Christmas," starring Dan Stevens of "Beauty and the Beast," was released this week. For the first look into the true life story behind Charles Dicken's "A Christmas Carol," the clip begins and ends with wishes for God's blessings.
Bleecker Street released the film's trailer on Tuesday and announced that the upcoming film will come just in time for the holidays this year with a theater date of Friday, Nov. 22. The trailer, which begins and ends with actors wishing God's blessings upon all, is a thorough introduction to Dickens' journey of how he found the inspiration behind one of the most cherished novels of all time, "A Christmas Carol."
Along with Stevens ("Downton Abbey," "Beauty and the Beast"), "The Man Who Invented Christmas" also stars Jonathan Pryce ("Pirates of the Caribbean," "Miss Saigon") and screen legend Christopher Plummer ("The Sound of Music," "A Beautiful Mind").
"In 1843, author Charles Dickens sets out to write and self-publish a novel that he hopes will revive his career. He spends the next six weeks bringing Ebenezer Scrooge, Tiny Tim and other classic characters to life in "A Christmas Carol," the movie's synopsis reads.
"The Man Who Invented Christmas" was directed by Bharat Nalluri ("Miss Pettigrew Lives for a Day"). According to a statement shared with The Christian Post, the filmmakers' aim was to show how Dickens "mixed real life inspirations with his vivid imagination to conjure up unforgettable characters and a timeless tale, forever changing the holiday season into the celebration we know today."
The classic 1843 novel tells the tale of Ebenezer Scrooge, an old man who is well-known for his miserable behavior and disdain toward the Christmas season. On Christmas Eve, Scrooge is visited by a series of spiritual guides who help him realize how his behavior affects those around him. The guides identify themselves as the Ghosts of Christmas Past, Christmas Present and Christmas Yet to Come. The lesson behind the story, in the end, is that Scrooge recognizes there is still time for him to change into a generous and kind-hearted human being.
The book has been such a success, it has never been out of print. Additionally, there have been hundreds of film, theater and television adaptations of the novel.