Benham Brothers: Sexual Liberty Is 'Crushing' Religious Liberty in America
Benham Brothers Say Sexual Liberty is 'Crushing' Religious Liberty, Support Christian Florist's Refusal to Work Gay Wedding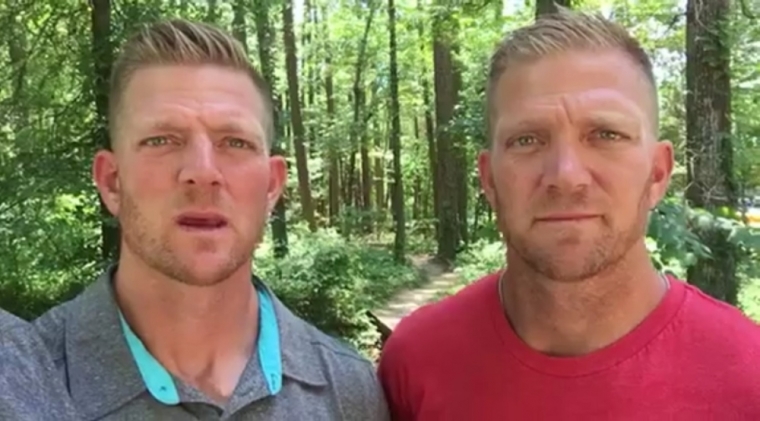 Conservative Christian activists and authors Jason and David Benham are speaking out in support of Barronelle Stutzman, a Christian florist in Richland, Washington, who was fined for refusing to make floral arrangement for a same-sex wedding because of her beliefs.
"Here's what's interesting: it was against her conscience. This sexual revolution has gone from acceptance to appreciation to celebration to forced participation," David Benham said in a Facebook video titled "sexual liberty is crushing religious liberty."
Stutzman, the owner of Arlene's Flowers, was fined $1,001 by the Benton County Superior Court in 2015 because of her refusal to service the wedding of a gay couple who had been her customers for years.
The 70-year-old grandmother, who lost the lower court battle, filed an appeal with the help of Alliance Defending Freedom on Tuesday at the Washington Supreme Court, but is in danger of losing her business and her life savings.
David Benham pointed to a similar case in Northern Ireland, where in October a conservative Christian couple running a cake shop lost their appeal against a court decision that branded their refusal to make a cake that read "support gay marriage" to be discriminatory.
"We're disappointed with the way it went. They didn't consider how much our conscience affects us as Christians, in how we run our business, but we still believe that God is in control," Daniel McArthur of Ashers Baking Company said after the ruling.
The Benhams warned that if Americans are not paying attention, such decision might become a reality in the U.S. as well.
"This kind of garbage is coming here to America," David said.
"This couple has any number of choices of which florists to go to, but no, they want to force Barronelle," he added, referring to Robert Ingersoll and his partner Curt Freed, the couple at the center of the dispute. 
Although Ingersoll and Freed were able to order flowers for their wedding from another florist and Stutzman had served Ingersoll for nearly 10 years, the gay couple decided to file a lawsuit against her with the help of the American Civil Liberties Union.
"She and her husband risk losing everything if the Washington Supreme Court rules as the lower court," David added. Turning to the Bible, he said that when "one part of our body suffers, the whole body suffers," urging Christians to pray for the florist.
The brothers have been speaking out strongly against what they believe are attempts by LGBT activist groups to "destroy" their home state of North Carolina by pressuring corporations and athletic organizations to boycott the state because it passed a new law that requires people to use bathroom facilities that match their birth sex. 
The bill, which prevents men from going into women's bathrooms if they identify as female, has promoted major organizations, such as the National Collegiate Athletic Association, to pull championship events from North Carolina, arguing that HB2 is discriminatory against LGBT people.
"They basically bullied him (Gov. Pat McCrory), and like the mob, said that 'if you don't overturn HB2, we are going to go after professional athletics, we are going to go after businesses, and we will boycott North Carolina, and we will destroy you,'" the brothers said of LGBT campaigns.
"And they said 'we are going to destroy you, we are going to destroy your state, and then we are going to take the victory and go all across this nation.'"
Meanwhile, Stutzman explained to supporters that she is simply seeking for the same freedoms as Robert Ingersoll, her gay customer.
"Rob has the freedom to act on his beliefs and that is all that I am asking, for that same freedom. Our Constitution protects that freedom but it just isn't about my freedom, it is about all of our freedoms," the Christian florist argued.