Benham Brothers: There's an Agenda in America to Silence Christians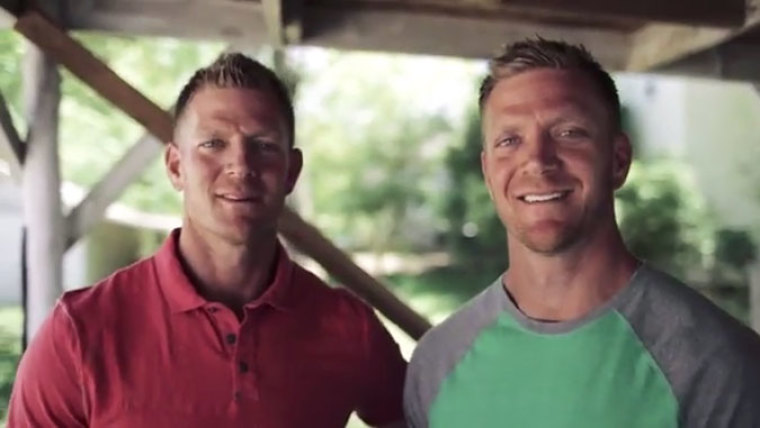 The Benham brothers, whose HGTV reality show was canceled before it was ever broadcast, believe that LGBT activists are using bullying tactics to silence Christians who believe that homosexuality is a sin.
"There's an agenda that wants to silence the beliefs that we have," Jason Benham said during a Friday interview with CNN. His brother, David, agreed, adding, "They (HGTV) got bullied. There's an agenda that's out in America right now that demands silence, especially from men and women who profess Jesus Christ and hold to His standards."
HGTV announced Wednesday that they have "decided not to move forward" with a reality show called "Flip It Forward" starring the conservative Christian twin Benham brothers who are openly opposed to abortion, homosexuality and no-fault divorce.
The episodes of the show were expected to reflect the brothers' experience in flipping houses for profit and helping other families do the same.
HGTV made the announcement via social media just one day after the website Right Wing Watch published a post labeling David as an "anti-gay, anti-choice extremist," for leading a 2012 prayer rally outside of the Democratic National Convention in Charlotte, North Carolina. During the rally, he said the nation needs prayer to stop homosexuality, which he said is a sin, according to the Bible.
In their own video posted to YouTube on Friday, "Chillin' With the Benham Bros.," the twins say that although having their own TV show would be nice, they don't need the media, because they live by the three Cs: Christ, character and contentment.
"If you've been anywhere close to social media lately, you know what's going on," Jason comments about the show's cancellation. "So a lot of people have asked, 'What are you guys gonna do?' … Right now, we're gonna finish helping six families flip houses."
He continued, "We're gonna finish this for the six families. They deserve it. They came to us wanting to learn how to flip. With or without cameras, were gonna teach them how to flip. The reason why is because we live from the inside out. We don't live from the outside in. We don't need media, we don't need other people to tell us how to live; we live from the inside out."
The brothers also shared that they accepted Jesus Christ into their lives when they were 12, and since that time, they said He has changed their lives.
"We have Jesus Christ in our heart, and because of that, we love people; we love everyone. And we also do our best to build character into our lives, and the way God builds character is to go through hard times. Hard times produce perseverance and perseverance character and character hope … and the last one is contentment."
"Jason and I are content. We're content that we're Christians; we're content that we're husbands, we're fathers, we're content with our community. We're content to serve the Lord whether we're pushing a broom or swinging a bat," David added.
As an example of their Christian faith, Jason said the two have promised themselves that, in life, they would choose to "give Jesus glory whether in victory or defeat," because "God is bigger than all of this."
Jason continued by saying that in communities throughout the United States, families are hurting and struggling, and they need love from their Christian neighbors.
"On our ride over to where we are (to record the YouTube video), I passed a funeral home that was in the middle of a procession. That family has experienced some defeat, and they need God and followers of God to go up and encourage them," he said.
"Let's turn our energy and effort back to our communities; let's go out and be salt and light. Let's love others, let's continue to love God and be the transformed people Jesus made us."
In an interview with Fox News host Megyn Kelly Thursday night, Tony Perkins, president of the Family Research Council, said that conservative Christians are pushing back against HGTV's decision to cancel the show due to outside pressures from LGBT activist groups.
"It's the same plot, a different channel," Perkins said. "You have these cultural elites who are giving way to a tiny minority that want to silence, to bully, those who have orthodox Christian views and are opposed to their liberal ideologies.
"Who decides what one can publicly advocate for?" Perkins continued. "It's OK to advocate for animal rights, but it's not OK to advocate for the unborn. It's OK to abolish public prayer, but it's not OK to oppose the redefinition of marriage. … What we're seeing is a small minority that is trying to silence the vast majority of Americans who hold to these traditional values."