Bern Victim: Christians Need Not Apply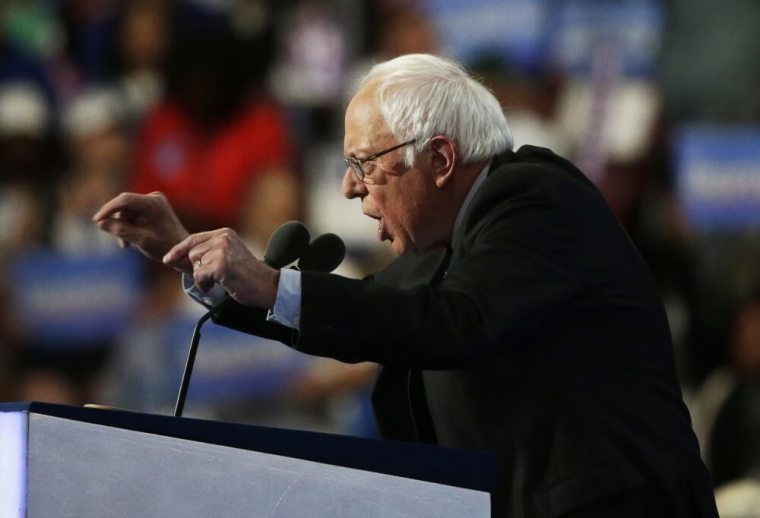 Senator Bernie Sanders (I-Vt.) is in a world of controversy over a line of questioning he engaged in with Russell Vought, President Trump's nominee for the No. 2 post at the Office of Management and Budget (OMB).
If you're like me, you can't believe what your eyes just saw. What you thought you saw was Christianity put on trial when in reality this was the Senate confirmation hearing of the nominee for Deputy Director of the Office of Management and Budget.
I'll leave that right there for a second.
Nominee, Russell Vought, was criticized for what seemed to be a religious test by Sen. Bernie Sanders when Article VI of our nation's Constitution clearly states "no religious test shall ever be required as a qualification to any office or public trust under the United States."
Instead, Sen. Sanders fired off probing questions that had nothing to do with the job Vought was being considered for, experience, or qualifications, but had everything to do with the nominee's faith. Sanders referenced a piece Vought wrote in The Resurgent defending his alma mater, Wheaton College, for its decision to stand by Christian doctrine when the school decided to fire a professor for equating Islam with Christianity.
Sanders pulled out a quote from Vought's piece in the Resurgent stating, "'Muslims do not simply have a deficient theology. They do not know God because they have rejected Jesus Christ, His Son, and they stand condemned.' Do you believe that that statement is Islamophobic?" says Sanders.
Vought: "Absolutely not, Senator. I'm a Christian, and I believe in a Christian set of principles based on my faith ...
Sanders: "... Forgive me; we just don't have a lot of time. Do you believe people in the Muslim religion stand condemned? Is that your view?"
....
Sanders: "... Do you think that's respectful of other religions?... I would simply say, Mr. Chairman that this nominee is really not someone who this country is supposed to be about."
This is just a snap shot of the political climate created during the past 8 years under the Obama administration. At the first viewing of this exchange, you would think the emotional hostility expressed by Sen. Sanders is personal — and it is. It's the second stage of grief for those who have been experiencing Trump-Derangement Syndrome (TDS). This stage is called anger — fueling yet another desperate attempt by the Left to be anti-Trump as possible on everything for the sake of stimulating momentum in their base for fundraising, even at the expense of skirting the law. The Left can no longer fundraise off "Better Together" for those 2018 seats because America has found that they were better without them.
It's been an open season of hostility against Christianity notably for the last eight years, and we did ourselves no favor by turning out in record numbers since George W. Bush for the 2016 presidential election. The Left and their allies in Congress can't stand the fact that they lost and are reminded of that every time they fail to block a nominee that was handpicked by the very man they laughed at.
Christians have been sued and bullied out of their livelihood for "bringing their faith into the workplace" even as business owners in the private sector! Now one is required to have a certain set of religious beliefs to be qualified for a specific job? While Democrats and the Left are inconsistent in their application of the words "tolerance," "diversity," and "inclusion," at the very least, they are honest about how they really feel about Christians.
What is the Left so afraid of? That when someone sneezes, Vought will say "God bless you"? When it's more offensive to say "God bless you" than "Allahu 'Akbar," then America has some serious problems to address.
Everywhere they turn they see the deck stacked against their worldview and cultural agenda of uniformity. Christianity, the origin of freedom, has been and continues to be a threat to that idea. Many on the Left have no diversity except what can only be defined as "not us." Sanders tries to use Vought's statements to paint him and essentially the Christian faith as Islamophobic when if anything this only shows Sanders' bias and Christ-o-phobia. As he concluded "I would simply say, Mr. Chairman that this nominee is really not someone who this country is supposed to be about."
Let's not forget, just last year Hilary Clinton stated at a pro-abortion event that "deep-seated cultural codes, religious beliefs, and structural biases have to be changed." Even calling half the American people who supported Trump a "basket of deplorables" and "irredeemable, but thankfully they are not America."
While Senator Sanders may not have been able to show tolerance and respect for nominee Vought's views, he has been the beneficiary of such tolerance – he was invited to and given a respectful audience at Liberty University, even though no doubt many of the students listening didn't agree with his views. Vought's job will be to assist in making sure the country is not spending money on late night infomercials, not to educate on religious or worldview matters.
What's not okay is trying to bar certain Americans out of the marketplace and private sector as we have seen time and time again with religious liberty cases going before the Supreme Court. And if that weren't enough, now Bernie Sanders is trying to intimidate Christians from serving in public office. Why? Because that is where the power is — the power to shape the state and the soul.
As Aristotle put it, statecraft is soulcraft, and they don't want even a hint of counter-ideals to their agenda anywhere near their god, which is the government. This is why it was refreshing to hear our Commander-in-Chief say recently that "we know this: in America, we don't worship government. We worship God."
It is now up to Senate Republicans to distance themselves as far away from this bigotry as possible. They need to send a clear message and vote to confirm Vought, if anything on principle — the principles of religious freedom, freedom of thought, and constitutionalism.
Patrina Mosley is assistant director of Family Research Council Action.