BET Networks' Faith-Based Initiatives Could Include TD Jakes Talk Show
BET networks may feature programming with Christian themes on Sundays, but now the television station is reportedly looking to broaden its faith-based programs to be broadcast on weekdays and may be considering a new talk show hosted by Bishop T.D. Jakes of The Potter's House.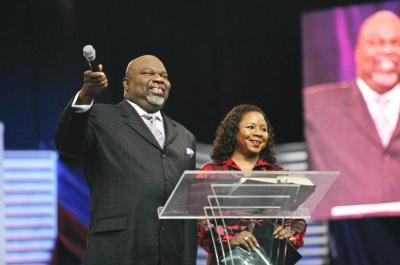 Charlie Jordan Brookins, BET's Senior Vice President of original programming, spoke to Variety magazine about moving faith-based programming into the network's general schedule.
"We are trying to bring (spiritual themes) into the fabric of our programming in general," Brookins said.
Still, Brookins said the new faith-based featured on the network is not looking to be "overtly preachy."
While BET let it be known that it planned to turn author Reshonda Tate Billingsley's novel, Let the Church Say Amen, into a film for the network, the channel will also broadcast three other Billingsley novels that will be turned into small screen pictures.
Billingsley's I Know I've Been Changed, Everybody Say Amen and Say Amen Again will be featured on the network, while Let the Church Say Amen has begun shooting in Atlanta and will star Lela Rochon along with Steve Harris.
In the past, BET has featured the gospel singing competition "Sunday's Best" along with the reality show focused on a Christian family in the entertainment industry called "The Family Crews." However, future shows may include additional docu-series and a talk show.
T.D. Jakes reportedly shot a pilot for the network last month. The bishop of the Dallas, Texas-based megachurch The Potter's House finished up a pilot for a talk show that he will be hosting, according to Variety.
In addition to the televised films and potential Jakes' talk show, a reality television show is also reportedly in the works featuring the multi-generational gospel singing family from Detroit, the Sheards. While Bishop J. Drew Sheard leads a megachurch in Detroit called Greater Emmanuel Institutional Church of God in Christ, Brookins said the network is not aiming to document the family's religion.
"It's not about their faith," Brookins said in a Variety report. "It's about them as a family of faith."