Big Daddy Weave's Jason Weaver Walks for First Time Since Feet Amputation (Video)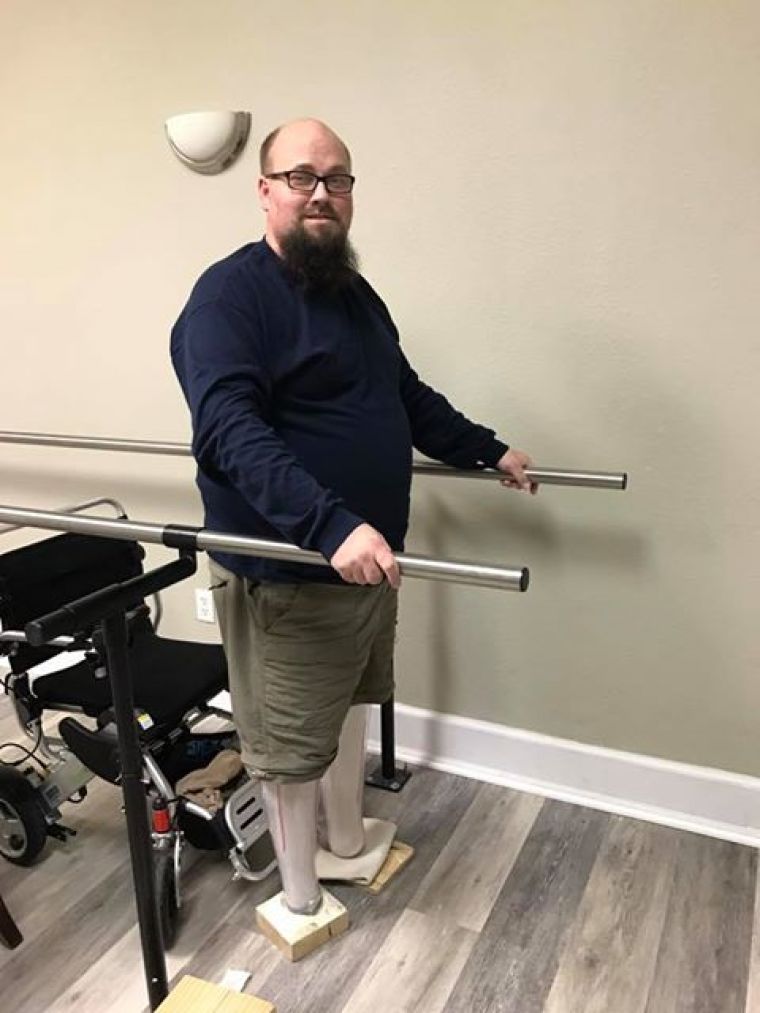 Big Daddy Weave posted a video celebrating that member Jason Weaver is now walking a year after having both of his feet amputated.
Band members took to Facebook with the video of Jason Weaver standing up and walking down a path using a walker.
"On May 31, 2016, Jay left our house on a stretcher headed to the hospital. Today, March 6, 2017, Jay walked into our house! Thank you for your continued prayers and support," the video caption, which was reposted from the Pray for Jay Facebook page, read.
Jason's prayer page first posted the photo above of him standing up in his "check sockets" and gave fans an update on what doctors were saying.
"These are the trial pair so that Dr could adjust the fit. He told us at the last visit that the check socket always needs adjustments. He only had to make ONE adjustment!!!! And it was around the knee area (easy fix). Jay told the Dr that you all had been praying for everything to go smoothly. Another testament to God's amazing provision over us. We can't say thank you enough for your prayers and support!" the update read.
Jason has been home recovering as the rest of Big Daddy Weave is back out on tour. In August of 2016 he did, however, make an appearance with his band on stage at Christian Music Broadcasters Momentum Conference as they received the "Rich Mullins Impact Award." The appearance ignited a flood of support for Jason and many are still eager to see him fully recovered and back on the road with his band mates.
Big Daddy Weave had quite the scare when Jason had to undergo surgery to remove both his feet in June 2016. Through it all the band stayed hopeful.
"In this season of difficulty and battle, we have been blown away by the support and prayers of so many," Mike Weaver said in a statement shared with The Christian Post, talking about the amount of love he and his family received after his brother, Jason, had to have surgery. "Please continue to pray for Jay, his family and all treating him. We're trusting God that you will see him at a Big Daddy Weave show very soon."
Jason has had diabetes for 15 years and the illness, although not the direct cause of his infection, severely weakened his body's immune system and ability to stave off the infection, which resulted in the amputation of both of his feet.
Jason left the band's tour to start his hospital treatment and since then has not been back on the road. In an interview with CP, when asked if Jason would ever perform again, Mike Weaver said with confidence that he believes his brother and bandmate would.
"Yes, we are really confident that that's the case. And whether it's immediately, like in a wheelchair kind of setup or in the future with a prosthetic, I'm so confident of that, and I know that he'll do that," he stated as the band's lead singer.
In addition to continued prayers for Jason and his family, Big Daddy Weave asks that supporters keep up with his progress at Pray for Jay on Facebook and fans can also contribute toward his medical expenses at YouCaring Pray for Jay.
For information on Big Daddy Weave, visit the band's website.