Bishop of Aleppo Says Beheading of ISIS Militant by Syrian Christian Is a Rumor; 'Only Revenge We Know Is Forgiveness'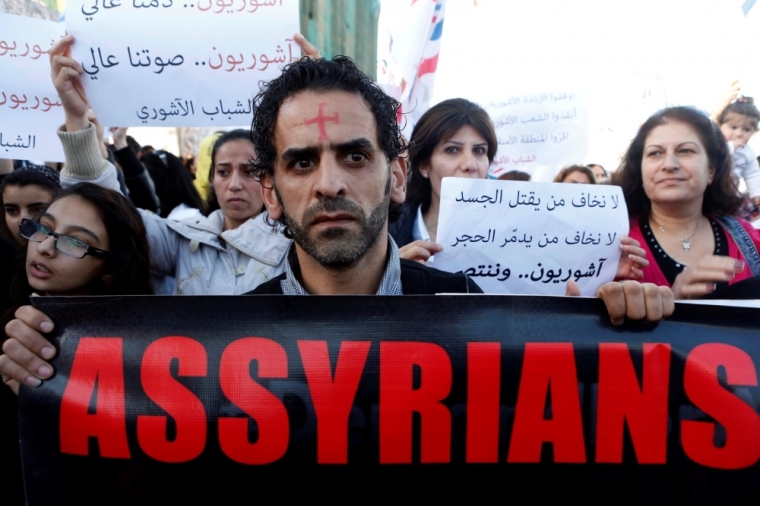 Bishop Georges Abou Khazen, the Apostolic Vicar of Aleppo in Syria for the Catholics of the Latin rite, denied reports that a Syrian Christian fighter beheaded an ISIS terrorist for revenge, accusing the U.K.-based Syrian Observatory for Human Rights of spreading rumor based on "unreliable and unverifiable" information.
"The manipulation of information is also one of the means used to multiply the violence and horrors of this conflict," Bishop Abou Khazen told the Catholic Fides news agency. "We know that more than 230 Assyrian Christians abducted in the villages of Khabur are still held hostage by jihadists."
The bishop said British media picked up the story despite it being "unreliable and unverifiable."
The Observatory reported that a Christian fighter from the minority Assyrian community, who was not identified, executed an Islamic State militant Thursday in the village of Tal Shamiram in Syria's Hasakeh province.
Islamic State, also known as ISIS or ISIL, holds large areas of the countryside in the area.
"He took him prisoner and when he found out he was a member of IS, the Assyrian fighter beheaded him in revenge for abuses committed by the group in the region," Observatory chief Rami Abdel Rahman told Agence France Presse.
The bishop stressed that Christians do not seek revenge. "We Christians do not justify any revenge or violence with religious issues. The only revenge we know is forgiveness, in order to also be a sign of light for all. Vendettas only deepen the wounds, and lengthen the spiral of hatred."
Abou Khazen added all Christians, "especially in the simplest, who live suffering like lambs among wolves," are "the first to say that the vicious circle of violence and revenge must be interrupted by someone, and this is the only way not to succumb and open paths to reconciliation."
ISIS has executed 2,618 people, including 1,511 civilians, since last June, when it declared its "caliphate," according to the Observatory, which documented at least 464 executions over the last two months alone.
The overall executions included those of 23 children and 32 women. The executions were carried out mostly by beheading, shooting or stoning. ISIS has also executed 139 of its own members for "exceeding the limits in religion and spying for foreign countries," mostly after they were trying to go back to their homes.
ISIS is an offshoot of al-Qaeda and wants to establish a caliphate in the Levant region and beyond. It has gained control over large swathes of territories in Syria and Iraq.
Islamic State's main targets are religious minorities, including Christians.