Blind Pastor Talks Film '23 Blast' and Overcoming Disability to Play Football, Teach and Serve God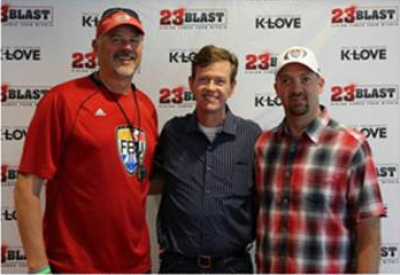 Travis Freeman is set to inspire thousands in the upcoming film "23 Blast" as his story of faith, love and personal courage hits this fall.
Today, Freeman is a college professor and a pastor, but at the tender age of 12, he tragically lost his eyesight to bacterial meningitis. Instead of slipping into depression and losing his spot on his high school football team, Freeman relied heavily on his faith as well as the support of his family, friends, and coaches. Discussing "23 Blast" as well as his autobiography "Lights Out," Freeman explained he has no memory of the first days following his blindness, but can recall his unshakeable faith.
"My parents have always said that when I heard I wouldn't see again, that I looked at them and said, 'I believe I will see again, but if I don't, I can't wait to see what God going to do with this,'" Freeman shared while speaking to The Christian Post.
Furthermore, the adjunct instructor of religion at University of the Cumberlands put his faith entirely in God. Freeman relied on his beliefs to get him through the initial challenges of living a life in darkness, and continues to do so today.
"The role of faith was everything, I could not have made it through all that without faith in God and Christ- believing in the Gospel, believing God is good, He has a plan and is in control," he told CP "Today, I have never been depressed or doubted my blindness and faith through this. It was something I accepted."
Adding to his amazing story, Freeman actually returned to the football field shortly after losing his vision as a 12-year-old, and was able to play for his entire career at Corbin High School in Kentucky. Freeman's inspiring personal strength as well as his ardent faith earned the attention of filmmaker Toni Huber who actually lived in Corbin and saw Freeman on the football field. It was Huber who approached Freeman about making a film "23 Blast," leaving him humbled and grateful.
"[The film] is another way of telling my story and encouraging people," he said. "From the pulpit to the classroom, just encouraging people that disabilities and issues can be overcome."
Freeman went on to share the powerful message behind "23 Blast" that sculpted his life and has the capacity to change the lives of many others.
"We all have disabilities, we all have issues we struggle and deal with. I want people to know disability does not equal inability," he said. "We can overcome by looking outside of our current circumstances, looking to the Gospel and to the cross and hope of new creation. We can't allow our circumstances to define what we think about God, but we can allow God to define what we think about circumstances. That's the message of my story, my life, are those realities."
"23 Blast" will hit theaters on Oct. 23 starring Stephen Land, Alexa PenaVega, Mark Hapka, and Kim Zimmer. Dylan Baker, who also stars in the film, directed from a script by Bram Hoover and Toni Hoover. Learn more about the film here.