Bobbi Kristina's Oprah Interview, Communicates With Whitney Houston's 'Spirit' (VIDEO)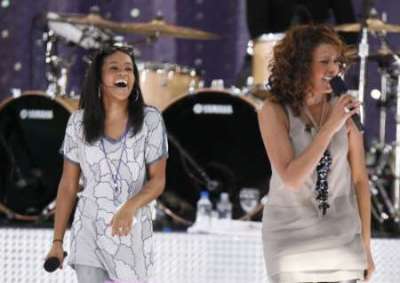 Bobbi Kristina spoke publicly for the first time since Whitney Houston's passing and opened up about how she still feels her mother's presence.
In an interview with Oprah Winfrey, which aired on Sunday night, Bobbi Kristina spoke about not yet being able to listen to her iconic mother's legendary music and the ability to connect with her mother spiritually.
"I can sing [Whitney's] music but to hear it right now I can't you know. I can hear her voice and spirit talking to me and telling me 'keep moving baby, I'm right here I got you,'" Bobbi Kristina told Oprah.
"She's always with me, I can always feel her with me. Throughout the house, lights turn on and off and I'm like 'Mom what are you doing.' I can still sit there and I can still laugh with her, I can still talk to her," she explained.
Houston, one of the most successful female singers of all time, was found dead in her hotel bathtub on Feb. 11 after a suspected drug overdose and her 19-year-old daughter is still coming to terms with her tragic loss.
"It comes in waves. One moment I can be happy and laughing, but then it comes over me. It's my mom," Bobbi Kristina said.
"I slept in [Whitney's] arms all day, all night long," Bobbi Kristina said about the night before Houston's death, adding, "sometimes, it's so surreal. I still walk into the house like, 'Mom?' But I've accepted it."
The interview follows news that Bobbi Kristina, who was named after her father, Bobby Brown, plans to change her name in a bid to disassociate herself from him, according to TMZ.
Bobbi Kristina, Houston's only biological child, has reportedly wanted to change her name since her parents' divorce in 2006, but could not because Houston would never allow it.