Boko Haram Brides Who Wielded Power Undergo 'Deradicalization' Program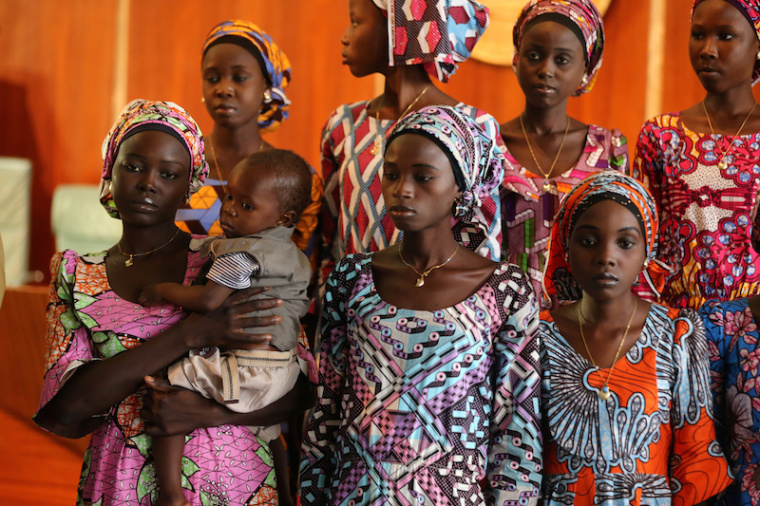 A number of the women and children who have been converted and brainwashed into joining the Boko Haram terror group in Nigeria are reportedly being placed in "deradicalization" programs aimed at countering radical Islamist teachings.
Nigeria's Leadership newspaper shared the story of Aisha, the 25-year-old wife of one of Boko Haram's top commanders, who recalled the power and influence she had before she was taken back by the Nigerian army.
"I had many slaves – they did everything for me," Aisha said, revealing how women and girls kidnapped by the jihadists washed, cooked and babysat for her for three years.
"Even the men respected me because I was Mamman Nur's wife. They could not look me in the eye." 
Aisha said she was courted for months and showered with gifts, after she willfully agreed to become the fourth wife of Nur, the Boko Haram commander.
Aisha and 70 other women and children are reportedly undergoing a "deradicalization" program, which is led by psychologists and Islamic teachers who want to liberate them from the radical teachings and beliefs Boko Haram forced them into.
Fatima Akilu, head of the Neem Foundation, which runs the deradicalization program aiming to free women and children from radical influence, said that it is very important to address the mental state of the victims.
"You can treat a person's emotional state ... but if you don't change the way they think and just release them into society, you will be perpetrating a vicious cycle," Akilu told Reuters. It can be tougher to deradicalize women than men, Neem noted.
The radical group Boko Haram has killed close to 100,000 people, both Christians and Muslims, and displaced over two million citizens in its ongoing quest to create an Islamic state, according to Governor Kashim Shettima of Borno state.
Persecution watchdog group International Christian Concern pointed out that many of Boko Haram's victims are Christian women and children, most of whom become slaves and are tortured or raped.
ICC also noted that "Christian women and children are forced to quit their faith and turn to Islam and they are considered a double target by the jihadist because of their religion and status according to Islam."
Women who have managed to escape the clutches of Boko Haram have detailed their ordeals, with a now 20-year-old girl identified as Amina telling the Daily Mirror how she was kept as a sex slave since the age of 15.
"I was forced into marriage three times, and had a child with each husband," she shared, revealing she had been beaten and raped in those marriages.
"They put a gun to my head. There were women who had refused," Amina added. "But they were tied up and raped."
Amina escaped with her three children but only two of the children survived.