Bomb Clock Kid's Dad Perpetuates 9/11 Conspiracies on Social Media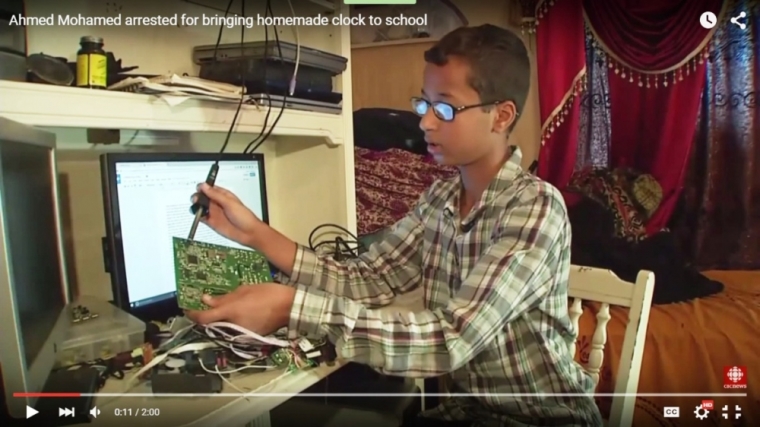 The father of the 14-year-old boy who was lavished with attention, praise and over $16,000 after his homemade clock was confiscated at an Irving, Texas, public school is now generating headlines of his own.
According to Townhall.com and Fox News, Ahmed's father, Mohamed Elhassan Mohamed, manages the Facebook page called the Arabic-language National Reform Party. He has one personal page which appears to be pro-American and a second, more active page, which has an entirely different tone.
While the Arabic language page features plenty of posts disseminating favorable stories about Ahmed's new found fame from his September arrest at school, it also features at least two posts claiming that 9/11 was a conspiracy and hoax concocted by the U.S. government to launch a war against Islam.
Townhall.com posted the translation of one of the videos from Sept. 12 that was shared on the account questioning the events and circumstances of 9/11:
"Thus [the events of Sept. 11] are but an American media creation, no matter how some may try to label them as 'Islamic terrorism.' They were indeed terrorism, but terrorism American style — terrorism that sweeps away and annihilates whole countries, and not those few buildings in the midst of New York City."
Ahmed's father has repeatedly ran for president of Sudan under the National Reform Party banner even though he resides in Irving, Texas.
Ahmed, who has expressed interest in science, has been invited to the White House for an astronomy night on Oct. 19, an invitation he has reportedly accepted. According to NPR, Ahmed is currently touring the Middle East, which will include a pilgrimage to Mecca.
He was previously a special guest at the Google Science Fair on its campus in Mountain View, California, and was offered an internship at both Facebook and Twitter.
In September, President Obama Tweeted his support to the student, saying, "Cool clock, Ahmed. Want to bring it to the White House? We should inspire more kids like you to like science. It's what makes America great."
White House Press Secretary Josh Earnest claimed that the arrest of Ahmed "is a good illustration of how pernicious stereotypes can prevent even good-hearted people who have dedicated their lives to educating young people from doing the good work that they set out to do."
The case of Ahmed and his clock has caused dozens of notable figures to weigh in on the controversy, including Republican presidential candidate Louisiana Gov. Bobby Jindal who applauded authorities for their concern over security but said Ahmed should not have been arrested.
Others who commented on the controversy included comedian Bill Maher, notable atheist Richard Dawkins, and Dallas Mavericks owner Mark Cuban.
It was Ahmed's English teacher who turned him in to the principal for purportedly having a clock that appeared to resemble a bomb. An engineering teacher earlier in the day reportedly saw the clock and told him to leave it inside the pencil brief case he stuffed it in.
Ahmed's father has pulled his children out of the Irving Independent School District and multiple GoFundMe accounts are raising scholarship funds for Ahmed and for trips to science-related camps.
The London based Telegraph reported a story Thursday that a Halloween costume of Ahmed is now being marketed for purchase at $79.99, handcuffs included.
Irving ISD has claimed they have information regarding the motives behind Ahmed's alleged homemade clock but are unable to release it for legal reasons. Police officials in the city also said they have received death threats over the incident.
Many believe Ahmed was targeted by local authorities because of his Middle Eastern ethnicity and Muslim faith.