Can Kevin Love Be the Focal Point for a Playoff Contender in Cleveland Post-LeBron James?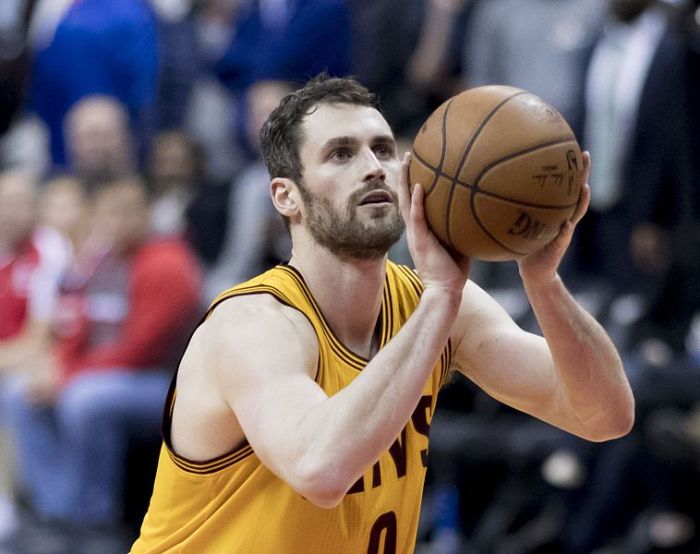 At some time later this summer, LeBron James will make a decision regarding where he will play next season. He could end up staying with the Cleveland Cavaliers, but he could also move to a new team in pursuit of more championships.
Should James indeed decide to leave the Cavalier again, it's likely that the team will again turn into a non-factor in terms of the NBA's title picture, but what about the playoff picture?
Could a post-James version of the Cavaliers still contend even without one of the greatest players in basketball history leading the way?
Those are questions that current Cavalier Kevin Love wants to answer himself.
Recently, Love said that he likes being in Cleveland and that he's "always wanted to win" in the city, per a report from WKYC's Matthew Florjancic.
Love also expressed a desire to continue playing with James, but he acknowledged that James' decision in free agency will determine if that will indeed happen.
Still, it's notable that Love is seemingly not going to ask for a trade out of Cleveland even if James does sign with a different team this summer.
The last time James left the Cavaliers back in 2010, the franchise essentially had to start from scratch. If Love is committed to the Cavaliers, however, then maybe the franchise can remain playoff-relevant even without their long-time franchise superstar.
It wasn't that long ago when Love was the featured star for the Minnesota Timberwolves. Back then, Love regularly posted monster double-doubles while serving as the Timberwolves' primary option on offense.
Some fans have suggested that Love is no longer capable of putting up the same numbers he did back when he was with the Timberwolves, but for what it's worth, he hasn't received the same opportunities in Cleveland as he did in Minnesota.
As can be seen on his Basketball Reference page, Love's field goal attempts and usage rate have dipped significantly since he first started playing for the Cavaliers.
Now, it's fair to wonder if Love can still handle the same type of workload he did back when he was with the Timberwolves especially since he's been dealing with injuries these past few seasons, but from a talent standpoint, he has shown that he can be a good option on offense.
The Cavaliers also have other solid players who are still under contract with the team for next season, including George Hill, Tristan Thompson, Kyle Korver and JR Smith, and they could help Love keep the team in contention for the playoffs.
Plus, with the Cavaliers holding the eighth pick in the draft, they will also have a chance to add a high-upside player who can be mentored by battle-tested veterans.
No one will ever mistake a Love-centric version of the Cavaliers for a serious Finals contender, but remaining relevant in an era post-James is a remarkable feat, too.
For these past four seasons, Love has stuck to his role and played it well. If James does leave, it may not be such a bad idea for the Cavaliers to see what Love could do as the franchise's leading star.