Carrie Underwood Talks About Faith and Her Marriage at the Q Conference in Nashville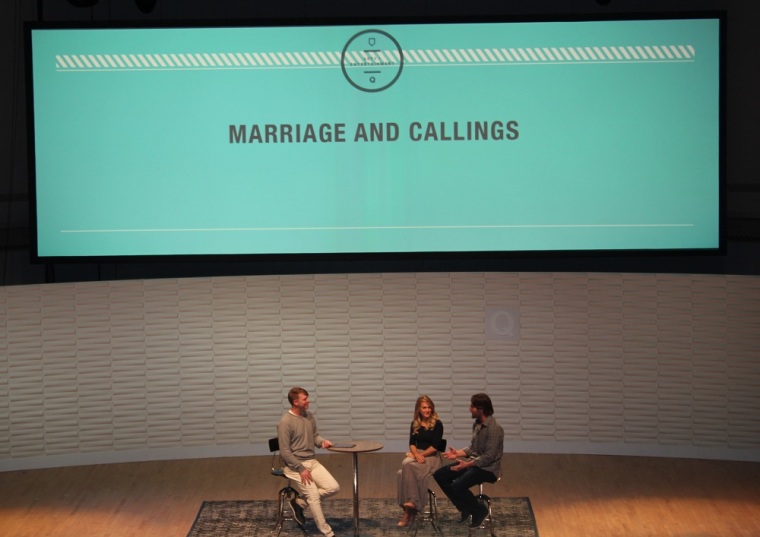 NASHVILLE—Country music star Carrie Underwood and her husband, professional hockey player Mike Fisher, surprised Q Conference attendees in Nashville, Tennessee, Wednesday when they appeared on stage for a Q&A session about marriage and callings with host Gabe Lyons.
Underwood, 31, and Fisher, 33, who've been married since 2010, told Lyons that the itinerant nature of their respective careers has made it challenging, at times, for them to stay connected; the musician commented that even Skype has been insufficient.
Lyons inquisitively asked the couple about the single issue that has caused the most conflict in their four-year union.
"Well, I'm an animal lover and he's a hunter," said Underwood to a laughing audience. She added that this issue was particularly challenging because while she feels passionately about animals, Fisher feels more connected to God while out in the woods.
The couple explained they had compromised by keeping meat from industrial, large-scale farms out of their kitchen and only serve Fisher's kills.
Lyons later thanked Underwood for being a solid role model for girls and women, including his own daughter, who's a fan of the singer.
Underwood credited Nashville, in part, for providing a safe and welcoming environment for her to practice Christianity, unlike New York City or Los Angeles.
"It's easy to be a Christian in Nashville," the Grammy winner explained.
She also said she vetted many of her career decisions through her mother, and allowed her to give feedback and advice.
Fisher, who was traded from the Ottawa Senators to the Nashville Predators in 2011, said he's thankful that, through none of his own doing, his career led him to a city that works ideally for their marriage and Underwood's career.
He also added that he has seen God moving through the sport of hockey, although his own team did not qualify for the playoffs and were among the worst performing teams in the league this year.
While waiting for his talk later that afternoon at the Q Conference, Russell Moore, president of the Southern Baptist Convention's Ethics & Religious Liberty Commission, posted a picture of himself with Underwood.