Charles Stanley's Ministry Launches 'Missing Persons Project' to Regain 'Forgotten Members'
Charles Stanley's Ministry Launches 'Missing Persons Project' to Regain 'Forgotten Members'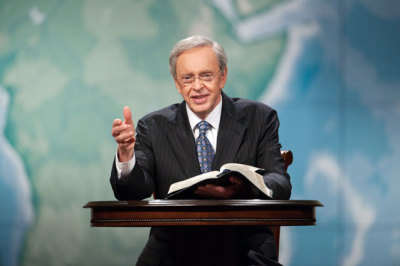 The teaching ministry of Dr. Charles Stanley, pastor of First Baptist Church of Atlanta, has launched a "Missing Persons Project" campaign to encourage local faith communities to "recognize and receive [their] forgotten members," those who might be considered social outcasts or even marginalized by their churches.
"Today, the Body of Christ is missing many of its members. Too often we're guilty of assigning greater value to one part than the others," says Stanley in an introductory video on In Touch Ministries' website.
In Touch Ministries, founded in 1972 as "The Chapel Hour," has been releasing a series of special reports in an effort to encourage local churches to "welcome all people with open arms of love," according to Stanley, who referenced at the start of the video James 1:27. The Bible verse describes "pure and faultless" religion as looking after "orphans and widows in their distress" and keeping oneself "from being polluted by the world."
The ministry shared news of the "Missing Persons Project" on its Facebook page this week, although the campaign was launched earlier this month. Social media supporters of Stanley's teaching ministry appeared impressed with the mission of the campaign and expressed hope that it would encourage outreach to all members of society.
"Some of the Missing are not welcome into the church," wrote Marietta Bishop Shirley Palmer on the In Touch Ministries Facebook page. "Such as Gay/Lesbian's, sex offenders who have paid for their crime, and others with a very tainted life. Who shares God's word with these people? Aren't they children of God too? It says, 'Come the way you are and you will be welcomed' ... So why aren't some people allowed to worship in the 'church'?"
Edward Saldana, another Facebook supporter of the ministry, added, "Thank you for leading this project...I know it will be a blessing to many both in & outside of our churches!!"
The "Missing Persons Project" website has as five target groups: the Disabled, Widows & Orphans, Prisoners, the Needy and the Searchers.
Currently live on In Touch Ministries' website are stories from families with a member living with a disability. "People with disabilities are made in God's image, yet churches are often slow to welcome them. What we don't realize is that their absence from our congregations weakens the body of Christ," reads the featured, titled "The Disabled Body of Christ." The feature also includes a call to action for readers who want to interact with others who are disabled as well as their families. The suggestions include things as simple as smiling and maintaining eye contact when interacting with disabled persons, while it also warns against offering words of pity to parents with disabled children.
The theological basis for the "Missing Persons Project" points to an eschatological image of the Christian Church, described in the Book of Revelation as being comprised of people from every nation, tribe and language — or as the ministry puts it, from every walk of life.
"What compels a Christian to see a fellow human being as unnecessary to the body of Christ? What makes him treat someone like a project — or worse, causes him to ignore his neighbor altogether? To be human is to see and be seen; to hear and be heard; to love and be loved. See, hear, love. This is the Christian's anthem, in both theory and practice. We are charged to see, hear, and love our neighbor as we ourselves are seen, heard, and loved by God," according to the ministry.
Christians compelled to action are encouraged to start small, and to consider the people God may have placed in their lives.
"Make friends with those people. Ask them questions. What are their needs, immediate and long-term? Mobilize resources within your network of friends and church family, or use your skill set to aid an existing organization," the ministry suggests.
"With each act of compassion, we are cultivating God's kingdom on earth."
Stanley, who celebrated his 80th birthday and 55 years in ministry in 2012, reaches millions worldwide with In Touch Ministries, which is broadcast in at least 100 different languages. He has been leading First Baptist Church of Atlanta, Ga., since 1971. The nondenominational evangelical Christian congregation is home to an estimated 15,000 members.