Chick-fil-A Takes KFC's Chicken Crown Even With Fewer Stores and Closing on Sundays So Workers Can Attend Church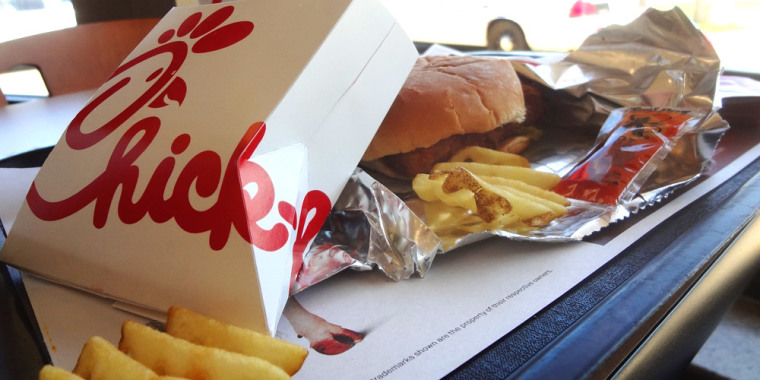 Despite having fewer stores, which are also closed on Sundays so employees can spend time with their families and attend church, Chick-fil-A has taken KFC's crown as the leader in the U.S. chicken fast-food industry.
A Yahoo! Finance report noted that YUM! Brands, which owns KFC, removed the phrase from the company's latest annual report that once described KFC as "the leader in the U.S. chicken [quick-service restaurant] segment."
That title, says food industry researcher Technomic, now belongs to the worshipful Atlanta-based Chick-fil-A because its locations do more business than KFC restaurants, according to The Associated Press.
While KFC still remains much bigger than Chick-fil-A globally, Chick-fil-A has been leading KFC since 2012.
Chick-fil-A reportedly had 1,775 locations and pulled in $5.05 billion in sales last year, according to Technomic. KFC had 4,438 stores that pulled in $4.22 billion in U.S. sales.
Most of Chick-fil-A's restaurants are located in the South and the company has attracted a very loyal following for its chicken sandwiches.
The company notes on its website that a part of its recipe for success involves not doing business on Sundays.
"Our founder, Truett Cathy, made the decision to close on Sundays in 1946 when he opened his first restaurant in Hapeville, Georgia. He has often shared that his decision was as much practical as spiritual," said the company. "He believes that all franchised Chick-fil-A operators and their restaurant employees should have an opportunity to rest, spend time with family and friends, and worship if they choose to do so. That's why all Chick-fil-A restaurants are closed on Sundays. It's part of our recipe for success."
A representative from the company told the AP that Chick-fil-A was "deeply grateful" for its loyal customers. They also intend on expanding into new markets.
Rick Maynard, a KFC spokesman, said, the chain "has seen a lot of competitors come and go since 1952," when it first opened.
"Colonel Sanders wasn't afraid of a little competition then, and we still welcome it today," he said.
Chick-fil-A has thrived despite efforts from LGBT activists who attempted to boycott the franchise over comments made by the company's president, Dan Cathy, supporting traditional marriage.