Chick-fil-A Feeds Stranded Drivers for Free After Snowstorm Shuts Down Birmingham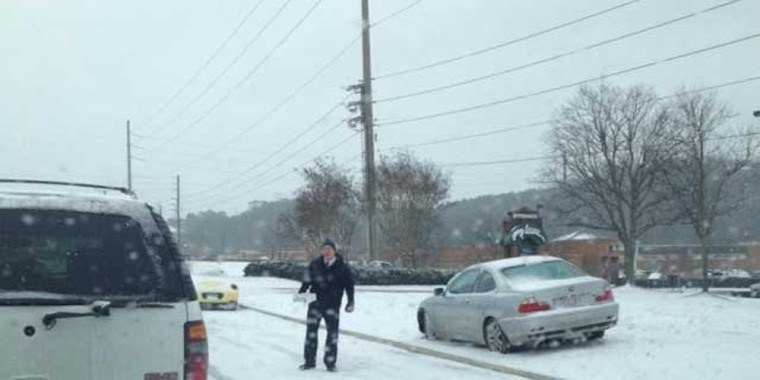 Thousands of drivers were stranded across the Southeast after a rare ice storm overwhelmed communities not accustomed to wintry precipitation Tuesday. The city of Atlanta effectively shut down after schools and businesses abruptly closed, causing massive gridlock as the roads iced over. Nearly 800 accidents were reported, and stranded motorists slept in their cars or on the floors of stores. Thousands of students spent the night at school.
The situation in Birmingham was no better, as you can see.
On one stretch of Highway 280, some stranded motorists found warm food and shelter thanks to a nearby Chick-fil-A.
When the snowfall began, restaurant owner Mark Meadows sent employees home, but they didn't make it far. The roads were already iced and gridlocked, and many returned to the workplace. Manager Audrey Pitt walked back, joining other disgruntled drivers.
"It was a parking lot as far as I could see," she told Todd Starnes of FOX News. "At one point there were more people walking than driving."
Back at the restaurant, Meadows and the staff decided to help the marooned drivers on 280, some of whom had been stuck without food or water for nearly seven hours.
"We cooked several hundred sandwiches and stood out on both sides of 280 and handed out the sandwiches to anyone we could get to – as long as we had food to give out," Pitt said.
In addition to handing out sandwiches, the restaurant served as a makeshift bed and breakfast, allowing drivers to spend the night and cooking up chicken biscuits this morning.
As many are thanking the staff at one Chick-fil-A, Pitt noted that the benefit is mutual.
"It's a blessing to us to be able to help people," she said. "It really is."