Chile vs Bolivia Live Stream Free Football: Watch Online CONMEBOL World Cup 2014 Qualifier Soccer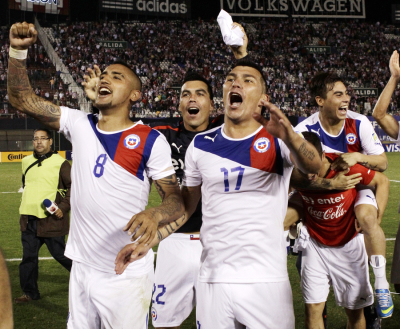 Chile vs Bolivia takes place in their CONMEBOL World Cup 2014 qualifier on Tuesday night with Chile looking to consolidate their position in the top four of the league standings. The game is scheduled to kick off at 8.30 p.m. ET and can be watched online through free live stream (details below).
Chile are currently lying in fourth position in the qualification table, managing to take 18 points from their 12 matches so far. However, they are just two points behind second-placed Colombia, but at the same time are just two points above fifth placed Venezuela.
That means this match is a vitally important game for Chile's qualification campaign, and they can ill afford a slip up today. They will be hoping to take maximum points tonight and will be looking to consolidate their place in the top four and claim an automatic qualification place for Brazil 2014.
A 2-1 win for La Roja against Paraguay will have built confidence in the squad – and that win was the second victory following a four game losing streak in which the team lost to Colombia, Ecuador, Argentina, and Peru.
Meanwhile, Bolivia's qualification campaign seems to be dying out with a whimper. They have just 10 points from their 12 games so far, and that puts them basically on the brink of elimination already despite the fact there are still six games to go.
For the past two World Cups, qualification required 25 points. That would mean Bolivia need to win five of their next six games – highly unlikely based upon their past results. They could make qualification with 22 points this year, but even reaching that points total seems a long way off right now, and they will need a massive turn around in performance and fortune to get anywhere near that total right now.
Chile vs Bolivia is scheduled to kick off at 8.30 p.m. ET and can be watched online through free live stream by clicking here.