Christians in China Fear Persecution Will Get Worse After Authorities Bomb Evangelical Megachurch (VIDEO)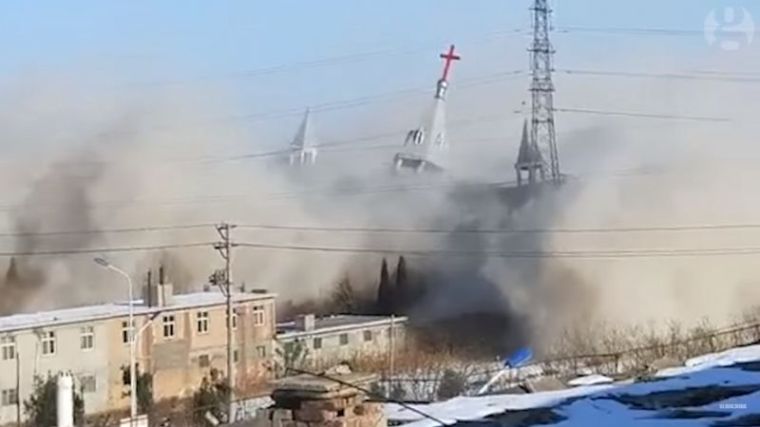 An evangelical megachurch was destroyed by Chinese Communist authorities Tuesday in the country's northern Shanxi province, sparking fears among Christians that the persecution they suffer will soon get worse.
China Aid said in an update Wednesday that Chinese military police detonated explosives inside Golden Lampstand Church in Linfen, destroying the $2.6 million house of worship, which was owned by the Christians who worshiped there.
A demolition crew broke apart the remaining pieces of the church after the explosion with diggers and jackhammers.
Lampstand's head Pastor, Yang Rongli, had previously spent seven years in prison on charges of assembling a large crowd to disturb traffic order, and has been under police surveillance since his release in October 2016.
Describing the demolition, the pastor was quoted as saying that at first, police surrounded the church.
"Patrol wagons guarded the church. Workers smashed the church's glass. At this point, excavators are digging into the church, but we are not allowed to enter or watch," she said.
"The village head and the police from the local police station warned all the believers against entering the church. Now, we really have no idea what is going to happen."
The order to demolish the church reportedly came from China's top officials, who control the military police.
"The repeated persecution of Golden Lampstand Church demonstrates that the Chinese government has no respect for religious freedom or human rights," said ChinaAid President and founder Bob Fu.
"ChinaAid calls on the international community to openly condemn the bombing of this church building and urge the Chinese government to fairly compensate the Christians who paid for it and immediately cease these alarming demolitions of churches."
The Guardian reports that a Catholic church in the neighboring province of Shaanxi was also demolished in a similar fashion last month, which is stoking fears among Christians that the widespread crackdown on churches continues in full force.
As many as 1,200 crosses have been removed from churches in Zhejiang province since 2015, with officials arguing that many of the demolitions have been down to building code violations.
A local pastor, who asked not to be named, said that he saw "more police than I could count" at the site, preventing worshipers from approaching.
"My heart was sad to see this demolition and now I worry about more churches being demolished, even my own," he said. "This church was built in 2008, there's no reason for them to destroy it now."
The Associated Press noted that the evangelical megachurch had a congregation of 50,000, and had been targeted by police on a number of occasions. Officials reportedly hired thugs to smash the church and take its Bible during the crackdown in 2009, when Rongli was arrested.
Christians have protested against church demolitions, with a video captured in Shanxi in August showing a clash between Catholics and government representatives who were using bulldozers to destroy church property.
The believers in the video could be heard shouting "Jesus save me!" and "Mother Mary, have pity on us," and successfully blocked the government's efforts.
A video of the demolition of Golden Lampstand Church has also been captured, and can be viewed below: