Christian Children 'Have Been Through Trauma No Human Being Should Ever See': Open Doors USA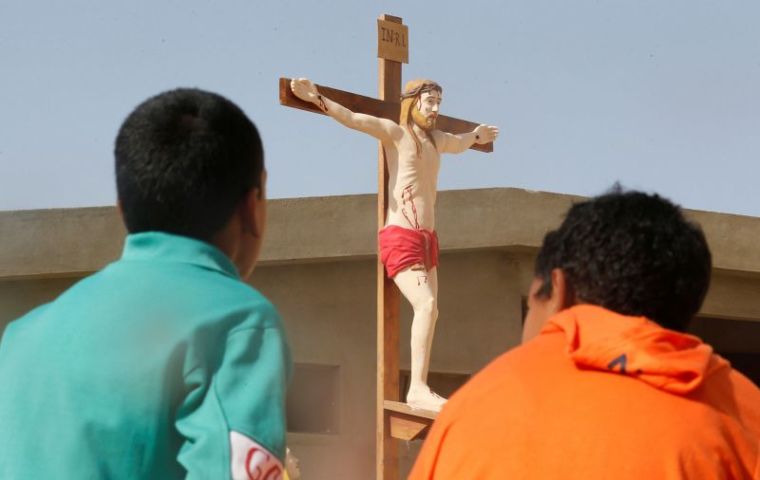 Christian children in conflict areas around the world are suffering through trauma that "no human should ever see," says Open Doors USA, one of the biggest persecution watchdog groups in the world.
"The next generation of Christians in the Middle East, in Asia, in Central Asia, in places like Iraq and Syria, places like Kazakhstan and Uzbekistan and Afghanistan — these young Christians have been through trauma no human being should ever have to see," David Curry of Open Doors USA told Mission Network News in an article posted on Tuesday.
"How can something good come from this? We're going to help reach out, rebuild, and give some deeper context for these kids, give them assistance, give them the care they need so we can have a strong and healthy Body of Christ," he added.
Curry said that in many terror attacks, such as the killing of nine Christians at a church south of Cairo last week, it is children who suffer the most.
"We have the ability as adults to sort of contextualize things, even in the most difficult situation. But imagine a child in that circumstance," he noted.
He recalled the story of a young man named Noah from Iraq.
"His experience was like so many others. In the middle of the night, he was awakened by his parents and told, 'ISIS is coming to attack us because we are Christians.' So he had to leave everything in his house, even his most precious toys, everything. And when he came back, it was all destroyed," Curry said.
The Open Doors CEO argued that many children have to ask questions that people in the West don't have to deal with.
"Oftentimes, we see kids, like I was speaking with just last week, these young people from Iraq, their personal faith is so deep because they've had to decide, 'Am I willing to die for this?'" he said.
Other Christian children are ostracized in communities where their faith is a minority, and are being singled out for deciding to follow Jesus, Curry added.
Some of the deadliest terror groups in the world, such as the Islamic State, called on attacks during the holiday season regardless of whether children are present.
A recent IS video from Somalia demanded "lone wolves to attack during #Christmas and #NewYearsEve, and to hit nightclubs, churches, and markets, regardless of the presence of children."
Children have been kidnapped and used as soldiers by radical groups, and have even been forced to kill themselves and others. The IS-linked Boko Haram in Nigeria forced at least 135 children to carry out suicide bombings in 2017 alone, according to a report by the United Nations Children's Fund.
Manuel Fontaine, UNICEF director of the Emergency Program, said in December that there is a major disregard of international laws that protect youngsters, with children "being targeted and exposed to attacks and brutal violence in their homes, schools and playgrounds."
During the three-day Third Archon International Conference on Religious Freedom in Washington, D.C. late last year, Curry explained that major human rights abuses in North Korea, Iraq, Syria and elsewhere begin with the persecution of Christians.
"This is the issue, I think, of our time. I say that with confidence because persecution, ... and particularly the persecution of Christians, is the tipping point in every major crisis around the world," he said at the time.