Christian Company Pure Flix Announces Next Film on Miraculous Rescue of Thailand Soccer Team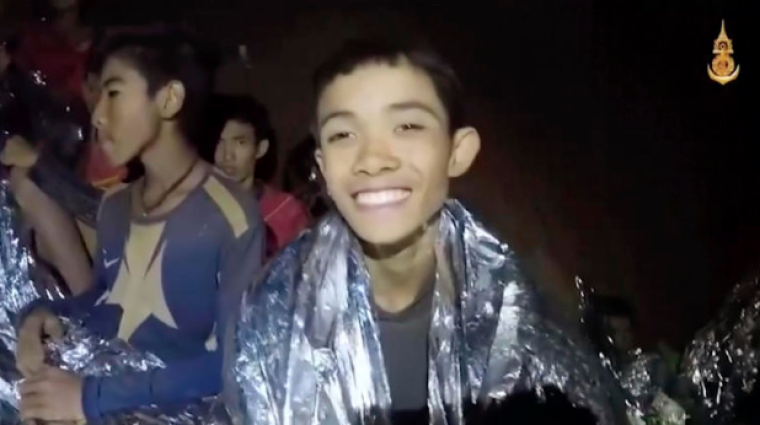 The world celebrated this week as 12 boys and their soccer coach were rescued from a flooded cave in Thailand where they were trapped for 17 days and now, popular Christian production company Pure Flix says this story will be their next Hollywood film.
Pure Flix ("God's Not Dead," "The Case For Christ") revealed on Twitter Wednesday that they had producers on location at the Tham Luang cave in northern Chiang Rai province after the boys were saved, interviewing rescue workers.
The company posted a video of producer Michael Scott, who currently lives in Thailand, explaining why he and the Pure Flix team will be turning this inspirational story into a feature film. Scott revealed that his wife grew up on Saman Gunan and knew the former Thai Navy Seal member who died while helping rescue the soccer team.
"To see all that heroic bravery in the cave, and to get all the divers out, it's just such a touching event and so personal to me," Scott explained.
The young men, ranging from the ages of 11-16, were first discovered last week by a combined rescue party of Thai Navy SEALS and local volunteer divers. They were trapped for 17 days in the flooding cave before being rescued.
The rescuers were faced with the immense physical challenges of swimming to and from helping the boys make it to safety, especially because all of them had to fight tiredness and weakness. They also couldn't swim.
The rescue team celebrated the bravery of the soccer team.
According to Los Angeles-based Ivanhoe Pictures, they have "officially been picked up" by the Thai government and navy to develop a film also about the thrilling rescue.
Reportedly, others in TV and film are also looking to develop the rescue. Discovery has a one-hour documentary special to debut that will run on Friday but Pure Flix hopes to take it to the silver screen.
"I don't think this is a religious film ... I think this is an inspirational film," Scott said.