Christian Dad Arrested for Blasphemy After Demanding Pay From Muslim for Repaired Bike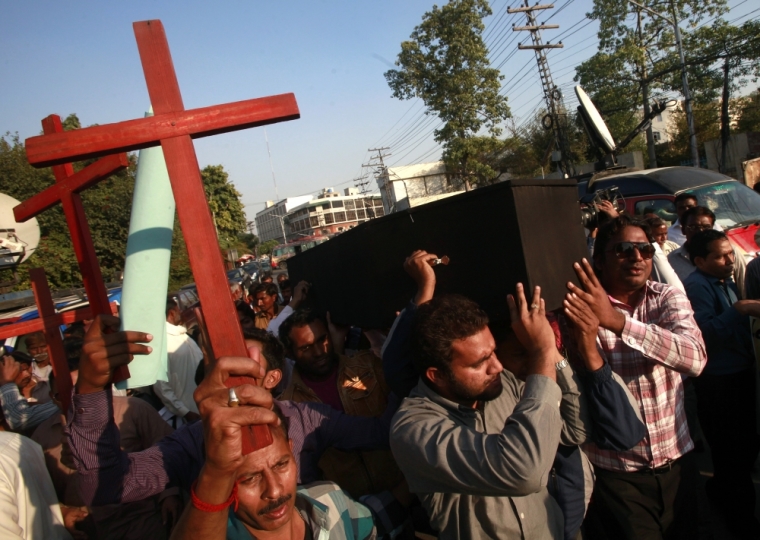 A Pakistani Christian man has reportedly been arrested on charges of blasphemy after a Muslim man accused him of insulting the Muslim prophet when asking to be paid for a bicycle that he had repaired last week.
Ishfaq Masih, a 23-year-old father of a 2-year-old baby who runs a repair shop in the Green Town area of Lahore, was accused last Thursday of insulting the Muslim prophet Muhammad and could face the death penalty if convicted of the serious charge, Morning Star News reported.
Mahmood Masih, Ishfaq's brother, told the Christian persecution website that the blasphemy allegation stems from an argument that his brother had with a Muslim man named Mohammad Irfan after Irfan tried to weasel out of paying for the costs of a bike that Masih had repaired.
Masih explained to Morning Star News that Irfan told his brother that he could not demand money from a "Mirasi."
According to the Israeli news outlet Arutz Sheva, which learned of the case through the Pakistani Center for Law and Justice, the Muslim man told Masih: "I am a Sadhu (Indian word meaning religious ascetic) person and you should have to give me free services."
However, Masih reportedly responded by saying: "I only believe in Jesus Christ not others, so please give me the payment since I repaired your bicycle."
"During the argument, Irfan said that he obeys only one master, Prophet Muhammad, to which Ishfaq said that he was a Christian and his faith ends at Christ," Mahmood Masih explained. "Upon hearing this, Irfan raised a clamor that Ishfaq had blasphemed against Muhammad. Soon a mob gathered at the spot, and someone called the police, who took Ishfaq into custody."
Considering the fact that blasphemy is illegal in Pakistan and can be punishable by death, blasphemy accusations are often used by Muslims in Pakistan to settle scores against Christians and other nonreligious minorities.
Additionally, blasphemy allegations often lead to societal violence, as was the case in November 2014 when a Christian couple was burned to death by a Muslim mob after they were accused of desecrating a Quran.
Human rights activists have pressured Pakistan for years to repeal or change its policy so that it doesn't lead to the victimization of religious minorities.
Masih's attorney, Riaz Anjum, told Morning Star News that the one who filed the police report accusing Masih of blasphemy was Mohammad Ishfaq, the landlord of the building that houses Masih's repair shop. The First Information Report was filed under Section 295-C of Pakistan's penal code.
According to the penal code, an offense under 295-C is punishable by death or life in prison. Earlier this month, headlines were made after a court in Punjab province sentenced a 30-year-old Shia man to death over an alleged blasphemous posting on Facebook.
Anjum said that Ishfaq's FIR claimed that there are five men who can act as witnesses to say that Masih had insulted the prophet Muhammad.
However, Anjum explained that the FIR is contradictory because none of the other men mentioned as witnesses were present when the alleged act of blasphemy occurred.
"Irfan had gathered the other men, including the complainant Mohammad Ishfaq, and they then concocted the allegation against Ishfaq Masih and got him arrested," Anjum explained. "The FIR is quite weak, as it does not contain any specific blasphemous words that my client may have allegedly said."
"It also shows that the police did not even bother to investigate the charge before registering a case against the poor man," the lawyer added. "This is the routine practice of the police in blasphemy cases, and it's a shame that nothing is being done to stop it."
The accusations against Masih come as Pakistan ranks as the fourth worst nation in the world when it comes to the persecution of Christians, according to Open Doors USA's 2017 World Watch List.
Masih joins a list of other Christians who have been victimized by Pakistan's blasphemy law.
Earlier this year, it was reported that a 70-year-old Christian grandpa in the Punjab province was beaten and arrested after trumped-up blasphemy allegations accused him of insulting Islam in letters.
Last year, a 16-year-old Christian boy from the town of Kasur named Nabeel Masih was arrested after being accused of blasphemy for posting a picture that Muslims consider to be blasphemous on Facebook.
Arguably, Pakistan's most famous blasphemy victim is Asia Bibi, a Christian mother who has languished in prison for about eight years after local Muslim women accused her of insulting Islam when they got into an argument.
Bibi was sentenced to death in 2010 and is still waiting for her appeal to be heard by the nation's Supreme Court.