Christian Evangelist Scott Lively's Lawsuit for 'Persecution' Against Ugandan Gays Goes Forward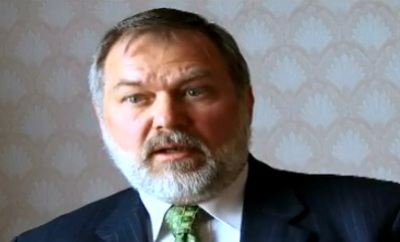 U.S. Christian evangelist Scott Lively has failed in his attempt to have a lawsuit brought against him by a gay and lesbian advocacy group in Uganda dismissed. A Massachusetts federal judge said this week he was not persuaded by Lively's arguments against allegations that he was partly responsible for inciting persecution against the country's homosexual, bisexual and intersex residents.
"We are disappointed with the decision because we believe SMUG's (Sexual Minorities Uganda) claims are firmly foreclosed, not only by the First Amendment right to free speech, but also by the Supreme Court's recent decision in (Kiobel v. Royal Dutch Petroleum), which eliminated Alien Tort Statute claims for events that allegedly occurred in foreign nations," said Lively's Liberty Counsel attorney Horatio Mihet, according to WorldNetDaily.
Mihet added that he and his team were still reviewing the court's ruling "and will continue to vigorously defend Mr. Lively's constitutional rights, with confidence that he will ultimately be vindicated."
Lively is founder and president of conservative pro-family group Abiding Truth Ministries and has worked since the 1990s against homosexuality, which the Springfield, Mass., evangelist describes on his blog as "more destructive to society than abortion."
The "attorney, pastor, author, public speaker, missionary and international human rights consultant" has expressed support for Ugandan lawmakers' proposal to strengthen its anti-homosexuality laws. Lively reportedly also shared during numerous visits to Uganda spanning more than a decade how he believes the Bible condemns homosexuality as sinful and that the behavior has negatively affected American society.
The Sexual Minorities Uganda nonprofit organization, whose stated purpose is "achieving full legal and social equality for lesbian, gay, bisexual, (and) transgender people," accused Lively in a lawsuit filed last year of "crimes against humanity of persecution." The Kampala-based group appealed to the Alien Tort Statute that allows foreigners to bring cases in U.S. courts when alleging violations of international law.
SMUG claims Lively, along with local religious and political groups, helped to foment negative attitudes against, and the oppression of, the organization, its members and Uganda's general homosexual population
The lesbian, gay, bisexual, transgender and intersex organization in its lawsuit alleges that Lively organized and carried out "strategies to dehumanize, demonize, silence, and further criminalize the LGBTI community" in Uganda, which the judge agreed would be a violation of their human rights.
"Widespread, systematic persecution of LGBTI people constitutes a crime against humanity that unquestionably violates international norms," wrote U.S. District Judge Michael A. Ponsor in response to Lively's motion to have the lawsuit dismissed.
The judge added that "aiding and abetting in the commission of a crime against humanity is one of the limited group of international law violations for which the ATS furnishes jurisdiction."
The Liberty Counsel has insisted that Lively exercised "nothing more than civil, non-violent political discourse in the public square on a subject of great public concern, which occupies the highest run of First Amendment protection."
"The suit is a direct attempt to silence Rev. Lively and intimidate other pastors against teaching the Biblical position on homosexuality," the nonprofit Christian legal group has previously said.
Frank Mugisha, executive director of SMUG, called Wednesday's ruling "a significant victory for human rights everywhere but most especially for LGBTI Ugandans who are seeking accountability from those orchestrating our persecution," according to the Advocate.
In its lawsuit, SMUG requests "compensatory, punitive, and exemplary damages," a declaration that Lively's conduct "has been in violation of the law of nations," and a court order prohibiting Lively from "undertaking further actions, and from plotting and conspiring with others, to persecute" the LGBTI organization and those whose interests it represents in Uganda.
While noting that SMUG's allegations must be proved at trial, Judge Ponsor wrote in his decision that "they are sufficient, as allegations, to state a claim for the commission of a crime against humanity against" Lively. He referred the case to Magistrate Judge Kenneth P. Neiman for pretrial scheduling.